*The Main Usos, Rey Maualuga (58) and Domata Peko (94) led the Bengals on to the field for the season opener.      *
*      BENGALS MLB REY MAUALUGA VS. COWBOYS RB ZEKE ELLIOTT*
Maualuga plays his first road game Sunday (4:25 p.m.-Cincinnati's Channel 12) without his long flowing hair that once symbolized strength to him.
 But note that two days after he cut his hair to the short, crisp fashion his late father demanded,  Maualuga was strong enough last Thursday night at Paul Brown Stadium to do what he's done since they put him in the middle of the Bengals defense in 2011.
For the 64th time in his 74 starts at the MIKE backer, the Bengals held the line on a 100-yard rusher. According to Elias, since they made a move that was reinforced a year later with the addition of tag-team partner Vontaze Burfict, the Bengals lead the NFL in allowing the fewest 100-yard rushers since 2011 with 11, ahead of the dozen by Seattle and Denver, teams that have won Super Bowls in that stretch.
The Bengals' streaks of not allowing a 100-yard rusher in 15 straight games (since Seattle's Thomas Rawls last Oct. 11), in 16 straight road games (since New England's Stevan Ridley on Oct. 5, 2014), and 14 straight games with Burfict in the lineup (Carolina's Cam Newton on Oct. 12, 2014), are on the line Sunday against NFL rushing leader Ezekiel Elliott.
And for the 6-2, 258-pound Maualuga, it will start with the first snap. That when he harnesses the foaming intensity his teammates and coaches love about him. Big, physical linebackers? Pro Bowl middle linebacker Luke Kuechly weighs 20 pounds less than Maualuga and tackling machine NaVorro Bowman of San Francisco (before he blew out his Achilles last week against the Cowboys) is just 242 pounds.
But in a division where Pro Bowl running backs Jerome Bettis and Ray Rice once roamed in Pittsburgh and Baltimore and is now populated by Le'Veon Bell at Heinz and a run game proponent as the head coach in Cleveland named Hue Jackson,  little fast nickel linebackers won't do all the time. 
"Some linemen say, 'Damn, you've got a hard head. Damn, you hit so hard,'" Maualuga says. "Yeah, I pride myself in taking on these guys and making a play. Either you've got it or you don't. Some guys run around blocks. They're quick enough to do that, to get to the ball carrier. I have to hit the guy. Especially early in the game. Early on in the game you show them so they don't try to come down and try to block you anymore."
Elliott, the fifth pick in the draft, has bolted out of The Ohio State with 100-yard rushing games the last two weeks behind his monstrous offensive line that is drawing the highest of praises in the Bengals locker room.
"If you go back and look at some of the film, some of the holes are so wide open that my little girl could run through there," says cornerback Adam Jones of Triniti Alexandria. "I think a couple teams they played were very undisciplined when it comes to gaps. But I take my hat off to (Elliott); he's been playing pretty good."
Of course, there are a lot of other reasons why the Bengals are stingy against the run. There is head coach Marvin Lewis, who has been involved in crafting top defenses in the AFC North for more than 20 years. There is Burfict, a Pro Bowler and former NFL tackling champion, as well as a marvelous defensive front ranging from Pro Bowler Geno Atkins to underrated run stuffer Pat Sims.
And the presence of Burfict also can't be underestimated. He's a more versatile player and when he returned last season for the last 11 games, teams failed to reach 100 yards rushing in nine of them.
But they all love the way Maualuga plays and believes he also brings a unique edge to the outfit.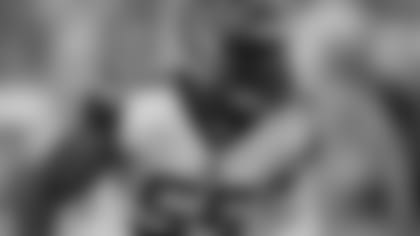 When the Bengals teamed Maualuga with Vontaze Burfict (55), life became tough for foes trying to run the ball.
Lewis: "He's physical, he's consistent, he's reliable. Like Vontaze, he can make the adjustments on the fly. We're a product of our division. We need those kinds of guys against those teams."
Sims: "You just know he's coming downhill. I always love a guy that can take a block off me or shoot the gap and make the play in the backfield. Everybody in this locker room knows Rey. They know what kind of mentality he has. You don't even have to speak on it."
Nose tackle Domata Peko: "Have you seen his neck? It's freaking huge. He looks like a big nose guard. His upper body is so swole. Having Rey and Tez back there, they're hungry dogs. Thumpers.  He's an animal out there."
  And this is Maualuga' s kind of assignment, his kind of day, his kind of game. The kid who idolized running back Emmitt Smith and his Cowboys while growing in Hawaii finally gets to play in the Land of the Star against the next great Cowboys back in a matchup that has echoes from the previous century. Like the '90s, Dallas' big offensive line is again the toast of the NFL.
"I grew up watching them, especially when I didn't have cable," Maualuga says. "Now I'm playing in Dallas against the Cowboys. Holy crap.
"Emmitt Smith was the guy. No. 22 was the number everybody had."
Maualuga is what Bengals linebacker Karlos Dansby calls, "the Last of the Mohicans," and he should know since he was drafted in the same class with Larry Fitzgerald, Eli Manning, and Philip Rivers way back in ought four. As the game spreads out, that species of the large- roaming-260ish-down-hill-smash-mouth linebacker becomes more and more endangered.   
"That's a thumper. That's what he is," Dansby says.  "There a few thumpers left, but not many. The game has evolved."
So has Maualuga, who turns 30 three weeks after the season. The father of another little girl, five-year old Avayah, Maualuga shed the dreadlocks for her.
"I was tired of it," Maualuga says. "It's very big in Samoan culture. People view it differently whether you cut your hair or not. A Iot of it depends on how you see it. Some people don't like to cut their hair because they think they lose all their power.
"I wanted to be presentable. I'm getting older. I'm about to be in my 30s. I can't be rocking dreads anymore. I want to be able to go to my daughter's school clean. The way my dad wanted us to be."
It hasn't been easy for Maualuga since his father died of cancer 10 years ago at the heartbreaking young age of 45.  Even before then life was hard with few advantages. But there was always football and church.
"Hawaii is three hours behind. So the Cowboys would play at 10 o'clock and we would be in church," Maualuga says. "After church I'd check the TV and the highlights to see if they won … I've come long way since I was a little kid growing up in Hawaii."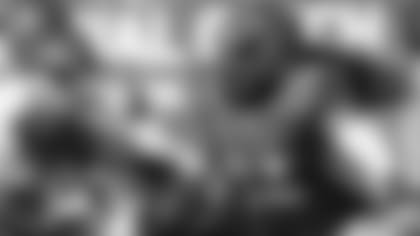 Domata Peko has been a huge influence on Maualuga.
Peko, "The Big Uso," who adopted him as a little brother when Maualuga arrived in 2009, has been a part of every step of his growth, particularly this past offseason. The older Avayeh got, so did "Uso," the Samoan nickname that the true Samoans, Peko and Maualuga, have bestowed upon everyone else on this defense, the Samoan term for "brother."
"That's what we are on this defense," Peko says. "A brotherhood."
Peko opens his home to every Bengal, but Maualuga has always had a special place. When Maualuga moved to California in junior high, his third move by age 12, he stopped following the Cowboys and started following Samoan players in the NFL, like his USC ancestors, Junior Seau and Troy Polamalu. Peko joined the list in the 2006 draft even though he came out of Michigan State.
"He knows my passcode,' Peko says. "When my boys see him, they call him 'Uncle Rey.' They love him."'
It was in '06 when Maualuga lost his father and much more than that.
"When he was alive, I could never grow my hair past three or four inches," Maualuga says. "He wanted a clean-cut Christian look. It got to the point where my mom didn't wear make-up or lipstick. We didn't wear ear rings. When he passed away, we kind of took advantage. As soon as I went to 'SC I got my ears pierced. But he approved of me getting my first tattoo."
Early in his career in Cincinnati, Maualuga played with an edge on the field and lived on the edge off the field. Until Avayah was born. And until this offseason after some trips to the school to pick her up.
"He's doing great right now. He's a great father. His daughter means the world to him," Peko says. "When he had Avayah, something just clicked. It reminded me of when I had my son Domata in college. Life isn't just about you anymore. It's about your son or your daughter. He's been growing, but I can really see it this offseason as a true professional."
And Maualuga is as professional as it gets when it comes to playing the run. His forte has been first and second down and when the Jets spread them out in the opener Maualuga played just eight snaps. It was one of the reasons the Jets ran for 152 yards at five yards per pop. Since then he's averaged 37 snaps in the last three games and they're giving up 3.3 yards per rush.
Coincidence? With Burfict adding even more muscle and, just as importantly, versatility ("He's just another guy that comes at you downhill all the time"-Sims), all the backers can now get breathers. Maualuga played just half the snaps Thursday after playing most of them the previous two games. So did Dansby, who can't ever remember playing so few snaps in his 184 career games.
"I'm blessed to be in a place like this. That's what I love about our linebacker room," Dansby says. "All these guys are versatile. Rey is quicker than you think. We've got confidence in him when he's in those (coverage) situations."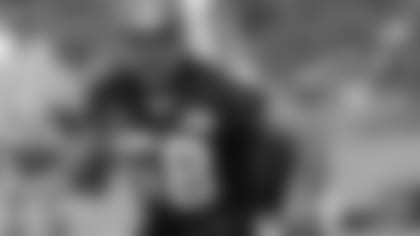 "He helps the D-tackles out the way he comes downhill and gets those guards off of us," Peko says of his Uso. "For example, if the double team stays on me, he's just going to clear the running back out of the way and make the tackle.
"If they see him coming downhill, one of the guards has to peel off of us and leave us one-on-one. It's a big advantage for me and the front seven. They can just put a hand out and just hit (a smaller backer). But with him they have to put a whole body on him."
Maualuga says the approach is "pretty simple." But it can be a chess game. When first-year linebackers coach Jim Haslett noticed that Maualuga allowed himself to be cut- blocked eight times last year against Denver, Haslett challenged him to get cut only once in the Broncos' return engagement on Sept. 25.
 "I didn't get cut the whole game," Maualuga says. "These guys, you want to take them on and at the last second they take your legs out. Now you're second guessing yourself. You're worried about playing the cut. But they're not going to cut you. You have to defeat them in their game before they defeat you.
 "You have to get to the ball before they either cut your or try to get to you. Just run to the ball."
But the message, he says, must be passed quickly.
"You have to let them know early," Maualuga says.
The hair is shorter, but Maualuga is still talking strong.