Left tackle Andrew Whitworth likes his group's mentality.          
                       BENGALS OFFENSIVE LINE VS. THE INDY BOX
The battle for the soul of the Bengals offense has always seemed to reach a crossroads in the playoffs. The most  prolific running game Marvin Lewis has ever had finally has a bigger voice as they head into their fourth straight Wild Card round Sunday (1 p.m.-Cincinnati's Channel 12) at Indianapolis.
It is nearly a year to the day a group of offensive linemen sat stunned at their lockers looking at each other. It was moments after the 27-10 Wild Card loss to the underdog Chargers at Paul Brown Stadium and they couldn't fathom a stat sheet that said quarterback Andy Dalton threw 51 passes while their running backs lugged it just 20.
Not only that, they had just watched the Chargers opt to put the ball in the hands of veteran quarterback Philip Rivers in his eighth post-season start just 16 times while San Diego ran it 40 times, the usual formula for a playoff victory.
Now, 361 days later the topography is different. Four days after the game offensive coordinator Jay Gruden became head coach in Washington and the same day running backs coach Hue Jackson replaced him declaring, "We have a bunch of big, physical men … you want to establish yourself as an offensive football team, you have to be able to put your hand down and block the guy in front of you. You have to be able to attempt to run over the other team. If you can't do that in this league, you have no chance of winning."
Four months after the game, they drafted a running back for the second straight year in the second round and LSU's Jeremy Hill delivered when he led all rookies with 1,125 yards. When the season ended on Hill's fifth 100-yard day of the season, the Bengals had their best running game in Lewis' 12 seasons with 4.4 yards per carry and 2,147 yards, nearly 400 more yards than last season.
Jackson isn't tipping his hand, of course. He wants to be balanced. He wants to get the ball to his best player and A.J. Green happens to play wide receiver and not running back. He wants to give quarterback Andy Dalton enough throws so he's comfortable.
"The playoffs are just different. They're not like the regular season, said left tackle Andrew Whitworth, who should know as he heads into his fifth post-season game. "You don't quite see as many huge plays and long runs and long passes as much as you see teams that just kind of work their way down the field with kind of some ill-will intention, pounding the football and really getting after the other team. I think it's really about who can be the most physical and those kinds of things. I think it's an opportunity in the playoffs that we're built to be here and we're built to win."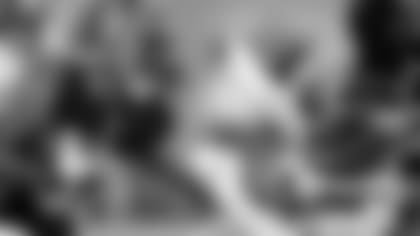 The Marvin Lewis Bengals have never gone into the postseason with two backs like Jeremy Hill (above) and Giovani Bernard.
The two things that have betrayed the Bengals in the post-season under Lewis have been turnovers and the lack of a committed running game. Even that first appearance nine years ago when the Bengals lost their quarterback on the second snap, still had a 17-7 lead over the Steelers, and ended up with twice as many passes (41) as runs (20).
When the Bengals rolled into the 2009 playoffs with an AFC North title and a Lewis-high 505 rushes, they chose to run it just 21 times while Jets rookie quarterback Mark Sanchez beat them with 15 passes. In 2011, another rookie, the Texans' T.J. Yates, beat them throwing just 20 passes for 159 yards while their own rookie, Dalton, threw it 18 times in the first half.
Of course, the foes were able to do that, in part, because the Bengals couldn't stop the run on defense. But it's not a good way to make a living in the playoffs.  Since '09 they've committed 10 turnovers in the playoffs, seven on interceptions.
They didn't exactly flex their muscles on the last trip to Indy in the 27-0 loss back on Oct. 19. They got no movement, they ran it just 12 times for 32 yards, and third down was a monument to futility when they opened the game with eight straight three-and-outs. The Colts jammed the box and dared the Green-less Bengals to beat them one-on-one outside in the pass game and they didn't beat them anywhere.
"The Colts have a good group," says an NFL scout. "Their three down guys are big and physical. They're not necessarily playmakers, but they eat up space, eat up blockers, and the edge players are their guys. They do a lot of stunting, they move their linebackers, and they love to bring pressure off the edge to penetrate and disrupt. They've got a really good corner in Vontae Davis and the other corner, Greg Toler, is solid.
"They play a good amount of man coverage. They bring pressure, and they can make you look bad, but they give up big plays, too, if people get blocked and the ball is into the secondary against man. Explosive plays can be had against them. They played the Cowboys the way they played the Bengals and the Cowboys blocked them in the run game and they couldn't cover Dez Bryant one-on-one. If you're more physical than they are, stronger than they are, there's a chance they can get gashed."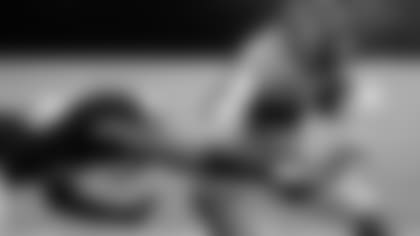 Wide receiver Mohamed Sanu figures to get some chances one-on-one vs. the Colts.
Davis, the 5-11, 207-pound corner, hasn't allowed a touchdown this season. The last one he gave up was against the Bengals more than a year ago at PBS, a 29-yarder to wide receiver Marvin Jones. Jones, of course, hasn't played this season (ankle) and Mohamed Sanu has taken over the No. 2 receiver duties.
If the Bengals are going to move the ball, Green and Sanu have to beat one-on-ones. It was a tough December for Sanu. After an MVP September-October, Dalton targeted him just nine times in December.
"It's how the cards unfold," Sanu said. "Sometimes you're open, sometimes you're not. You have to take the punch and roll with it. We started to run the ball well and took advantage of it.
"When they put eight in the box, they want you to throw, so we have to beat man-to-man on the perimeter. And when we run, we have to block on the perimeter….You have to like to get the chances to make plays."
If Green and Sanu can get to the perimeter, it's hard to say if the Bengals are going to just try and pound away, given that the Colts are about middle of the road stopping the run and Jackson is a guy that preaches balance.
It's not like when the Bengals ran for 244 yards against the-last-in-the-league Browns. Two weeks ago the Colts gave the second-ranked Cowboys just 3.1 yards per rush on 40 carries and the week before that the No. 5 Texans averaged just 3.4 on 41 carries.
But one thing is for sure. The Bengals are running the ball so much better than they were back in October, when Hill carried just four times against the Colts. He has the most rushing yards in the NFL since the ninth game and in the last seven games the Bengals have gone for 1,090 yards. But maybe the bigger stat there is how many attempts per game.
"I think our mentality's different," Whitworth said. "For the guys, who have been in the playoffs before, we understand where we let it slip and we feel like being physical and being able to run the football will be the most effective thing for us this week."
Right tackle Eric Winston didn't get here until the first week of December, but he's seen enough to know the Bengals have a nice mentality when it comes to the run. The 31-year-old Winston, now starting for the injured Andre Smith, was an anchor for the Texans when they had perennial top ten rushing team.
"I think there are that mindset and that belief that you can run the ball on anybody. I think the good teams and the good running teams that I've been on have that, that no matter what happens we can stick it on the ground," Winston said. "We can get to a few hat rack plays and we can go churn out some yards. I think we've definitely gotten to that point now where we really believe and we really feel like we should be breaking runs, we should be moving chains and we should be moving guys off the ball. That's where you want to be."
Whitworth, the running game's great ambassador, remembers back in the day when the Bengals saw eight men in the box and automatically shied away from mixing it up and went to the pass. He wasn't here when Corey Dillon became the franchise's leading rusher running against mostly eight-man fronts, but he knows the philosophy. Pop a run against an eight-man front and there's nobody there to catch him.
"We played a lot of teams here in this last stretch where we've run well with tons of people in the box, so it's more about being able to go in with the mentality that we don't really care what they line up to do," Whitworth said. "We're going to go in and push our will upon them and that's the difference. So you have to go in with that kind of mentality: I don't care if there's eight, if there's 10 people in the box, our goal is to be physical, and it will all work together. We're going to run the ball, we're going to throw the ball. But we're not going to be scared of anything they line up in."
The soul of the offense, still looking at last season's stat sheet, wonders how they'll line up.