Russell Bodine is hearing accolades from his offensive line coach.
*     BENGALS C RUSSEL BODINE VS. BROWNS NT DANNY SHELTON*
There have been wars, recessions, four presidents, a century turned and no matter the headlines the Bengals have always been able to run the ball on the Browns and they'll need another big day on the ground Sunday (1 p.m.-Cincinnati's Channel 12) with one to three inches of snow predicted on The Lake.
At least since 1999 when the expansion Browns were born, a stretch Cincinnati has dominated, 23-12, with one defining stat. In more than half the games 18 the Bengals have had a 100-yard rusher from six different running backs.  The stampede ranges from the five each of Corey Dillon and Rudi Johnson to the one from Larry Johnson in his seven-game Bengals career.
Current running back Jeremy Hill is in on the charge. Two of his top four career games have come against the Browns and that includes his career-high 168 yards back on Oct. 23 showcasing his longest run in two years on a 74-yard touchdown ramble in the 31-17 victory at Paul Brown Stadium. But if that game and play reflects the Bengals' dominance of the decades against a defense currently ranked next-to-last in the NFL, it also shows how the Bengals have struggled running the ball this season.  Take away that run and the Bengals are averaging 3.7 yards per carry and Hill is at 3.6, each down from their current four yards per carry. They're on pace to rush for 1,702 yards, 10thfewest of all-time and their fifth fewest in Marvin Lewis' 14 seasons.  In all five of those seasons the Bengals failed to have a winning record.
"I feel like we're back to what we're doing the first couple of weeks of the season," Hill says. "We have to find a way to get ourselves out of that, get some chemistry together and get the running game going."
BENGALS' 100-YARD RUDSHING GAMES VS. BROWNS SINCE '99
5- Corey Dillon 1999-2002; 5-Rudi Johnson 2004-2007; 4-Cedric Benson 2008-2011; 2-Jeremy Hill 2014-; 1-Larry Johnson 2009; 1-Kenny Watson 2007
That's where the mystery begins to creep in. Except for the right tackle spot, this is the same offensive line that opened up enough holes for Hill to gain 1,124 yards as a rookie. Everyone is grappling with how since that season Hill has gained just 1,471 over the next two years on nearly twice as many carries.
At the moment they're trying to figure out just how last Sunday he got only 33 yards on 23 carries against the Eagles for an inexplicable 1.4 yards per carry.
"Never in my life. Never had I done that before," Hill says of 1.4. "At the end of the day it's getting rid of the negative plays.  However I can get rid of them. It definitely kills the average. I just have to keep grinding, keep sticking to it, and not getting out of myself."
Give Hill this. He doesn't point fingers and if does it's at himself. The Bengals are on their second rotation of the season at right tackle, but Hill won't use it as an excuse.
"Our guys have battled all year. That's the thing I respect about our O-line since I've been here," Hill says.  "They battle every week. They've gone against some tough matchups all year.  As a unit we have to find chemistry.  Whether it's a penalty, an error, whatever it may be, we have to find a way to get it fixed."
No question the Bengals have played tough run defenses. Half of the 12 are in the top ten (including four of the top five) and they hit 100 yards against only one of them when they went for 120 on 32 carries in No. 10 New England.
They've also gone against some bad ones, lancing the No. 31 Browns for 271 yards, the No. 28 Broncos for 143 yards, and No. 21 Washington for 152 yards. A bit more perplexing is how they got just 77 yards on 37 carries against No. 30 Miami. The No. 25 Bills stopping them on 93 yards on 27 carries made a little more sense with wide receiver A.J. Green out of the game early, but the Bengals still couldn't run it when the Bills went zone for bits of the game.
With just 100 rushing yards in four games and just one individual 100-yard rushing day, it's historically rough, although they did go 12-4 last year with just one 100-yard rusher and they won the 2013 AFC North with no 100-yard rusher.
"(The numbers) are definitely not there all," Hill said. "Especially at this point in the season. I can't get too focused on that. All I can do is just continue to keep going and keep trusting the process. Hopefully something will pop if I keep sticking to it.  If it's not one thing, it's another where there are negative plays in the backfield or me just not making guys miss when I can. It's a little bit of everything."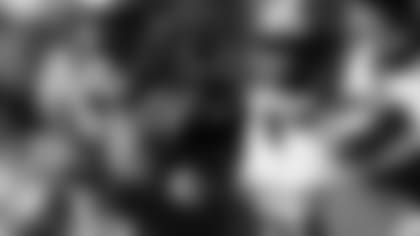 Running back Jeremy Hill had a career day in this game against the Browns back on Oct. 23.
They'll have to move the 6-2, 335-pound Shelton, a player that Bengals offensive line coach Paul Alexander believes would be in the Pro Bowl if the Browns weren't 0-12. Shelton, a No. 1 pick in 2015, has blossomed while the Bengals No.1 pick in 2015, left tackle Cedric Ogbuehi, is back on the bench for this one. According to profootballfocus.com, Shelton is ranked eighth overall among NFL defensive tackles but is particularly strong against the run. PFF says he has the second most run stops in the NFL with the sixth best run-stop percentage.
"As far as some of the guys who are two gapping and throwing you off, he's definitely one of the best at it," says the 6-3, 308-pound Bodine. "He's really exceptionally good at being able to stay in his gap, stay in his gap, and shed a blocker and make a play at the last second. That's what they're asking him to do and he's damn good at it."
Alexander says Bodine has been good, too, lately, playing very well in the last month or two. He thought he held up particularly well against Ravens Pro Bowl nose tackle Brandon Williams a few weeks ago. Bodine has also risen in PFF's eyes during his third season, moving from near the bottom of its center rankings to closer to the middle of the pack.
"I think he just had to kind of get his feet wet," Alexander says. "He had to go through it a little bit. It's a completely different style of football than he's used to from college. We've talked about that ad nauseam. He's a big, tough, strong guy. He isn't afraid of those big guys."
Bodine also isn't afraid to speak his mind. Alexander admitted this week that an argument on the sidelines against Baltimore led to Bodine being benched for two series. But both have let bygones be bygones. Bodine politely waves off the subject.
"Russell pissed me off on a couple plays in the Baltimore game so I said the hell with you and put T.J. (Johnson) in. That's coaching, right?" Alexander says. "He's good. Russell's doing a great job. He really is. Those big nose guards and all that stuff. He's doing good. You look at where his craft is going, and he keeps getting better and better."
Bodine also isn't afraid to tip his hat to the other guy. On Sunday, when the Bengals could manage just 80 yards on 33 carries against an Eagles defense ranked in the middle of the NFL pack against the run, Philly blitzed and loaded the box and dared the non-Green receivers to beat them.
"I think that was some of it, but you can't take anything away from their defensive line," Bodine says. "They've got a guy like Fletcher Cox who's a great player, especially in the run game. They've got some big guys beside him that aren't slouches."
But Bodine doesn't want to talk about last Sunday. He likes to put the past in the past, which he thinks has helped him.
"The whole thing for me is taking it week by week," Bodine says. "No matter who you're playing against, you just have to focus on that game. I think I've played pretty well the last couple of weeks, but it doesn't matter. You just have to go do it."
They'll also be asked to block linebacker Jamie Collins for the first time as a Brown. They missed him in New England because the Patriots had just pulled off the trade. But he catches up to them.
"He brings a lot of challenges. He does so many things well," says right guard Kevin Zeitler, also drawing high praise from Alexander for stopping Cox this season, as well as another elite tackle in Miami's Suh.
It sounds like a perfect day for a classic AFC North back. But the 230-pound Hill doesn't pay attention to weather.
"Only if it's in the negatives," he says of the temperature, "But I've never had it where it's been like that."
Never mind the temp. He hopes to keep the negative plays frozen.
Andy Dalton 2016 Man of the Year Nominee.