*Darqueze Dennard brings that Leon Hall-type versatility.      *
2017 Bengals vs. 2013 Bengals
In his reunion with the Cincinnati scribes this week via conference call, he allowed when he watched tape of the Bengals he said it was like watching his Vikings play defense.
 When Zimmer arrived in 2008 after the Bobby Petrino fiasco in Atlanta (and every day Bengals fans should sink to their knees and thank God for egos and motorcycles), he not only changed the culture of an offense-first franchise, he also put in the place the defensive scheme that his third-down guru Paul Guenther draws up today with his own wrinkles, complete with their pioneering Double A Gap Blitz.
But it is downright eerie when the 5-8 Bengals play for pride Sunday in Minnesota (1 p.m.-Cincinnati's Channel 12) while the Vikings play for play-off position. The Bengals might as we bell playing their play-off selves from when the defense was the first name in the Bengals' two division titles and four post-season berths from 2009-2013 in Zimmer's final five seasons at Paul Brown Stadium.
Eerie? Not only are the styles similar with a relentless front four and versatility in the back end, but the numbers are right there, too. Injuries have robbed Guenther of his starting linebackers and cornerbacks, stealing what a month ago looked to be Sunday's intriguing showdown of two top defenses coached by the student and the teacher.
But Bengals offensive coordinator Bill Lazor's short-handed scouting report conjures up what he faces every day in practice when the Bengals are healthy.
"They're as good as we've seen this year," Lazor said. "Some of their guys have been there three plus years and you can see that. They play very smart. They've got no holes. They rush four and play coverage well, or when they break a blitz, they bring it. A pretty heft blitz … With this defense they don't try to trick you. You're going to have to out-execute them."
Lazor also could have been describing Zimmer's last season in Cincinnati. Go back to Zimmer's next-to-last Bengals home game when they played, of course, the Vikings in their last road game without Zimmer as their head coach.
The Bengals went into the game 9-5 commanding the AFC North with Zimmer's defense that would finish third in the league in yards allowed and fifth in points allowed with a suffocating third-down defense at 30 percent, good for second in the NFL. And it complemented quarterback Andy Dalton's No. 10 offense that would finish sixth in scoring.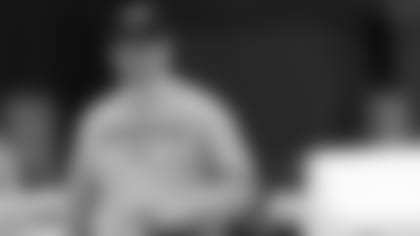 Adam Zimmer with the Bengals in 2013.
Fast forward to Sunday. The Vikes are sailing to a seed at 10-3 allowing the third fewest points and third fewest yards with the league's No. 1 third-down defense at 28 percent. And Case Keenum or no Case Keenum they are seventh in offense and tenth in scoring.
The Bengals certainly hope that game at PBS four years ago doesn't replay itself, a 42-14 Cincinnati victory. But they would like to keep the streak going that began that day, when Bengals head coach Marvin Lewis beat one of his former defensive coordinators turned head coach in Leslie Frazier. To this day Lewis is 6-0-1 in matchups against former aides.
Adam Zimmer, Zimmer's son who is already an estimable 12-year NFL veteran and on his own fast track, coached the Bengals secondary that day in 2013. More fast forward. You can see the family resemblance in the Vikings linebackers he now coaches. Speedy and smart and seasoned in fundamentals. While young Zimmer is spending this week worried about the Bengals' own speedy skill players in running backs Joe Mixon and Giovani Bernard and wide receiver Adrial Jeremiah Green, he can also see some of the similarities from four years ago.
"Strong up front and good in the back. We stopped the run and that's what we're doing here. We had three really good cornerbacks in Cincinnati and I think we do here," Zimmer said. "The styles of the players are different, but the effectiveness is the same. Keep the points down, stop the run, that's the big thing, and get set up well for third down. Put pressure on the passer. They rushed the passer well and stopped the run and that's what we're doing here."
Just like the Bengals gave up nothing on third down in that '13 season at 30 percent, the Vikings are replicating it with a league-best 28 percent. Dalton has seen it.
     "The way they play tight coverage, plus some of their blitz schemes that they have — maybe it's some of the double-A  that they do," Dalton said. "They try to get you off (balance) a little bit and try to confuse you with what they are doing. I think that's a big reason why they've been really successful on third downs."
 A big reason is the versatility that both Zimmer and Guenther seek in a nickel package they love to use. Enter one of the guys Adam Zimmer coached in Cincinnati, cornerback Terence Newman. Newman is still rolling at 39, but now he's more like the Bengals' Chris Crocker of '13 after Leon Hall tore his Achilles' halfway through the season. If Newman's not the nickel corner in the slot, then he could be at safety in the nickel or base. It was Crocker who was the man when Hall was sidelined and the Bengals held the Pats' Tom Brady to 1-for-12 on third down in the 13-6 Zimpiece of Oct. 6, 2013.
"Terence can still cover well, but he's playing all over for us," Zimmer said. "He's so smart, he can play any position on defense. That's what Chris gave you after Leon got hurt. When Leon got hurt, he was the best nickel in the league."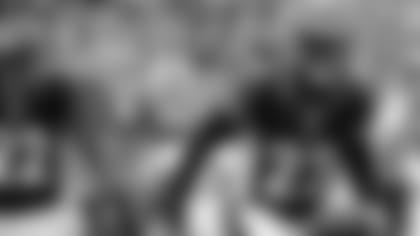 Terence Newman, in 2013 for the Bengals,has inherited Chris Crocker's role in Minnesota.
Like Zimmer's Bengals '13 secondary, the Vikes have blanketed wide receivers with the press coverage Dalton sees. Two weeks ago no Falcons receiver had more than three catches including a two-catch masterpiece on Julio Jones courtesy of cornerback Xavier Rhodes. Or, if old friend Marvin Jones nicked him for 109 yards in a win over Detroit, nobody else did anything else and Golden Tait had just seven yards on four catches. Straight from a 2013 Bengals practice, Washington head coach Jay Gruden worked against Zimmer a few weeks ago and he didn't get more than four catches from a wide receiver.
 Also bringing that versatility is safety Harrison Smith, a second-year player in that '13 game who has flourished under Zimmer, a guy that Adam Zimmer says is "a one of a kind player."
"He's a good at blitzing, he can cover man, he's extremely smart, one of the smartest guys we have. He can do it all," Zimmer said.
Zimmer saw a one-of-a-kind player in Bengals WILL linebacker Vontaze Burfict. Between his nickel backers in Anthony Barr and Eric Kendricks, he thinks he's got that.
"Anthony Barr is one of the best linebackers in the league. He can run, he can cover, he can rush the passer, he's physical," Zimmer said. "Kendricks is really a great cover player. He's got tremendous instincts and sees the ball. (They're) a combination of Burfict, a guy that just did it all when I was there."
Zimmer sees that type of dominance in right end Everson Griffen, one off the NFL sack lead with 13 and Bengals left tackle Cedric Ogbuehi's biggest challenge of the season.
"Energy all the time," Adam Zimmer said. "He really gets after the passer, but he's a team-first guy. He helps on the run and he runs those stunts inside that outside guys don't always like to run."
The way the Vikes approach the run is also similar in the way those '13 Bengals did it. Adam Zimmer says Linval Joseph is the best nose tackle he's ever seen, but that doesn't mean he didn't like what Domata Peko did in Cincy. He cleared the way for the linebackers.
Guenther's problems on Sunday in this battle of blueprints are that he's down to his new linebackers. But Mike Zimmer said it. There are enough of his guys still playing (safeties George Iloka and Shawn Williams, ends Michael Johnson and Carlos Dunlap, nose tackle Pat Sims) that will make it more than interesting.
"Yeah, they're my guys," Mike Zimmer said. "That's why I know it's going to be a tough game."