Emmanuel Lamur thinks he got better working with Luke Kuechly in the offseason.
BENGALS OLBs VONTAZE BURFICT AND EMMANUEL LAMUR VS. PANTHERS MLB LUKE KUECHLY
This is a Cincy football rumble all the way Sunday when the Bengals meet the Panthers at 1 p.m. at Paul Brown Stadium, where Kuechly has already played for St. Xavier.
This is the true Crosstown Showdown. This is how you like your football in the Queen City.
You've got St. X and Bengals and PBS and Pro Bowlers in stripes and undrafted free agents on the come and the NFL Defensive MVP and offseason workout partners and cerebral backers covering fleet tight ends all rolled into a big fat cheese cony with a lot of spice on the river for one afternoon, where, of course, as always, first place in the AFC North is on the line.
"Luke is my dude,' says Lamur, the Bengals starting SAM backer. "Very humble guy. Great guy to work out with. If you want to compete, you want to do it against the best."
That's what Kuechly and a bunch of Bengals have been doing the past three offseasons in the Cincinnati suburb of Mason at Ignition, the athletic performance group directed by Clif Marshall, the versatile combine coach who also helps out in the Bengals weight room.
At various times Marshall has had Linebackers U up there with Kuechly, Lamur, Bengals middle backer Rey Maualuga, backup backer Vincent Rey, and Bills rookie Preston Brown of Cincinnati's Northwest High School and currently the NFL's fourth leading tackler.
Brown came to Ignition because Kuechly is there. As Marshall says, it's hard to turn down a chance to work with the first man to be NFL Rookie of the Year and then NFL Defensive Player of the Year in his second season since Lawrence Taylor.
"Here was Luke, after the workouts, serving Gatorade and protein shakes to undrafted guys hoping to make a practice squad," Marshall says. "That shows you how he attracts guys to him to work out."
And then, Kuechly went to Ignition before his junior year at Boston College because of Maualuga. A Bengals fan and a backers fan, Kuechly had studied him and found it a thrill to work out with him.
Obviously, Sunday isn't going to be like one of Marshall's workouts, where Lamur was so incensed once this past July when Kuechly caught him in a sprint the usually mild-mannered E-Man threw a Gatorade bottle. They won't be competing against each other, but how they'll play at linebacker is going to go a long way in determining the outcome of the game.
After the Bengals were strafed for 185 yards by two New England tight ends Sunday night, Burfict and Lamur take on the highest-rated pass-catching tight end in the NFL in the person of Carolina's Greg Olsen, according to profotballfocus.com
With Bengals wide receiver A.J. Green (big toe) leaving Wednesday's practice before it started, running backs Giovani Bernard and Jeremy Hill may be asked to do the same thing they did against Atlanta when Green left early and split 42 carries. In that case, Kuechly, who leads the NFL in tackles, is trying to blow up that plan.
Kuechly, the defending defensive MVP and 2012 first-rounder, struck up a casual friendship with Burfict, the 2012 undrafted free agent who led the NFL in tackles last season, at last year's Pro Bowl. It will be a homecoming of sorts for Burfict, too, after he practiced for the first time Wednesday since suffering a second concussion in as many weeks three and a half weeks ago.
"Vontaze and I were at the combine together, we were at the Pro Bowl together, he was trying to get me on punt," Kuechly says of Hawaii. "I remember running down on punt a couple of times and he was trying to line me up, I think he was messing with me a little bit. If he's going to try to smoke me, I'm going to let him run by, I'm not too set on making this tackle, I'll run down and try to stay safe, I'll stay out of the way of that big dude.
"We were on opposite teams, so we didn't get a chance to sit down and talk. I talked to him a little bit. I asked him how he liked Cincinnati. Of course I asked him if he liked Skyline chili and Montgomery Inn. So as long as you like those two, you're good."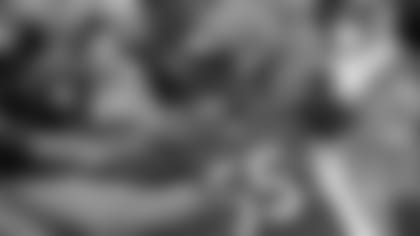 Vontaze Burfict finishes off the play last year that Luke Kuechly remembers from tape.
And now that Burfict has signed a four-year extension, No. 55 is becoming his own Cincinnati icon. Just ask the teammates he gets lined up as the defensive captain.
"A lot of people don't realize this, Vontaze is smart," says defensive lineman Wallace Gilberry. "I just now noticed that with Paulie (Guenther) being at the (helm) because Vontaze is more vocal in the meetings. He knows what everybody is doing on every play. You can't teach that. He's a student of the game and it shows."
Lamur admits Burfict got in his ear Sunday night. With Burfict sidelined, Lamur had the defensive headset as the Pats no huddled the Bengals out of sync.
"First thing he said, man, get the calls to the guys as fast as possible," Lamur says. "If they don't have the calls in then nobody is on the same page. That's a breakdown for our defense so that's not good. As long as we are on the same page that will work out more than anything. 
"Got to get the calls and get everybody lined up and then you have to get lined up for yourself. So, it's a little different approach. At the same time you have to stay poised and give out the calls as fast as possible. Especially when they were going no-huddle. Just stay focused and get the calls as fast as possible and get lined up. That was the whole key about it. There were a lot of mistakes we made but we learned from that and we are moving forward."
Lamur wore the headset when he came within six minutes of quarterbacking the first home shutout in 34 years against Tennessee Sept. 21. The difference?
"Just tempo, they were fast on the ball," Lamur says. "We had missed alignments, miscommunication. It wasn't because we can't guard (the tight ends.)"
Lamur says the major difference between Olsen and Patriots tight end Rob Gronkowski is that Olsen runs his routes like a wide receiver and Gronkowski is more of an option route runner.
"The whole thing with Gronk is timing. Tom Brady and Gronk, they have some kind of connection," Lamur says. "It is a copycat league. They see you can't be successful on certain things they will copy that on other teams. That was just busted plays. There is nothing about we can't cover the tight ends, there's nothing about, trust me. It's more just being aligned. It wasn't that they out-schemed us or anything like that. It was just us. We beat ourselves. Everybody knew that."
Kuechly tries not beat himself by looking at film and he spends time watching Burfict. As he talks to the Cincinnati media Wednesday via conference call, last year's play against the Browns flashes into his mind.
"He's going to go through them; he's going to get off blocks. One of the plays I remember from last year, I don't remember who you were playing, it was in Cincinnati, it was a swing pass," Kuechly says, and he's reminded the running back Burfict buried for his forced fumble and 13-yard return for a touchdown is current teammate Chris Ogbonnaya.
"Oh yeah," Kuechly says. "That's Vontaze right there. Swing pass on a running back, you think he's not fast enough to get there, everyone thinks, but he runs him down and has a big stick and picks it up and ran for a touchdown. That's a Vontaze play, he moves well, he's physical and he's got a good football intelligence."
Kuechly will be trying to muck up the Bengals running game in similar fashion. But if you go to NFL.com, Marshall has penned a story about Ignition's workouts and the accompanying video shows Kuechly talking about how working out with Bengals like Maualuga and has helped him.
"I loved training with the guy," Lamur says of Kuechly. "He's very strong. It's all about competing and getting better. You just watch him work and it makes you step up your game.
"But it's not me against him Sunday," Lamur says. "It's not about me and him. There's no 'I,' in team."
But there is an E for the man they call "E-Man."