It won't be practice when Adam Jones matches up with Andrew Hawkins Thursday. 
  BENGALS CBs TERENCE NEWMAN, ADAM JONES, DARQUEZE DENNARD VS.
*                     BROWNS WR ANDREW HAWKINS*
With Austin Hawkins properly dressed in Dad's No. 16 Browns jersey for Thursday night's AFC North first-place showdown with the Bengals (8:25, Cincinnati's Channel 5 and NFL Network), one of the season's best storylines unfolds at Paul Brown Stadium.
For a minute in warmups, it may even look like Andrew Hawkins' wedding reception from this past June, where all the Bengals receivers and position coach James Urban paid their respects.
"Anybody that's been here and played with him here, they have nothing but respect for him," Newman says. "There will not be one person who will go up and say hello and congratulate for him what he's done thus far and wish him well in the future."
When "Baby Hawk," flew the nest during restricted free agency, the Bengals lost one of their most popular players in a rich locker room culture of three straight playoff runs as well as one of their top slot receivers. But they also had plenty of depth back in March. Indeed, when they toasted him in June, A.J. Green and Marvin Jones were healthy.
The Browns ended up not only gaining their leading receiver in the first half of the season, but a leader for a first-year coaching staff that has Cleveland in the AFC North race for the duration for the first time in seven years.
"It reminds me a lot of 2011 when a lot of us came to Cincinnati," Hawkins says. "There wasn't much hoopla or fanfare of the team but we just went in there and went to work, we kind of figured things out as we went along. As the season has progressed we are still trying to find ourselves and we are building character and guys are working hard and there is a lot of selflessness. That's one of the number one things you need on a football team."
 With Pro Bowl wide receiver Josh Gordon suspended, the 5-7, 180-pound Hawkins has turned into their go-to guy anywhere on the field as one of the starting outside receivers with 39 catches for 504 yards in eight games after he had had 86 catches for 995 yards during three seasons in Cincinnati he played primarily in the slot. But he was so quick and elusive in there that Bengals slot cornerback Leon Hall was once caught musing he'd rather play A.J. Green, the Bengals' three-time Pro Bowl wide receiver, than cover Hawkins in the slot.
"His quickness. That's what makes him so good," says Green, one of Hawkins' best friends. "No, I'm not as quick as him. I don't think I've seen anybody as quick as him."
Hawkins' one touchdown came in the slot this season, but of his 60 targets, only 27 have come in the slot. But with Hall under concussion protocol and probably not playing, scheme junkies like Bengals radio analyst Dave Lapham wonder if the Browns will put him in the slot against his old team.
It would leave Hawkins matched up with the one Bengals corner he hasn't practiced against in first-round pick Darqueze Dennard. Dennard has played just 34 snaps, barely more than Hawkins' slot targets. Like Hawkins, Dennard is banged up. Dennard missed the last game with a hamstring problem but he returned to practice Tuesday. If Hall and Dennard can't go, take your pick on the remaining corners that would move inside.
"We'll deal with that on (Thursday). Cross that bridge when it gets here," Newman says.
On paper, the game's most alluring matchup is the Bengals' best player, Green vs. the Browns' best defender, cornerback Joe Haden. They've had classics going back to Georgia-Florida, but Florida has won lately, according to profootballfocus.com.
Green strafed Haden as a rookie in both 2011 games, but last year in the Bengals' 41-20 victory over Cleveland, Green had just two catches for seven yards and Haden held him to one catch for three yards while returning a touchdown for an interception that was headed to Green. In Cleveland's 17-6 victory over the Bengals earlier last season, Haden held him to five catches on10 targets for 41 yards and no touchdowns and stood over him after one breakup like Ali over Liston. When Green had 135 yards against Cleveland in 2012, it was in a loss and he got behind Haden for a 57-yard touchdown pass late in a game the Bengals trailed big. In the one game Haden has missed, Green caught seven balls for 58 yards, but had a big TD in a one-score win.
According to PFF, in the five games Green and Haden have gone at it, Haden has covered him on 25 targets and given up 13 catches for 277 yards and more than 21 yards per catch. But he's only allowed two TDs and minimal yards after catch. A riveting Pro Bowl matchup most games.
But not this one because this is a game of the heart. Hawkins has a bond with these corners.
"When I came in as a young guy in the NFL, kind of green, not really knowing what's going on, those guys kind of embraced me," Hawkins says. "They would give me votes of confidence. 'Keep working. You're a great player. You're going to get your opportunity. If you were in this place or that place, you'd be a feature guy.' Little comments like that keep you going when you get discouraged about different things. Leon and those guys are just not teammates. They're friends of mine.
"It will be different because practice is much different than the heat of the battle. As far as technique wise, yeah I do have a little intel on that end and so do they. They played against me for three years. Some of the things I know, they helped teach me. All three of them took me aside and taught me things like this is what a DB thinks. So some of the things I know, I have to thank them for."
Newman shrugs when asked if working three years against a guy in practice can help.
"Man that was so long ago. Does it help? I don't know," Newman says. "(Winning in practice) is a flip of the coin."
Newman's not so sure if where Hawkins lines up is going to matter.
"I don't know what they are going to do. We will just show up and play what we have practiced," Newman says. "The guy catches a lot of balls. He makes a lot of things happen. They will definitely try to get him the ball. That part I do know. 
"I think he's quick. Definitely quicker than fast. Jitterbug type changes direction with the best of them and has great hands," he says. "He's reliable. He's a guy that creates separation. No different than when he was here. He runs good routes and the fact he's shorter in stature and has great change of direction causes problems for people."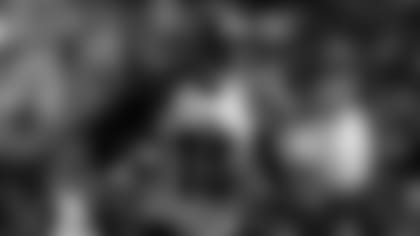 Hawkins stunned Washington in 2012 with a long TD catch on the road in 2012.
The Bengals wanted to keep him and have been ripped for not tendering him a second-round offer of little more than $2 million instead of the $1.6 million that meant teams would not have to give up draft compensation if they signed him.
But the Bengals were faced with the possibility of giving more than $2 million to guy who might get on the field less than 10 times per game. With tight end Tyler Eifert and running back Giovani Bernard emerging as a bigger targets in new offensive coordinator Hue Jackson's scheme and Mohamed Sanu already entrenched as the No. 1 slot receiver in between Green and 10-TD man Marvin Jones, who was coming off the field?
As it was, they were prepared to match a sizeable offer. But the Browns apparently figured that out and adjusted it. When Cleveland put $5.8 million of the four-year, $13.6 million total into 2014, a team that was looking to extend quarterback Andy Dalton and Pro Bowl linebacker Vontaze Burfict and still has to sign Green couldn't do it even though they raised him and loved him.
It was Bengals director of player personnel Duke Tobin who set up Hawkins' workout at PBS in January of 2011 as he came straight from the Canadian Football League. And when the Rams cut Hawkins on the first day of '11 training camp, the Bengals jumped in and claimed him.
But no one ever dreamed they wouldn't have both Jones and Eifert because of injuries, and when they line up Thursday, they most likely won't have Bernard, either. Hawkins, who worked as a scouting intern in the league, gets it.
"I wasn't bitter that they didn't tag me higher. It's a business," Hawkins says. "The route that I've taken where I've done scouting and I've worked in front offices and I've seen it from both sides, I understand where they were coming from. They were trying to make a business decision. Depending on how you look at it, it didn't work out to their best advantage. That's what business is about. You win some and you lose some. In hindsight, at the time I think it was a great opportunity for me. The gamble they would have taken, that's professional football."
Since he grew up watching brother Artrell Hawkins play for the Bengals, he and the organization go way back nearly 20 years.
"When you work your entire life and you pray for these dreams to come true, God puts certain people in your life and certain situations to bring those dreams to fruition, and that was the Bengals for me," Hawkins says. "That was Mike Brown, Katie and Troy Blackburn, Duke, Coach (Marvin) Lewis, the list goes on. They gave me my opportunity at a time when no one else would give me an opportunity. So for that reason, I will be forever in debt to those guys. They will always have a special place in my heart.
 "Those guys are some of the best receivers in the NFL. Injuries happen. I've been on both sides of it. It's been a tough year for Marvin. Talking to Marvin, I know he'll come back and he won't miss a beat. A.J.'s going to come back and finish the year strong. And you've seen how Mo has stepped up big and Brandon. We were so deep over there that sometimes some people have to leave the nest, and I was one of those guys. I'm happy I did so. I'm so grateful to the Cleveland Browns organization because they've embraced me even more than I could have even imagined."
His Instagram video of Austin a few weeks back went viral and will no doubt be bucking with Jim Nantz and Phil Simms for air time on Thursday night. When he asked the three-year-old who are his favorite players, the kid answered, "Sanu and A.J," and Hawkins promptly lifted him out of the house, complete with book bag.
"I just thought it was funny because he really is a fan. He loves those guys. With Marvin and A.J., it's not just football," Hawkins says. "We were a close receiving corps over there. Marvin's kids, Mo comes around. Me and Mo went to Marvin's wedding, and Mo hung out with Austin for two days straight. He took him everywhere with him. And A.J., too. He views them more as his uncles than he views them as football players. When you ask him who his favorite players are, that's who he would say. So I thought it would be a funny video to do. It took off even more than I thought it would."
The Bengals are just hoping Dad doesn't take off this one night he's back in the nest.