Another day, another Hall-of-Famer. Clint Boling points at Terrell Suggs this week.
                      BENGALS O-LINE VS. RAVENS D-LINE
Ravens nose tackle Brandon Williams, who plays like a Pro Bowler, and Bengals offensive line coach Paul Alexander, who is preparing for his 44th game against the Ravens, summed up Sunday's game (4:25 p.m.-Cincinnati's Channel 12) as well as anyone this week.
"We love playing there," Alexander says. "The atmosphere, setting, the Edgar Allen Poe, all of it lends to a very physical nature. It's fun to play there."
 "Offensive linemen are offensive linemen," Williams says.  "Whoever is in front of us is who we have to play – no matter where they are, where they're set up. We're going to attack it just like any other week and just play Raven football up front. It's going to start and finish in the trenches."
Or maybe Eric Winston, pressed into service at right tackle Sunday, said it best about playing a team that needs to win to go to the postseason.
"It's a measurement game," Winston said.
If it's not only fitting that Bengals head coach Marvin Lewis rose to prominence in Baltimore if it his last game as Bengals head coach, it's also fitting it is against an AFC North team. A big reason the Bengals hired Lewis is they knew they had to get the division figured out and they went with a coach who had intimate knowledge of the teams through his jobs with the two dominant clubs in Pittsburgh and Baltimore.
Lewis did get the Bengals on track with four division titles in 15 seasons with a 47-42 AFC North record, according to Elias. In the 15 years before Lewis arrived, the Bengals were 40-70 in the division, much of that in the old six-team AFC Central.
He brought the formula of physicality and trench warfare and built teams to match it. Big backs, bigger offensive lines, lean pass rushers, and stout reliability up the middle on defense.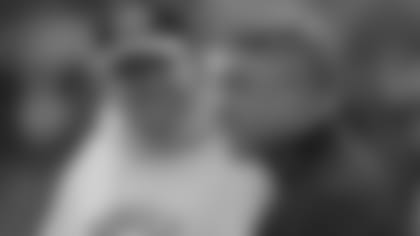 Bengals offensive line coach Paul Alexander prepares for another Ravens match.
Even though Lewis left Baltimore after the 2001 season, the legacy of that 2000 record-breaking defense lives on in Baltimore with perennial stingy defense and that's why the Ravens are on the brink of a Wild Card despite the No. 26 offense. They lead the NFL in generating 33 turnovers for their short-field offense and, as usual, they get to the quarterback (10th in sacks per pass) and stop the run (12th in yards per carry).
But the AFC North formula has crumbled for the Bengals, mostly on offense. When the Ravens blanked the Bengals at Paul Brown Stadium to open the season it foreshadowed their worst rushing season in history, a non-starter in a division with Pittsburgh and Baltimore.  And the Ravens did it against the first-string offensive line. Now they face the Bengals' revamped unit that features four players in different spots and while it delivered a fine effort in last Sunday's win over Detroit, it's not exactly the alignment they'll be rehabbing in the offseason.
Certainly Clint Boling won't be at left tackle, Winston won't line up as a starter at right tackle, and center Russell Bodine is a free agent. But just as certainly left guards Alex Redmond and Christian Westerman are playing for next year even if nobody knows what next year looks like.
And Alexander, completing his 23rd season coaching the offensive line and 24th with the Bengals, won't discuss it.
"I told them about a month ago we don't know how this season is going to go and the one thing I want to do and I'm sure the one thing they want to do is make sure they can hold their head high after the season," Alexander says.
Alexander does say he thinks his unit has progressed since the opener and he's not tossing away the tackles. He says before right tackle Jake Fisher's season ended with a heart procedure, he was his best lineman. As for left tackle Cedric Ogbuehi, out with a shoulder injury, he's encouraged.
"Ced plays most of the game really well and then he has a couple of technique lapses every game that is a problem," Alexander says. "For Ced it's a matter of focusing every play."
He agrees that Redmond and Westerman provided them with a lift with their physicality and fresh legs in helping provide last Sunday's 142 yards rushing, second best this season.  But there are no what-ifs here. The coaches still see them as developmental players.
"If we felt like they were the guys to be in there, they would've been in there," Lewis said. "We had the preseason and training camp and everything else to try guys out."  
But they did bring the AFC North mentality.
"I don't think we need to tell them anything," says Bodine of teaching up Redmond and Westerman for the Ravens. "We call them 'The Bash Brothers.' They just kind of go out there after hanging out and try to finish people. You can use all the clichés. It's a two chin-strap game and all that. Always in this division."
Like Winston says, "I guarantee you the coaching staff, whoever they are, is going to turn on the tape and one of the first things they're going to watch is Week 17 and say,  'Who are the guys flying around?' And are you going to be one of those guys?"
These five guys will on Sunday and keep an eye on Boling working against Terrell Suggs. The transplanted guard is going against a first-ballot Hall-of-Famer and like Boling said after last Sunday' game, the thing that helped him the most was the running game.
Which gets you back to Redmond, Westerman, and next year?
"Actually, since they've switched it up, they've been playing pretty good ball," says the Ravens' Williams. "They've been running the ball pretty well."
They'll have to blast it Sunday so they can wipe away the taste of a bad season and put the smash back in the mouth.
Cincinnati Ben-Gal Cheerleaders perform during the Detroit Lions at Cincinnati Bengals game - 12/24/2017 *Photos taken by Steve France