Left guard Clint Boling and his line is looking to assert themselves again.
    *               BENGALS OFFENSIVE LINE VS. BRONCOS FRONT 7*                  
The matchup is as stark and as isolated as Bengals Pro Bowl left tackle Andrew Whitworth's words and ensuing matchup with two of the best pass rushers in NFL history.
"The only way for us to have any success is for us to play well," says Whitworth of his line's collision on Monday night (8:30-Cincinnati's Channel 5 and ESPN) with Denver's front seven of the league's best defense.
Bengals radio analyst Dave Lapham, who played every offensive line position during his 10 seasons in Cincinnati, has the same view from the trenches.
"If this goes the way the Bengals want it to go, the Bengals offensive line against the Bengals defensive line has to be at least a wash," Lapham says. "I think the Bengals defensive line has the edge over the Broncos offensive line. That's where the Bengals have to take really big advantage. The Bengals offensive line has to hold serve and I think they'll play well."
Lapham is all over this one. He says it's one of the best offensive lines in the league against one of the league's best defensive lines. The Bengals' front may be coming off a tough go in San Francisco last week, but he has also seen them control games this season against stout fronts from Oakland, San Diego, Kansas City, Buffalo, Seattle, Arizona and they dished it out against Pittsburgh pretty well a few weeks ago.
"There's been no cakewalk in there at all, except maybe Cleveland twice," Lapham says. "They haven't had a chance to breathe. Maybe they didn't bring it against Houston and J.J. Watt and Vince Wilfork like they wanted, but I though they held up well in Arizona and I think they're having a good year."    
There always seems to be a twist up front. Standing between the Bengals and a play-off bye is Lapham's 1974 draft classmate and a former Bengals No. 1 pick, Bill Kollar. They both played for the Bengals the last time they won in Denver, Nov., 9, 1975, a distinctly defensive affair won by the Bengals when they held Hall-of-Fame running back Floyd Little to 51 yards on 14 carries.
Aren't they always defensive affairs in Denver?  
Kollar, the lightning quick defensive tackle from Montana State, played just 37 games and three seasons in Cincinnati when his small frame betrayed him with foot problems. But he hooked on with Tampa to play 72 more games and five seasons with the same passion and intensity he has used to become one of the NFL's top defensive line coaches.
If this is a play-off game, then these Green-Dalton Bengals know Kollar well. He coached J.J. Watt's Texans in the Bengals' first two forays into the post-season. Now after following Houston head coach Gary Kubiak to Denver Kollar has another group that plays all out all the time like he did and is the linchpin of unit that leads the planet in every category imaginable but scoring.
"It's the best defense I've seen in several years,' says Paul Alexander, in his 21st season as the Bengals offensive line coach. "It's been a long time."
For instance, just take a matchup where the Bengals have been killing people all year, running back Giovani Bernard on the linebackers. But Denver's two inside backers, Brandon Marshall and Danny Trevathan, are ranked fifth and sixth, respectively, by profootballfocus.com and Trevathan is the web site's third best cover backer, Marshall the 16th.
Lapham knows how it's playing out in Denver's practices this week. That's because he and Kollar became extremely close during their three seasons together. Lynne Lapham and Jan Kollar were best friends and the Laphams traveled to Montana for their wedding. They've managed to stay in touch, maybe not as much as they'd like down through the turbulence of the years, but enough that Lapham can take you into Kollar's meeting room.
"Billy Kollar is high energy. That's the way he played. That's the way he coaches. That's the way he lives his life,' Lapham says. "He goes 100,000 miles per hour. What do they call those things? Five Hour Energy Drinks? He must have 100 every morning."
Here's the way Lapham hears it: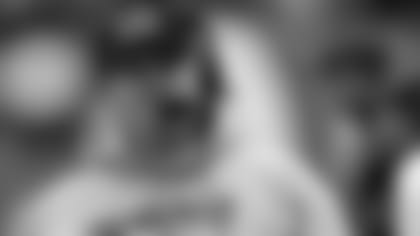 Paul Alexander: "Playing the best on the biggest stage."
"Billy Kollar is telling them this. I can just hear it.  They're looking at tape of the 49ers game and he's saying, 'We have better talent than the 49ers, we're at home, they won't be able to hear the snap, they won't be able to communicate.' I can just hear him getting them all geeked up.
"He's saying, 'Let me tell you something. Paul Alexander is a hell of an offensive line coach. He'll be mad about what happened in San Francisco. They're going to be better than they were last week, so we have to ratchet it up a couple of notches. They've got a lot on the line.' I can hear him every day coming in with a pep talk that is energetic and factual."
Kollar is going to be right about that. After Wednesday's practice the usually philosophical Alexander cut off any questions about last Sunday's game in San Francisco, where the Bengals didn't average two yards per carry on 36 rushes against the NFL's next-to-last run defense.
"No comment. You should have got me Monday," Alexander said. "It's a new week.
"Bill Kollar is one of the best defensive line coaches in the game," Alexander says. "His guys play extremely hard and with tremendous technique. We'll have to play our best. Not try and do what we can't do. But do what we can do and do it with technique and do it with effort."
It's a new week, but Alexander is counting on old-stand-bys  Whitworth at left tackle and Andre Smith at right tackle against the most lethal pass-rushing tandem they face this season. The Bengals are known for letting their gifted tackles go one-on-one against the elite and Von Miller and DeMarcus Ware are as elite as you get.
They both rank in the top five all-time for sacks per game. While Miller is the third fastest player to get to 50 career sacks (58 games), Ware has the 10th most sacks in history. Like the rest of the front seven, they'll line up anywhere they see an advantage.
"We'll get them all at some point," Whitworth says.
"He and DeMarcus are the best. They're exceptional," says Whitworth, who has been banging heads with Ware since college. "I don't know how many full games Demarcus has played (eight), but he still has 6.5 sacks. He's still all around the quarterback when plays. He's an exceptional player. Miller has been really good since the day he stepped into the league.
"They were probably more similar when DeMarcus was younger. DeMarcus has a little more power in his game than he used to.  They're both long, explosive, and they're special. . . (Miller has) exceptional speed. That's what makes it for him. His quickness, his first step. Exceptional."
Alexander goes as far to compare Miller to Hall-of-Famer Derrick Thomas "who these guys don't even know, but this kid is great."
But Lapham looks at end Malik Jackson as the quintessential Kollar player. A fifth-round pick from 2012, Jackson has emerged and is coming off a two-sack game against Pittsburgh.
"You can see his influence on a guy like Jackson," Lapham says. "He's been a two-way player against the run and pass and that's the way Kollar sees it. You're not just an end; you're not just a linebacker. You're a football player. He's going to put you where he thinks you have an advantage and best help the team.
He's also going to send you flying up one gap. No two-gappers here. That's how Kollar played, when the Bengals thought they were getting the next Mike Reid. It's a perfect fit for defensive coordinator Wade Phillips' style of get-to-the-quarterback-now-and-ask-questions- later.
"You saw how the 49ers came out after they were embarrassed against Cleveland," Lapham says. "I've been there. There's no greater motivator than embarrassment and that's how they played. The Bengals have a bunch of prideful guys. No one plays with more pride in this league than Andrew Whitworth. I could see them responding like the 49ers defense responded against them."
Whitworth knows how big of a role his line played in that 8-0 start and how they went toe-to-toe against the best. Seattle is ranked second in defense (the Bengals put up 27), Arizona is seventh (the Bengals put up 31), the Chiefs are eighth (the Bengals put up 34), and the Ravens are 14th (the Bengals put up 28).
"We have a good group," Whitworth says. "There are always things that could be better. We always work on that. It's a big challenge. Why not rise to the challenge? Everybody's got a chance and we've got as good a chance as anybody."