Last year in Buffalo center Russell Bodine anchored a line that allowed no sacks.
          BENGALS OFFENSIVE LINE VS. BILLS HC REX RYAN
The theories abound, but no one has any answers when it comes to the Bengals' inconsistencies while protecting quarterback Andy Dalton this season. All they know is Sunday's matchup at Paul Brown Stadium (1 p.m.-Cincinnati's Channel 19) is a stat buffet for the Bills.
They come in here with the most sacks in the league and the most sacks per pass and face a Bengals team that has already allowed Dalton to be sacked more times than he has been in three of his five previous seasons and put him on pace to be the first Bengals quarterback to be sacked 50 times in a season
But it's just not the 28 sacks that are so mind boggling. It's that down through the Marvin Lewis years, whether it was Dalton, Carson Palmer, or Jon Kitna, the Bengals always protected the quarterback. And usually so well they were at the top of the league. Their next-to-last-in-the-league ranking in allowing sacks per pass is the most uncharacteristic stat in a season that has seen the unexpected.
Since Lewis arrived as the head coach in 2003, Bengals quarterbacks have been among the most indestructible in the game. In 217 regular-season games, he's only had to roll his backup out there 18 times, 15 for Carson Palmer and three for Dalton. But after getting sacked three times and hit six Monday night, Dalton had to rest his throwing shoulder at practice less than 48 hours later.
Pro Bowl left tackle Andrew Whitworth probably isn't the guy to ask about the lack of protection because he goes into the game rated as profootballfocus.com's best pass blocking left tackle. But he's also seen it all.
He was a rookie left tackle in the heat of a play-off run and 10 years later he's watching the Bengals nursing along first-year right tackle Cedric Ogbuehi in a semi rotation with veteran Eric Winston.
"It just has to be done better. Guys just have to lock in and put their best foot forward technique-wise and everything else," Whitworth says. "As you've been in this league longer, I think more of our guys are going to find that out -- guys start to figure you out, how you block and how you do things, and you'd better have an answer for it.
"And some of that's been a problem, and then there's been a lot of other things too.  So it's a mixture, and it always is."
Theories? There is one for all 28 sacks allowed, so we'll go with the short-handed version.
The impact along the line of a learning right tackle in a premium pass protecting position? PFF rates Ogbuehi 75th in pass blocking out of 79 tackle spots.
 The lack of leads? They trail at the half, 114-95, and after three quarters, 157-148.
"We've also got to get ourselves out of third-and-longs," Whitworth said. "Backed up, third-and-longs, down a score -- I feel like we're Philip Rivers for some reason. That's kind of been the MO of our season so far, we've had a lot of situations where we're behind and trying to find a way to score."
 The new receivers not always getting open? Left guard Clint Boling getting dinged up while having an excellent season? Not enough balance between deep drops and a quick passing game to vary Dalton's looks to the defense? Not enough runs in the first half to establish the line of scrimmage? (In three of the last five games running backs Jeremy Hill and Giovani Bernard have combined for less than nine carries).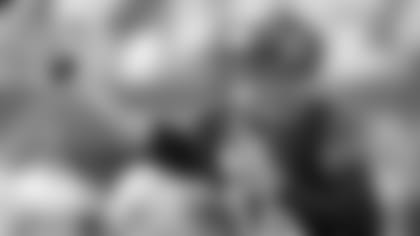 In the opener Andy Dalton gutted through seven sacks, the first time in 26 years the Bengals won a game despite getting sacked seven times.
"Pass protection, run game and pass game are an 11-man proposition," said offensive coordinator Ken Zampese, who has been around long enough to know it's never one thing. "We need to do a better job doing that and when we do that we'll have more success."
 It's a proud group that Winston, working for his fourth team, doesn't believe needs gimmicks to get back on track. He's not looking for reasons.
 "We've got plenty of meetings. I don't necessarily think a come-to-Jesus meeting (is needed)," Winston said. "I think guys on this line are really mature. They've been through it. I think all the guys to a man understand that everyone has to play better. Until we do, we're going to keep finding the same results."
But here's the mystery no one can quite grasp. The results before this season were very solid. Very solid with basically the same guys. Four of the five are back. Solid enough that after last season offensive line coach Paul Alexander was tapped by Sports Illustrated as the O-line coach on its all-star NFL assistant coaches roster, primarily because of the Bengals' long success at protecting the passer.
"Every year is different," Winston said. "I've been on teams where guys are the same and had to win games in a lot of different ways and I feel like in a weird way this team hasn't quite found their winning formula per se. We need to find it this week and we need to find it fast because we have to start making things happen."
Just look what happened up in Buffalo last year. Against pretty much the same front seven (OK, Mario Williams instead of Lorenzo Alexander), the Bengals didn't give up a sack while Dalton threw three touchdown passes in a 34-21 win. Dalton jacked his passer rating to 126.9 in two games against Ryan simply because the protection held up against the myriad of blitzes.
"They'll take a lot of chances," Whitworth said. "In their mind, their corners are going to play one-on-one and they're going to bring extra people and see if the quarterback has the guts to get rid of it or find the first guy that he can to get open. They really put the quarterback in the position to get the ball out of his hands."
Because of the gambles they take, Dalton has lanced Ryan's defense deep. When he fired five red-zone TD passes against his Jets in a 49-9 win at PBS in 2013, Dalton loosened it all up with an early 53-yard bomb to A.J. Green. Last year in Buffalo he found wide receiver Marvin Jones for 42. And they made sure they ran it just enough with Hill and Bernard splitting 24 carries.
But while Rex is dialing up the blitz this year like the old days, they're allowing more points per game (26.3). The corners have struggled while giving up seven passes of at least 50 yards. So if Dalton gets time …
"We know that's one of their strengths and we've been having issues with it," said center Russell Bodine of the Bills' pass sets. "You just have to put your head down and go to work and let the chips fall where they may. In this kind of scheme, you won't focus on one guy. You're not game planning for any one of them. You try not to make the same mistake twice and keep going in the right direction."
It's a good thought. Seven Bills have been involved in multiple sacks. Alexander, the NFL's most unlikely sack leader maybe ever, is a 245-pound college free agent linebacker in the tenth season of a journeyman career that featured nine sacks in 127 games. Now he's got ten in nine games with Ryan lining him up everywhere but at the Will Call Window.
And then there's montrous defensive tackle Marcell Dareus. He's battling injury and is questionable for Sunday. Teams have been able to run it on the Bills, but if Dareus is healthy he's a load in the pass rush, although the Bengals handled him last year.
"He's great at creating confusion and getting guys free to the quarterback," Winston said of Rex. "I think anytime someone brings a lot of players, you have to win your one-on-one battles and that's tough as well. We have to be on it. You have to know the rules and protections because he'll bring guys in a certain way. He'll mess with some of the rules. It's not going to look pretty, but you have to find a way to get someone blocked. The constant thing with (Ryan) is you won't get the same thing. He's going to try and give those guys opportunities to get free on Andy and he's got different ways to do it depending on what you like to do.
"We have to win our one-on-ones and make sure we're on the right guys."
The Bengals are running out of time this season and so fittingly Sunday's big matchup is a matter of time.
"Whatever we do," Winston said, "we have to give Andy that extra half-second to get the ball down the field."