Alejandro Villanueva as a Bengal for a weekend in 2010.
BENGALS RE MICHAEL JOHNSON VS. STEELERS LT ALEJANDRO VILLANUEVA
Through three tours in Afghanistan, countless fire fights, and a Bronze Star, Alejandro Villanueva kept the Bengals business card in his wallet.
Tight ends coach Jon Hayes gave it to him after the Bengals 2010 rookie minicamp. It was almost as if Villanueva needed it to prove to himself that he was actually invited out of West Point for a tryout and that he didn't dream he had just worked out with some of the best players in the country before he followed through on his commitment to the army.
And in a way he'll still be carrying it when lines up at left tackle for the Steelers Sunday (1 p.m.-Cincinnati's Channel 12) against the Bengals at Heinz Field. Because between those dangerous assignments in a mountainous no man's land, whenever he'd pull out his wallet to buy a soda or some gas, he'd look at the NFL logo and wonder.
"Honestly," says Villanueva, because that's all he ever is, "the fact someone in the building in Cincinnati thought that I could play in the NFL means I'm playing today. It means I had enough courage to pursue a career in the NFL. Whoever it was in that building, I owe them everything I am now."
Which is one of the more heartwarming stories in a league that can produce ruthless rivalries like Bengals-Steelers. This is irony squared.
In just two scant years, the 6-9 Villanueva has gone from being an Army captain, to a 6 o'clock news oddity, to a defensive tackle on the Eagles practice squad, to an experimental offensive tackle on the Steelers practice squad, to the starting left tackle on a 10-win Steelers team that made its way to last year's divisional round and is looking to unseat the Bengals as AFC North champions.
"To be honest with you, the entire Bengals team is the nicest team we face all year," Villanueva says. "It kills the media story. If I told the ESPN reporter they wouldn't want to hear it. It's not going to sell.
"From the guys I interact with all the time, the Bengals are probably the classiest and the nicest. And also the best front seven that we face. Not just in the AFC North, but in the NFL as well."
This is not exactly the conventional view. Bengals-Steelers in the nastiest rivalry in the game, right? Over- the-edge-out-of-control-emotional-cauldron have got the pundits all lathered up.
But then, Villanueva isn't typical of this epoch of hype. Heroism doesn't come in re-tweets. For one thing he's not interested in telling you about how he got that Bronze Star.
"You can look it up. It was an unfortunate time," Villanueva says. "I don't like talking about individual achievements. It's like making a Pro Bowl but losing the Super Bowl. There are too many other lives involved."
Look it up and it's hard to believe that he talks about having courage to give the NFL a try. Go back to that August night in 2011 when eight Taliban militants ambushed Lt. Villanueva and his men. Villanueva, the rifle platoon leader of the 2nd Battalion, 87th Infantry Regiment, 3rd Brigade Combat Team, responded by carrying two of his wounded men under heavy fire down an alley into a mosque.
Ask him how many of those he was involved in and he says, "They don't keep stats on that stuff like they do in football."
But he'll talk Bengals. Here is Villanueva's scouting report, starting with the man he opposes Sunday, right end Michael Johnson:
"Michael Johnson is an unbelievable guy. I've never had a guy hit me and apologize. 'Hey man, sorry for that hit.' A class act. The things he does with the troops and the stuff with his foundation is unbelievable. Every time I do an event with the NFL, they always tell me that Michael Johnson was here the week before and he was awesome with the kids. And he's respectful on the field.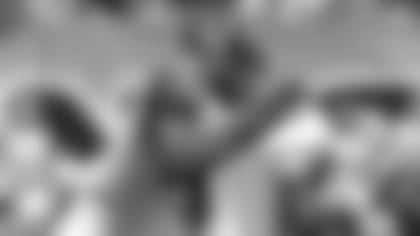 Michael Johnson's matchup with the Steelers' Alejandro Villanueva is a duel of respect.
"(Domata) Peko is the nicest guy. Carlos Dunlap is best friends with two of our guys from Florida. He's a very respectful guy. Geno Atkins is a quiet professional. He's a great, awesome player, but he never stirs trouble. He never says anything to you … (Steelers right guard) David DeCastro and I were just talking about how great of a player he is …
"The linebackers, (Rey) Maualuga, he's a widow maker, but at the same time he's the nicest guy. So is Vincent Rey."
In that long ago minicamp for the rookie class of 2010, Villanueva lockered next to Dunlap, got picked up at the airport with Atkins, and as the tallest player in Army history who played both tackle and wide receiver, he worked at the same tight end position with first-round draft choice Jermaine Gresham.
"I never knew anyone that played in the NFL. I never knew a scout," Villanueva says. "When I played my last Army-Navy game, I thought I'd never play football again.  In the Army locker room, you don't hear guys talking about NFL camps … Rarely does anyone from Army get an invite to a rookie minicamp."
Villanueva was stunned to get the call from the Bengals East Coast scout at the time, Greg Seamon, now the Browns tight ends coach, wanting to know the closest airport to him so they could make out the plane ticket.  Seamon had been an Army assistant coach some 25 years before and came away with a lifetime deep admiration for the commitment and passion of the West Point player.
Throw that in with Villanueva's size and athleticism, and Seamon, along with the personnel department and the coaches, thought he was worth looking at in a tryout for some time down the road.
Even though he was nowhere near ready at 6-9 and something like 220 pounds.
 Even though he was already committed to Ranger school and a spot as a second lieutenant and platoon leader in the Tenth Mountain Division in early 2011. Even as he lined up next to Gresham, he knew there would be no hotter spot than the Afghanistan-Pakistan border.
"It's what I was meant to do, lead men into battle," Villanueva says. "I'd do it all over again to serve. It's my passion. It's what I was meant to do."
But the weekend in Cincinnati also seemed meant to be.  
"I was able to see what the cream of college football was like," Villanueva says. "I became friends with Jermaine Gresham that weekend and I could see what a really good athlete looked like. When the war was over, that (camp) made me say. 'Maybe, I can go back.' I felt comfortable. Coach Hayes was very nice to me. I was really learning.
"I knew I was deploying and the people in Cincinnati are like, 'What are you doing here?' Honestly, to get a couple of free shorts. Which I wore for five years non-stop. It was a beautiful experience."
When he came home between stints, it was always Bengals stuff. After his first tour Hayes sent him a big box of what Villanueva calls "Hayes equipment," and he handed it out to his guys.
"Shorts. Shirts. Hats. Big 2X jackets," Villanueva says. "There'd be Cowboys fans or Steelers fans and they were wondering what was going on. But when they saw it was free, they grabbed it. A lot of Army soldiers don't grow up around sports, but I think they thought the white tiger was cool, too."
Villanueva won't play against Pro Bowl left tackle Andrew Whitworth Sunday. And he didn't talk to him that minicamp.
"Are you kidding? Whitworth was a legend then. I wasn't going to bother him. I said, 'Look there's Whitworth,'" Villanueva recalls. "Rookies don't talk to veterans. Especially a guy not even going to make the 90-man roster."
When the Steelers switched him to tackle, Villanueva watched tape of all the AFC North tackles because he wanted to learn how they blocked the guys he had to face in practice.
"I watched Whitworth because we're similar body types," he says. "I block a guy two different ways and I'm anticipating three different things. But he is just so consistent. Same set all the time. The hand placement is the same all the time. And he's got so much knowledge. That's what I would like to have like him. The same demeanor and footwork."
That's another Bengal Villanueva will catch up with after the game. He always talks to him.
"Whitworth is such a great guy," he says. "His feedback is always so positive and he's helpful. He's the nicest guy."
Not your conventional view of this one. But then, Capt. Villanueva isn't typical and neither is this rivalry.
Bengals DT Geno Atkins, WR Tyler Boyd and DE Carlos Dunlap unveiled the team's Color Rush jerseys at the Cincinnati Zoo.