Defensive line coach Jacob Burney is reunited with Chris Baker.
Jacob Burney and Jim Haslett looked at each other.
"Did you show him the tape?" Haslett asked Burney.
It's on tape. That's why he's here. They saw what Chris Baker could do from 2011-14 when they coached together in Washington and what he did there after they left when head coach Jay Gruden changed up his defense.
"If he can do for us what he did then, it's going to make us a better team, said Haslett, then Washington's defensive coordinator and now the Bengals linebackers coach.
Baker, a 6-2, 300-pound defensive tackle, is the newest Bengal after signing a one-year deal and Burney, the Bengals defensive line coach who did the same job for Haslett, can't wipe the smile off his face.
"We think this is a step in the right direction," he said.
They say now it's a league of matchups. And they may as well be talking about off the field as well as on the field. Players, coaches, schemes, fits, cities. It didn't fit in Baker's last stop in Tampa. But Baker is one of the lucky ones. As a young player he found two coaches that believe in him enough that they're giving him another shot when they got another shot. Baker knows that's why he's here.
"There's never any gray when it comes to myself and Baker and it's a good relationship," Burney said.
The Baker signing kicks the Bengals into free agency season, which has that odd start on Monday and Tuesday where teams can talk to other players but can't announce deals until Wednesday.
The Bengals, who don't want to sacrifice drafts picks for unrestricted free agents (UFAs), figure to continue to search for low-to-mid-range deals (the big ones are reserved for Geno Atkins and Carlos Dunlap) that have the potential to make bigger impacts because of past performance or scheme fit or both. Meet Baker, believed to be paid in the $3 million range for a non-UFA player they feel has the chance to play regularly and well.
The Bengals are upbeat because he's a rarity. A big guy that can move. Those guys are tough to find in any draft.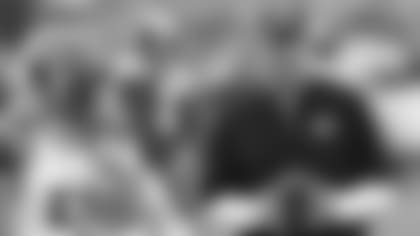 Jim Haslett oversaw Chris Baker's rise from undrafted retread
If he plays like he did in Washington. That's when from 2011-2014 Haslett and Burney developed him from an undrafted free agent on his third team into a starter. By the time they were gone in 2015-16, Baker was a top ten defensive lineman graded by profootballlfocus.com  earning a three-year free-agent deal in Tampa last year for nearly $16 million in which took home about half of that after they released him two weeks ago.
"They think you can play if they give you $8 million," Haslett said. "They just don't hand it out."
Now at age 30, Baker has no doubt he can get back to that level where he displayed uncommon big man athleticism on all three downs.
"Without question," Baker said Thursday from Tampa. "It always helps to be around people that really believe in you and really know what you can do.  They're going to give me a shot and see what I can do. I'm doing everything on my part to put my best foot forward when I get out there. I feel like I'm in the best shape of my life. I haven't been this light since college. It has to translate to the field. I pray I stay healthy and let this thing roll out as long as I can."
And it looks like he's in just the right scheme, a penetrating four-man line. In Washington's 3-4, Burney was able to discipline Baker in the art of two-gap play at end and nose tackle even though his athleticism makes him a natural one-gap player.
"This defense is a little different," said Burney of the Bengals' scheme. "Mentality-wise, personality-wise, it's a good fit. We're on the edge (of the O-lineman) here. In Washington we were head up. He can be a nose or a three (technique). He brings that athleticism inside."
Baker flourished when new Washington DC Joe Barry brought in an attacking 3-4 that is similar to what the Bengals use in a 4-3 and those nine sacks in 2015-16 helped get him the big contract.
"I'm kind of able to use my athleticism and just go play," Baker said. "I had a good conversation with the defensive coordinator, Coach (Teryl) Austin, and he told me my role. They're not going to hand me anything. I have to earn it. I've done that my whole career being an undrafted guy."
Baker may be at his NFL lightest, but he knows he's also carrying some baggage from Tampa. A locker-room shouting match after a last-minute loss to Carolina capped a frustrating year he was criticized for his play (and at times effort) not matching his paycheck. He believes the locker-room incident with linebacker Kwon Alexander was pretty typical in the heat of such a tough loss and felt that they had patched it up right after that but the story was already rolling.
But it has rolled past Burney, who has his own relationship with Baker.
"I don't care about any of that. Time to look forward. I told him he has to look forward because he can't change any of it," Burney said. "He knows what to expect. It's not as if he needs time to get used to it. There's never any gray when it comes to myself and Baker and it's a good relationship. I like the kid. He's a got a great personality. He's an outgoing guy and he cares."
Baker knows he's the next in line for getting one of those second chances that Bengals president Mike Brown and head coach Marvin Lewis have become known for.
"I know there are guys they sign who sometimes other teams might not touch, but they give them an opportunity," Baker said. "And that's the one thing I like about the Bengals organization. They don't look too much into the past of things you did before, but they're trying to make their own judgment and feeling on a player and they give them a chance and if that player can hold up, then great. If not, you have to move on. I'm happy Coach Lewis and the rest of the staff thought enough of me to give me another chance and I'm definitely going to take advantage of it."
It's a league of matchups.
"Coach Burney is really good at being direct and telling me what he wanted done," Baker said. "He does coach hard, but I've been coached by him. I know what to expect … I respect him, he respects me. So we make a good match."