As the rookies snapped-crackled-and-popped to the field for their first NFL practice last week, one of Bengals president Mike Brown's coaches approached him with a smile that couldn't be concealed since he was talking about the easy to find the nose tackle from Arizona State.
"We're going to send No. 95 first off the bus," the man told Brown and thus began the pro career of Renell Wren, fourth-round pick, 125th player taken in the last draft and a 6-5, 318-pound simmering vat of possibilities.
To be anointed First Guy Off The Bus among a bus full players who have spent their lives being ticketed as The First Guy Off is quite an honor. Sure, just a beauty contest. The New Hampshire primary in shorts with the jersey No. 2020. But some inside the walls of Paul Brown Stadium have taken note of his Pro Bowl size and believe Wren has the biggest upside of any of their rookies even though he's coming off his only season as a starter during his five years in Tempe. The emphasis is on big.
Wren flew on the Bengals' radar at the Senior Bowl, where he proceeded to have his way against offensive linemen rated higher than him. Defensive line coach Nick Eason made sure he spoke to him a few weeks later at the NFL scouting combine in a few different venues, once as they walked and talked. The film did the rest.
"There's a big piece of clay there," is how Arizona State head coach Herm Edwards puts it after a season he saw Wren dominate centers at times. "There's talent. A lot of it is on him, too … He's got everything you want. Height. Weight. Physical strength. Soft-spoken. Great guy. Never had a problem with him off the field. Zero. Hopefully he can be that guy he has the potential of being. More of it's on him … All the arrows are pointing the right way."
Wren, a St, Louis product who grew up strict in a home with his mother (a social worker for more than two decades) and father (a federal police officer), says it took him a few years to figure it out. The light bulb didn't just click on when he was a junior in college, it flooded him.
"Being able to know I wanted to play at the next level and being able to improve and make a living at it, I had to change some things around," is how Wren puts it. "I had to change my circle … My freshman and sophomore (years), I was playing just to play. I liked just being on the team. I realized I wanted to do this for a living, so I decided to be more in the film room, be more on the iPad watching film and being in the weight room more."
Eason, fourth-round pick, 114th pick of the 2003 draft, Super Bowl champion and veteran of 85 AFC North games in the trenches, has been in the middle of it all and thinks Wren could be the next big thing. Again, emphasis on big.
"He has some tools to be a dominant player," is how Eason puts it. "That's that body type. He's got the body type and the tools. The speed and agility to be a dominant player."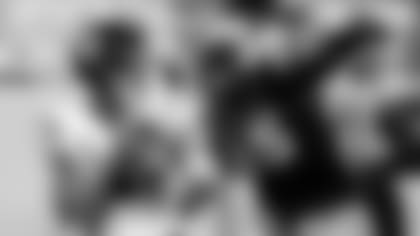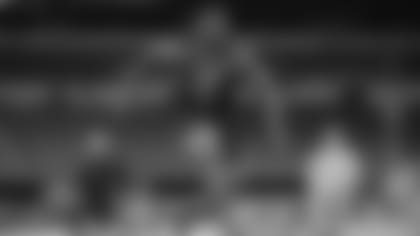 The Bengals just haven't had D-Tackles that look like him. Future Pro Football Hall-of-Famer Geno Atkins, their greatest interior force of the century and maybe ever, is undersized and unprecedented at 6-1, 300 pounds. But if you can name a guy as big as Wren that hung around Bengaldom lately, please do. Edwards, an NFL head coach for eight seasons and Tony Dungy's top aide in Tampa Bay for five more, is hard pressed to find one. And he had Warren Sapp (6-2, 303) and Booger McFarland (6-0, 300) in Tampa, as well as Dewayne Robertson (6-1, 317) with the Jets.
"They weren't that tall. He's a big man," Edwards says. "He's a very athletic guy. For me, he's got to learn how to play inside that little box. When it flashes, can he see it? Or anticipate it? That comes from doing it over and over, day after day."
Eason looks at some of his contemporaries with that kind of size. The Patriots' great Richard Seymour went 6-6, 317 during what could end up being a Hall of Fame career. Marcus Stroud, 6-6, 310, played a decade on some good Jacksonville defenses. Both those guys were top 13 picks. In his first training camp as a player, Eason glimpsed 6-5, 330-pound nose tackle Darius Holland at the end of his solid 10-year career with four teams that included nine play-off games and began with Green Bay taking him in the third round.
Eason is just talking about body types, now. Nothing else. But, he says, if Wren can use it, that length can be big time. And here's why Eason says defensive line coaches covet length and not just strength.
"It's hard for the linemen to block a guy with his extension. Hard to get your hands on him and add that with his natural power behind that," Eason says.
Here are other boxes Eason has checked on Wren:
"Short area quickness, hip flexibility. Can a kid bend? Is he strong at the point of attack versus single and combo blocks on the run? Can he push the pocket? Does he have good quarterback pocket awareness? Is he a strong tackler?" Eason says. "He can do all those things. He's very bright. He's going to help us win us some games."
What Eason saw on film is what Ourlads Scouting Services offered in giving Wren a grade worthy of the "second/third round … High upside because of his naturally dominant traits … elite power and reach was a difference maker in the middle of their line."
Eason thinks he can play any interior position, so that means Wren most likely begins NFL life trying to push 2016 fourth-rounder Andrew Billings for the starting spot next to Atkins at nose tackle. And Eason won't rule lining him up occasionally at end. Even though he played just 17 games before starting all 13 at nose tackle this season, Edwards doesn't think Wren is a developmental player.
"What's great about him is he doesn't have bad habits," Edwards says. "You're not trying to re-create something.
"I don't think he's a project. How are you going to use him?" Edwards says. "Will he become a pass rusher inside? I would think he could be … He's a raw football player. He's got some strength, got some talent. He just hasn't played enough football yet to know what his ceiling is going to be. Powerful man inside. Played with really good leverage. He's tall for the position. At times he gets a little high. The more football he plays, it will help him. He's a smart guy that can dominate at the line of scrimmage. He can dominate a center, no doubt. But he just needs more refining. He just needs more playing time to understand combination blocks and things of that nature that you have to feel to play inside like that."
But Edwards says even if you don't know Wren's ceiling yet, it's a high one. After being on the field with the guy for that first day, Eason is convinced he's got the intangibles to reach that length. After getting on the practice field early last Friday, Wren stayed after practice to work on the sled even before Eason asked.
"This kid loves football. He wants to learn," Eason says. "He's going to work. He takes coaching very well. He takes constructive criticism and that's how I coach …This is a guy you want in the room."
Wren's not only in the room. He's the first one off the bus.
"Massive," is how Edwards puts it.