The NFL leader in kickoff return average is Baltimore's Devin Hester at 27.4 yards.
But only because Alex Erickson needs two more attempts to qualify.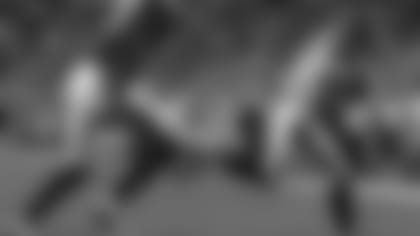 After a 65-yard return against Washington and an 84-yard return against the New York Giants, the Bengals' rookie is averaging 31.3 yards on his 10 opportunities.
"He's not all that experienced at doing it, but he's getting better and better and better," said special teams coordinator Darrin Simmons. "You can see that the light's starting to come on and it's good to see that the guys are starting to get confidence in him too."
"Being a rookie is not an excuse," said Erickson. "There are guys counting on you in that locker room and when you get opportunities you have to make the most of them."
Erickson's success as a kickoff returner is remarkable considering that he only had two attempts in his college career at Wisconsin.
"I just never really did it because of my role on offense so we had other guys back there doing it," said Erickson. "It's just playing football. When you get the ball in your hands those instincts for reading the blocks comes into play."
"If you remember, he only had one kickoff in the preseason in the Jacksonville game if I'm not mistaken," said Simmons. "We were more concerned with seeing the guy catch punts and seeing if he could be a punt returner – we'd make him into a kick returner. The script has kind of been flipped so far. He made a bunch of plays in the preseason as a punt returner and now he's making them as a kickoff returner."
In addition to his long kickoff return in Monday's loss to the Giants, Erickson also had his best game as a punt returner with 3 attempts for 35 yards, including a season-best 18 yarder. The 24-year-old says he's learned the importance of trying to get straight up the field in the NFL on returns.
"There's such a fine line between a good return and getting nothing," he told me. "Those windows close so fast. You watch it on film and say, 'If I can get to that hole…then boom, it's gone.' Everybody is so fast. You have to get vertical and get what you can get, and sometimes it opens up and you can gash them."
"That's something that we made a big deal about during the bye week," said Simmons. "I watched every play with him that he'd had the entire season and that's something that he did well in the preseason. He got the ball vertically up the field. We always want to get a first down and he wasn't doing that as much in the regular season."
Erickson led the NFL in the preseason with a 30.8 punt return average, including an 80-yard touchdown vs. Minnesota. If he gets three attempts this week he should be among the regular season leaders in kickoff return average.
Not bad for a former college walk-on who earned a job with the Bengals as an undrafted free agent.
"I don't think that he's an overachiever – I think that he's an achiever," said Simmons. "I think it's a matter of where preparation meets opportunity and he's getting an opportunity to do it now where he may not have had that before.
"He works his tail off every day. He's out there early before practice with me catching balls. He watches a lot of video and is one of the first guys in the meeting room all of the time. He's just taking advantage of opportunities when they show up."
"It's been fun," said Erickson. "We just need to keep pushing, keep making plays, and hopefully have more success."
Cincinnati Bengals travel to take on the New York Giants in week 10 of the regular season.