Rookie wide receiver Josh Malone has alll the tools.
They may end up not writing a word about rookie wide receiver Josh Malone during and after Sunday's dress rehearsal in Washington (4:30 p.m.-Cincinnati's Channel 19), otherwise known as the Bengals' third pre-season game.
After all, there's a ton of other stuff on the table, such as the Carlo (Bengals defensive coordinator Paul Guenther) and Johnny (Washington head coach Jay Gruden) re-match with the old Cincy friends. Gruden's offense went overseas and overtime last season in Wembley to carve up Guenther's defense for 546 yards that included quarterback Kirk Cousins' 458 for the most passing yards against the Bengals in ten years. The toughest thing about that one is the defense couldn't close it out with a 20-10 lead and about 18 minutes left in that 27-27 finish.
The Bengals that day had no answers for monstrous tight end Jordan Reed (nine catches, 99 yards) and it will be interesting to see how they attack him without one of their bigger cover players in safety Shawn Williams, out with a dislocated elbow. Williams is telling his mates and coaches he'll be back for the opener, but no matter when Sunday should be a good look at how the Bengals plan to cover elite tight ends if they don't have him.
And then there's that kicking competition. It's a bit ironic Mike Nugent's decline began against Washington with that missed extra point and here we go with not much separation between veteran Randy Bullock and fifth-rounder Jake Elliott in a game that impacts it severely with just two left. Special teams coordinator Darrin Simmons isn't tipping his hand, but if there is a slight surprise it's that the draft pick Elliott has yet to shake the tenacious Bullock.
Meanwhile, wide receivers coach James Urban quietly deploys his Magnificent Seven and that's really the key to the roster cut downs.
Usually, the Bengals keep six receivers, but not now. Tyler Boyd and Cody Core are two of their most improved players. Alex Erickson is not only the AFC's defending kick return champion, he's caught everything this preseason. First-rounder John Ross is expected to show off some of that game-breaking speed in Sunday's NFL debut (another storyline eclipsing Malone) and veteran Brandon LaFell bring his leadership and hands after an 862-yard season that was the most by a No. 2 receiver since Chad Johnson and T.J. Houshmandzadeh each went for 1,000 yards in in 2007. (How good is A.J. Green? He missed the last seven games and still led the way with 964.)
The 6-3, 208-pound Malone? With Ross expected to get some snaps Sunday and Core (ankle) expected back, we probably won't see Malone with the first group like last week. And he'll probably be inactive early in the regular season.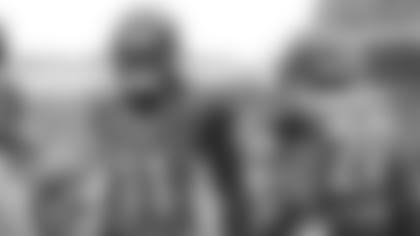 Malone is benefitting from wily veteran Brandon LaFell (11).
But Malone is No.7 and this is why the Bengals have to go light at another position. (Defensive line? Offensive line? Running back? Tight end?) He may be a work in progress, but some around here think in some ways he's ahead of a fifth-rounder in 2012 named Marvin Jones.
LaFell has no idea because he was in Carolina then. But he's here now.
 "He's got a lot of talent. A lot of raw talent," said the popular LaFell one day this week before practice as he graciously pulled himself away from the gaggle that gathers around his locker to play cards and talk life.
"He can run. He's got size. He just needs to polish up a few things, his route running. Just polish up that and get a little stronger in the weight room he can get out there and block some of these guys. But he's got what you can't teach. You can't teach that size and that speed and the way he's able to track the ball the way. He's going to be good."
LaFell calls Malone, "My young guy," and that's an understatement. He's a few months shy of 10 years older than Malone, shooting out of Tennessee early with a 4.4 40-yard dash and not turning 21 until a month before the draft.
"I don't know how old he is, but he carries himself like a pro," Malone said. "I like looking at how he and A.J. go about it."
This is why having true pros around like LaFell and Green means more than Coach speak. After Malone blew a chance last week to catch a 26-yard touchdown pass from Andy Dalton when he caught the ball running out of the end zone, LaFell and Green converged on him as he came off the field.
"Somehow, some way, know you have to feel where you are on the field," LaFell said. "You're a 6-3 guy. You don't have to lean out and catch the ball with your body. Just lean out and do the technique. Catch it over your shoulder with those long arms. You're 6-3, but maybe 6-4, 6-7 (when) you extend your arms and catch the ball."
Malone is a Tennessee guy all the way (Gallatin) and he remembers watching LaFell at LSU when he was, well, a kid.
"He followed greatness," LaFell said, joking around. "We sit next to each other in meetings and he picks my brain. And he listens to what you have to say."
LaFell also handed out praise from earlier in last week's game when Malone was playing with the first group and  he hooked up with Andy Dalton on a 15-yarder when they converted fourth-and-five.
"A great come-back route," LaFell said. "At the top of the route the guy was trying to undercut him. He threw that left arm around him and kind of like boxed out (the cornerback) to get around him.  He just went up and caught the ball with his body. It was a pretty good play."
It's why you not might here about Malone in the first half Sunday, but he's why they're juggling head into cut down week.