Michael Johnson addressing the graduates of Dohn Community High School.
After Thursday's voluntary work on the field, Michael Johnson volunteered again and caught a flight headed to Charleston, S.C. A re-union loomed with his decade long book-end on the Bengals defensive line at Carlos Dunlap's expanded youth football camp, an idea that Dunlap plucked from his buddy like one of his fourth-quarter game-breakers.
The Low Country Football and Cheer Weekend has returned for a seventh year in new, jam-packed fashion. On Friday, Dunlap, Johnson, and several other NFL players plan to visit The Medical University of South Carolina children's hospital in the morning and volunteer at Habitat for Humanity in the afternoon. Then on Saturday the camp begins with a discussion about bullying and ends with campers learning the mechanics of aeronautical design during an interactive presentation by Boeing.
"MJ took his camp to the next level (when he) took them off the field and made it a health and career day," Dunlap texted this week. "I think it's important to emphasize more than just football. Like we have been doing in the community, we are just adding it to our camps."
This is what Johnson and Dunlap do. Both have been the
Bengals Man of the Year for their work in the community and nothing changes in the whir of events. Heading into his contract year Dunlap has been the only absence at voluntaries, although no one doubts he'll return in fine fettle seeking a third Pro Bowl at left end as well as another banner year for his foundation. Maybe as early as the mandatory minicamp in ten days.
"He'll be back ready to roll," Johnson said.
As the dean of the defense at multiple positions up front, Johnson took some questions this week regarding the NFL's new policy on the national anthem. But as he has since he consulted his father, Johnson shrugged and walked back into the community.
"Put your head down. Go to work," Johnson recalled of Samuel Johnson's advice two years ago in the first days of the controversy.
Johnson calls Sam his hero. Twenty years before Michael was born in Sam's hometown of Selma, Ala., he already was a hero. Sam was 20 and no longer on his family's sharecropper farm growing up in a town with separate drinking fountains and black-only entrances. He was suddenly in Quang Nam Province leading a platoon of the First Marine Corps Division. When he saw the Viet Cong move, he waved his men ahead and took two, maybe three steps before he stepped on a land mine.
It took him three months to walk again and more than a year of rehab to figure out how to live with a mangled right hand and inured feet. A year later he was back in the States working with other veterans.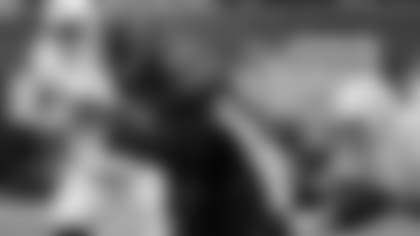 Carlos Dunlap sent Bengaldom sky high when he beat Indy last season with one of his game-breakers. This weekend he's bringing flight to his campers. Sam Johnson? A pretty good guy for a son to go to and bounce off ideas.
"He taught me to go to work," Michael Johnson said. "He told me to go to work."
That meant continuing to bull rush back into the community looking to make a difference. That's what he did last week when he was the graduation speaker for Dohn Community, a Cincinnati high school that offers a diploma for students that couldn't get it the first time around for a variety of reasons. Poverty. Drugs. Jail.
"Whenever I speak, I'm just trying to reach one person," Johnson said. "If I can say just one thing that sticks with someone or helps someone, then in my mind it's worth it."
This time, Johnson's message found the top.
Ramone Davenport, the Dohn superintendent, an infamous Ravens fan in the school corridors he has drenched in purple and black, went backstage a few moments before the speech and kidded with his speaker.
He asked Johnson if he was nervous and is still getting the answer. After posting Johnson's address to YouTube Davenport has called it up himself for inspiration, even more impressed with how his 6-7 presence towered with his words.
"He's talking about setting goals and following your goals," Davenport said. "He said life is about chances and that they've been given a second chance. They got to see somebody successful stand up and kind of looks exactly like them. He was able to break it down and be relevant to them. I was amazed."
The gravity of a graduation microphone is no stranger to Johnson. As valedictorian he spoke to his own class during the 2005 Dallas County High School ceremonies and he flashed that ease smoothly calling out Davenport during the speech to heighten his point about never saying never.
Davenport, a native Cincinnatian, came by the Ravens as a Browns fan that stuck with them despite the move to Baltimore. But even he had to laugh when Johnson pointed out the Bengals' fourth-and-12 win over the Ravens on New Year's Eve.
"You never know," Davenport said.
Johnson always knows where to go for his speeches.
"I'm basically repeating what I've heard my whole life," Johnson said. "It starts with my parents. The foundation. I've been lucky to have great teachers and coaches that were always encouraging. That kept me on track and never let me lose sight of my goals."
The same thing that makes him one of the league's great volunteers off the field is reviving his career on the field and it's reflected while he volunteers for defensive line coach Jacob Burney as Burney expands his role at age 31.
These are two war horses. Johnson is in his 10th season in the league, a right end becoming more and more familiar with playing tackle on pass-rush downs. Burney is coaching his 23rd season in a career that began with Michael Dean Perry's Cleveland defensive line that won 11 games under Bill Belichick.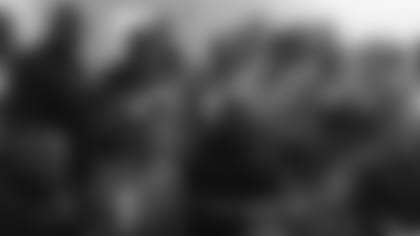 Johnson (far right) at one of his many community stops last season.
"You know how long I've been around. I've had them all. Give me that attitude," Burney said. "When you've got a guy with a flexible mind that just wants to get on the field. That says, 'I don't know about (a new position), teach me.' When you've got a guy with that kind of mentality from a veteran that's had success, you have to take advantage of that. No question he's a winning player."
Johnson played his fewest snaps with the Bengals since his rookie year last season when he amassed 60 percent and with Jordan Willis coming off a solid rookie year emerging as the next starter at right end you would think Johnson's role would be curtailed or possibly eliminated. But after watching Johnson get five sacks last season as he worked him inside and tied for his most in the last five seasons, Burney believes he can be even more effective rushing at tackle this season.
"We opened that door last year and it worked out OK," Burney said. "People have seen him in there so they'll be better prepared for him than they were before. He's a long guy, so he needs to learn how to use that length down in there. Guards aren't used to dealing with a guy like that. Mike's very smart, studious. A natural leader. He takes great pride in that. It's good all the way around. I think it's going to be a good outcome. You're talking about the kind of person he is. He's going to work his butt off. Get all he can out of it when he's down in there. It will just make him more versatile … He was effective (last year). The film said he was. The film is what matters."
Burney doesn't believe that Willis has to supplant Johnson. After the Bengals most balanced play on the line in years (eight players played more than a quarter of the snaps), Burney is convinced even more that fewer snaps means more sacks.
"The best case scenario is to have as many winning players as possible," Burney said. "They make each other better. In my humble opinion, when you play 90 percent of the snaps, you're not playing all of them at 100 percent. You're taking some off. You have to. I'd rather have two winning players and get 50 great snaps."
Here's a guy that has played for three AFC North champions, has played in all but two of his 128 Bengals games, has played the fourth most games of any Bengals defensive end and he says, "where ever they put me is fine by me. I'm going to do my best to do what they ask."
Which doesn't surprise one Ravens fan in Cincinnati.
"He just grabbed the microphone and just went," Ramone Davenport said. "You could hear the silence of the crowd because of his voice and demeanor. Everyone was listening."