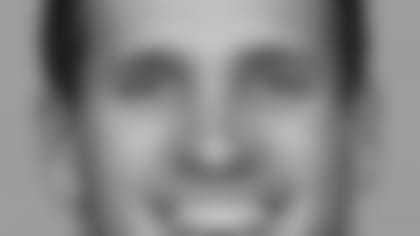 The easiest and most fun thing to watch during minicamps is pass coverage. Whether it's one-on-one, or seven-on-seven, or even full scale 11-on-11, it's the closest thing to real football without pads.
Not the real thing, but the closest.
So on Saturday, when converted defensive end Eric Henderson bats a ball out of wide receiver T.J. Houshmandzadeh's hands after he closes on Houshmandzadeh venturing into his linebacker area on a short comeback route in seven-on-seven, it's revealing.
"I would have tucked it and turned upfield in a game," Houshmandzadeh said. "But it shows you the guy is an athlete. He can move."
So on Saturday, when converted safety Ethan Kilmer can run like a cornerback and think like a cornerback and jump like a cornerback, maybe he can play cornerback.
"He can play anywhere," said wide receiver Chad Johnson after the morning workout. "He's fast. Can he jump? Are you serious?"
Forget learning corner. Kilmer, in what would be most guys' junior year of high school if they started in seventh grade, is still learning football.
The man who earned the nickname "Three Way" last season as a rookie in honor of Cincinnati chili during a stretch he practiced on offense, defense and special teams and scored the Bengals' only defensive touchdown, may now need to add onions or beans to become "Four Way," because this corner thing looks like it may work out over time.
"One is definitely more cerebral (safety) and one is more (instinctive)," Kilmer said. "Cornerback is definitely a position I can slide into easier sometimes because it's just straight up more physicality. At certain times, yeah, it is more natural."
Make that an eighth-grader when he comes to defense because he played wide receiver when he walked on at Penn State. When he returned the ball 52 yards against the Saints, it was on the fourth defensive snap of his life.
It was also as a nickel cornerback because of a battlefield promotion. Which may have gotten the coaches thinking.
"We're still talking about a guy that's still very inexperienced on defense," said secondary coach Kevin Coyle. "In order to try and take the mental pressure off him in the safety position and use that pure speed and athleticism, we want to see how he handles it out there on the edge."
And Coyle emphasizes this is very much a work in progress. The Bengals are delighted in what they are getting out of their top three corners in Deltha O'Neal, Johnathan Joseph and Leon Hall. Keiwan Ratliff is playing some of the best football since he's been here. Blue Adams figures to stick as a special teamer.
And you know Kilmer is going to make the club as a leading special teams player. But if he can play both, it opens up another spot while he could possibly become the last corner/safety.
"He's very limited in his knowledge and he's learning on the run, but he's got a lot of upside just because of his natural ability," Coyle said. "We want to get him into spots where it slows down his decision making, where he can just use his speed and he doesn't have to worry about getting people lined up."
The coaches have the 6-0, 204-pound Kilmer working at both spots as well as inside at the corner on passing downs in the nickel package. Coyle is mindful that Kilmer has to make quick decisions in the slot, "but he's big enough and explosive enough and he's shown he's a powerful guy that can blitz off the edge," he said.
Kilmer says he likes playing corner because it allows him to sharpen his man-to-man skills, or to focus on one area. He's got great springs as a basketball dunker, and wide receiver Tab Perry says, "That helps him on the deep ball. It's the only time a corner has to jump. He can play anywhere because he's a great athlete."
Kilmer hasn't received any verbal tips from Johnson, but he says he's learned plenty just by watching. Johnson didn't call out Kilmer on Saturday, a skill he has perfected during these camps, but he focused on the rookie Hall instead.
Hall has been having a nice weekend against the vets. In a one-on-one segment, he was 3-for-3 against Houshmandzadeh with an interception.
"I kept hearing them say, 'Leon, good job,' and I wanted to line up against him because nobody does a good job against me," Johnson said.
After catching one ball in seven-on-seven, Johnson ran back to the huddle pleading with defensive coordinator Chuck Bresnahan to put Hall against him.
"Chuck, put him in Chuck," but he was rewarded with Brandon Williams instead.
"I'm going to give the rookie confidence," Houshmandzadeh said. "I'm not going to ruin it. I know what I can do. He has to find out what he can do."
"Great team player," said quarterback Carson Palmer.
They didn't let on if they were joking or playing mind games or both.
Another reason pass coverage is the most fun thing to watch in the spring.