Forrest Gregg played a huge role in the history of the Bengals and Packers
Forrest Gregg, who brought Vince Lombardi to Cincinnati and damn near his trophy, too, so wants to be there at Lambeau Field Sunday.
It is the Packers' annual alumni weekend and they are playing the Bengals (4:25 p.m.-Cincinnati's Channel 12) in a game that has the craggy face of Gregg written all over it.
Lombardi, the Packers' patron saint of a coach, once wrote Gregg was his greatest player. And 14 years after Gregg and Kramer and Bowman and all the rest dug into the tundra along the Packers offensive line to reach Lombardi's last Super Bowl by winning the coldest game ever at the end, Gregg coached the Bengals into their first Super Bowl when the Bengals offensive line won the second coldest game before it ever started when they appeared on the Riverfront rink sleeveless for warmups.
You can make the argument that Lombardi had as much to do with the birth of modern Bengaldom as anyone, which is put at 1981, the year of the first Super Bowl.
Barbara Gregg remembers her husband saying, "I can't be Lombardi, but I can be myself." Those early 1980s Bengals who drifted into the decade with plenty of talent but no locker room culture were the perfect match for Gregg.
"He learned so much from Lombardi," Barbara Gregg says. "That's what they needed. They needed it and they were great players. They really responded well."
Dave Lapham, Gregg's Super Bowl left guard, remembers how the Bengals' version of the music died in the late '70s and Gregg revived it.
"He brought instantaneous credibility," Lapham says. "We listened to what he said and we said, 'I'm in,' because he had gone through it with Lombardi."
But Gregg can't make it Sunday with the idea there is another Sunday to make in November.
"He had planned to be there. But there's no way. He didn't get to the Hall of Fame, either. He's got to recover," says Barbara Gregg, the devoted wife who is where she has been for the last 50 days and in the bed next to her husband's at the Colorado hospital where he's finishing up his battle with pneumonia.
The two of them are on the combo block of their lives. Gregg, 83, the eternal mountain of a man with the skyscraper presence, is suffering from Parkinson's. While Barbara tells you "It's a terrible disease and it just brings you down," she also says, "So he just gets back up. He's still tough. The doctors can't believe it. Just when we think he's really sick, he'll have that booming voice."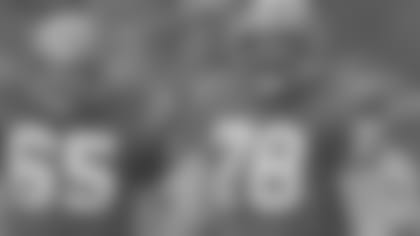 Anthony Munoz (78) and Max Montoya (65) were the keepers of the flame on the Packers offensive line in Cincy.
He wants to use that voice now, but he won't be able to go that long and the idea is to rest. Recover. The goal is to salute the Paul Brown Stadium crowd Thanksgiving weekend, along with his banner honoring him as an All-50 Bengal. Barbara knows he'll make it and they'll spend a good week back in town visiting the family of Forrest Jr., who works for Cincinnati Financial.
"There has been no loss of memory," Barbara says. "He knows everyone.  He's got his favorite doctors and favorite nurses … There are five women in here right now with him … We watch football. The hospital doesn't have all the games like we get at home. He follows the Bengals. He's interested. A lot of great friends there. Mike and Nancy (Brown). Forrest Jr. is there."
If he hasn't lost any memories, then neither have his players or teammates. The memories of Gregg are still as stark as frozen-in-time images of him getting carried out of Riverfront and on the way to Detroit and Super Bowl XVI.  Anthony Munoz, his Hall-of-Fame left tackle, remembers reading a book in which each chapter is  devoted to Lombardi's players writing about their coach. When he was finished he thought, "Forrest Gregg coached exactly like Vince Lombardi." Which was funny because Bart Starr, Lombardi's Hall-of-Fame quarterback, once told Munoz, "You would have loved playing for Vince Lombardi."
"After playing for Forrest Gregg, that's an accurate statement," Munoz says.
Lapham, Munoz's left guard and the mastermind of the all-in-no-sleeves show of armed force to San Diego's wilting Chargers, thought Gregg a master adjuster. He brought Lombardi into the '80s seamlessly, almost as if he were carrying a briefcase.
"It was a different game. It wasn't as simple," says Lapham of the short but slippery 14-year-old bridge connecting the Ice Bowl to the Freezer Bowl. "You've got to love the way that Forrest adapted with a lot of the same principles."
Jerry Kramer remembers the giggles. Kramer, the poet laureate of Lombardi's Packers, played all 11 of his seasons at right guard next to Gregg, the right tackle that never missed a game for three presidents from 1961-70 during a 16-year career he went to nine Pro Bowls and won three of the first six Super Bowls.
"Forrest and I were like two nine-year-olds," Kramer says. "We ran our asses off. I was a step ahead of him. Barely a step ahead. We'd be running from the blocking sled to the blocking dummies or whatever else we were doing (in practice) and we ran as hard as we could. Forrest and I were always racing and we would giggle while we were running."
Gregg's competitiveness could be contagious as well as curious. At 81, there's nothing wrong with Kramer's memory, either. He remembers a game the Pack took a pretty good whipping in Milwaukee's County Stadium and got beat by about three or four touchdowns. As they were walking up the stairs back to the locker room, Kramer remembers Gregg saying to him, "If we had a couple of more minutes I think we would have got them," and Kramer thinking to himself, "I don't know about that one."
"That was one of the times I didn't say anything," Kramer says. "It wasn't any bull with the players. There was honesty and integrity. If you didn't agree on occasion, maybe there were times you wouldn't say anything. There's an act of sincerity and caring in that, too."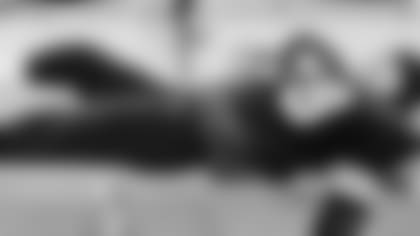 Anthony Munoz relaxes during Super Bowl XVI media day. He told Bart Starr he was right.
Kramer is going to be thinking about them all Sunday during one of the more unique alumni celebrations in the NFL. Kramer and his mates are the last vestige of another time, the last team to win an NFL title and the first two teams to win a Super Bowl.
 "There's a combination of things going back," Kramer says. "It's kind of emotional down there in the tunnel before we're introduced at halftime. Seeing all the guys. The relationships were so strong on that team. It really was a family. I knew Boyd Dowler like he was my own brother.
"I'll be thinking about Forrest," Kramer says. "And I'll be thinking about Henry (Jordan), Fuz (Fuzzy Thurston),  Max (McGee) and the guys we've lost."
The Packers became an extended family for the Greggs. Barbara remembers how her children waited every year for the Thanksgiving Day party with the cartoons the famously tough disciplinarian Lombardi threw for the families and how he celebrated championships with gifts to the wives of mink stoles and diamond rings.
"He was very kind to the children and wives," Barbara Gregg says. "He said, 'This how you get the man. You please the wife."
When Lombardi died of cancer at 57, his widow remained close to the Greggs. She would stay with them on visits to Cleveland and Cincinnati before her death shortly after Gregg led the Bengals to the Super Bowl in 1982. Marie Lombardi told Barbara hers was the only player's family she ever stayed to visit.
"We still keep in touch with their son and daughter," Barbara Gregg says. "She couldn't make the Super Bowl, but she knew Forrest had made it and she sent congratulations."
That first Bengals' Super Bowl meant a lot to the old Packers. Kramer came to the Freezer Bowl to support Gregg, utterly shocked that the same arctic temperatures from the Ice Bowl had locked Cincinnati. He can't remember where he sat. It's all such a gray, frigid haze. The decision to work outside the week before and after the game was pure Lombardi. Vince never missed a chance to work in bad weather after one NFL title slid away on a frozen field in Philadelphia early in his run.
Munoz remembers not only the freezing practices, but the annual rookie show where Gregg would assign one or two veterans to run it the last Wednesday of every camp. And there were the up-downs. The pre-practice jog. All Lombardi.
Lombardi would drive them to the brink.
"He rode us about commitment, consistency, discipline, character, tenacity," Kramer says. "He would talk to us about those subjects and principles.
"If you resented it as much as I did, it didn't matter if you were offense or defense or from the north or south or if you were black or white or green," Kramer says. "If you didn't like it, too, then you were my pal. That made us a team. I think he got that from some of his military background. We were a tight group."
Lapham doesn't remember Gregg being so driven that players would say, 'I'll show you, you so-and-so." But he does remember the fear.
"Forrest would say, 'If you're not good enough to do it I'll find somebody who is. Whatever it takes," Lapham says.
Kramer can remember how beautifully sound Gregg was as a player. The way he recalls it, he blew two assignments in his career. He doesn't remember Gregg missing any.
"Forrest was a position guy," Kramer says. "I'd drive them back five yards. Forrest would just get in position on them with sensational technique."
And yet Munoz never saw his fellow Hall-of-Fame tackle go over to the offensive line and coach a snap even though line coach Jim McNally came straight from college.
"He let them coach. Lindy Infante was his offensive coordinator. Hank Bullough and Dick LeBeau ran the defense," Munoz says. "I remember one time he said to McNally, 'Jimmy, if you tried to teach me that stuff when I played I'd tell you where you could go.' But he let them coach."
Gregg is still overseeing. His doctors conspired to get him to the Denver-Green Bay pre-season game last month and Barbara wasn't very happy about it. She took a rain check because she wanted at least a doctor and two nurses to go with him and she felt better when they did.
"He's getting better," Barbara Gregg says. "We're looking forward to seeing everyone in Cincinnati."
On Sunday, Kramer is going to be thinking about his line mate, the big No. 75 always in the right spot not there.
So, no doubt, will Lapham as he settles in to call another one, the Cincinnati connection to the Packer tradition in full view in the radio booth.
"He is Lombardi,' says Lapham of his Super Bowl coach.