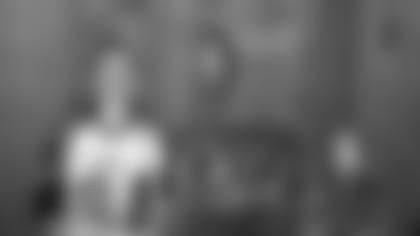 Hollee Morris shows off her favorite jersey and Bengals paraphernalia.
Four million youngsters competed, but only 32 qualified for the 2007 NFL Pepsi Punt, Pass & Kick National Finals. Hollee Morris, an 11-year-old fifth-grader from O.R. Edgington Elementary School in Englewood, Ohio who represented the Bengals, was the national winner in the 10/11 year-old girls division.
Each participant launched one punt, one pass and one kick, with scores based on distance and accuracy (in feet). Hollee finished with a total distance of 226 feet to easily out-distance the second-place finisher (203 feet) in her division.
After winning the sectionals at her school back in October, Hollee moved on to the regionals at Paul Brown Stadium in November. For that competition she wore the jersey of her favorite player, T.J. Houshmandzadeh, which she credits for her making it to the finals.
"When I went up there I rubbed it for good luck, and I won," she said. That sent her on her way to the nationals, which were held last Sunday prior to the Chargers vs. Colts divisional playoff game.
The Bengals organization congratulates Hollee on her victory.
For the complete list of winners of the NFL Pepsi Punt, Pass & Kick National Finals, click here.