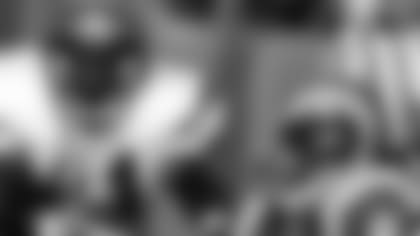 Solomon Wilcots: "I just stay away" (Getty Images)
They both played for Bill Cowher, practiced with Marvin Lewis, reside in Cincinnati, played for the Bengals, retired as Steelers, and lived what has become the NFL's most compelling rivalry.
But John Jackson and Solomon Wilcots will tell you now it is like looking in a mirror.
"The common denominator is physicality," says Wilcots, the Bengals Super Bowl safety who is an unabashed disciple of Steelers defensive coordinator Dick LeBeau. "You look at a blue-collar guy like Tab Perry and stop right there. He's one guy who could play for both."
"Both Cowher and Marvin want their teams to play with class on and off the field," says Jackson, the Woodward High School product who went to the Super Bowl with the Steelers before coming home to play for the Bengals. "But they want their teams to have that blue-collar mentality."
That's all you have to say.
Stoked by mirror-image coaches, spiced by Pro Bowl quarterbacks, serenaded by fanatics on both sides of the aisle, the rivalry is in full throttle.
Long before the two teams met in the playoffs and Steelers defensive end Kimo von Oelhoffen separated Carson Palmer's knee from the Bengals' Super Bowl quest back on Jan. 8, it has become a red circle on the calendar.
Thanks to the head coaches. Two Pittsburgh guys that like their football the old-fashioned way.
"I can't even go to the game," Wilcots says. "Somebody is going to take it the wrong way if I hug Marvin, or go over and hug Mr. Rooney, or talk to Bill. So I just stay away."
And Wicots is one of the more saner, brighter voices of the NFL as a high-profile national television analyst.
He's also a guy that can see how Lewis has grafted many of Cowher's qualities on his own coaching portfolio. Taken by the Bengals in the eighth round of the 1987 draft out of Colorado, Wilcots ended his career in 1993 chasing down kicks for Cowher and ferrying packages for LeBeau in Pittsburgh.
In 1992, Cowher's first in Pittsburgh, Wilcots found himself in practice staring at a nose tackle in a punt drill.
"I knew it was like a moment of truth," Wilcots says. "I buried my facemask into the guy's jersey and I remember Cowher yelling, 'That's how it's done. That's what I want to see.' I think from then on I had his respect. That's the way he is."
It is the way Lewis is, too. Jackson, the left tackle who brought some sanity in those chaotic years LeBeau could only scratch out 10 wins in 2000 and 2001 in Cincinnati, sees it.
"Marvin doesn't mind carrying the load. He understands that being a head coach means you have to put it on your shoulders," Jackson says. "He'll listen to people before making a decision, but in the end the buck stops with Marvin. Everything goes through him. The players see that and respect that."
That is why so many guys live and die for Cowher. Bengaldom sees Cowher as a smug, showy loudmouth who doesn't know when to be quiet. But he's got a legion of players who swear by him.
Jackson didn't always agree with him on things and would meet with him and tell him so. And Cowher would tell him back.
"He would talk to you, listen to you, but when it came down to it he always did what was best for the team and not the individual," Jackson says. "I don't want to get into any specifics, but that was OK with me because he did the same with everybody. And I think that's the same thing Marvin has done here."
Jackson covers the Bengals for Channel 12 in Cincinnati for the station's Bengals Nation segments and meets with Lewis. It's not as intense as those practices in Pittsburgh when Lewis would bring his linebackers down to work against the offensive line, but Jackson can see the resemblance.
"Marvin is a player's coach and that means players will play for you," Jackson says.
Fans may want to shave 'The Chin' in Cincinnati, but here's another reason players swear by Cowher.
"We had made the playoffs, and we had a day off and I went back to Cincinnati to see my wife, who was pregnant," Wilcots says. "I came back to Pittsburgh the night before we practiced and she calls me the minute I got back in and says her water broke."
Wilcots called Cowher at home at 10:30 p.m. to tell him his story, and Cowher simply said, "Here's what I need you to do," and let him go to the birth.
"He couldn't have been more understanding about it," Wilcots says. "That's a guy you really want to play for."
Wilcots became aware of Lewis in those days he was Cowher's linebackers coach. He was a coach on the make and wanted to absorb everything, and the Steelers secondary room was a great place to be for a young guy learning the NFL. Not only did it have one of the league's former great defensive backs in LeBeau leading it, but there was a future Hall of Famer named Rod Woodson and cagey vets like Wilcots.
"They both want guys that give you that maximum effort," Wilcots says. "Tab Perry is the perfect example of a guy that Cowher loves. You're not going to play wide receiver for me unless you can prove that you can play special teams. And that's how Pittsburgh stocks their team. They don't go out and sign free agents. They develop them and you can see Marvin doing that.
"It's almost like (the Bengals) have a player developmental program. Look how they sat Carson Palmer and everybody screamed for him to play, and Marvin stuck by his guns and said, 'No, this is the plan.' "
Wilcots thinks Lewis's sense of organization he got in Pittsburgh has shown up in Cincinnati.
"From the standpoint that you have everybody pulling in one direction," Wilcots says. "I think Marvin has everyone in the organization on the same page trying to win. They're two Western Pennsylvania guys that grew up with it."
Jackson played with the Bengals in the last legs of the pre-Marvin days, and one of the many things that surprised him was the lack of a full-blown offseason conditioning program. It was something that was just accepted under Cowher.
"He made it mandatory. To be a part of the team, you had to participate," Jackson says. "That does a lot of things. It builds camaraderie and it builds trust. He's telling you if you work hard in the offseason, it will pay off during the season."
Jackson's Bengals beat Cowher's Steelers just once in those 2000 and 2001 seasons and confidence and conditioning were huge factors.
Wilcots straddled the rivalry from the other end. In his four seasons with Cincinnati from 1987-90, the Bengals were 6-2 against them and swept 1988-90. Then Cowher arrived in 1992, and the Steelers swept the Bengals from '92-94, and the dominance continues with Cowher holding a 21-8 edge.
"We were smarter than the Steelers then," Wilcots says. "The Bengals were the first ones using the zone running plays, the first to use the No Huddle, the first to use the zone blitz. Pittsburgh would always make a mistake to lose it. Rod Woodson would bite on one of those play-action fakes or they'd do something stupid and get a personal foul call."
Then Cowher came and the pendulum swung all the way back with the help of the NFL's most punishing running attack, which the Bengals were never stout enough to stop.
"And free agency killed the Bengals," Wilcots says. "Everybody else used it and they didn't."
But now the Bengals have, at the very least, shoved the pendulum back in the middle, and for Wilcots it all gets back to being physical.
"They understand that under Marvin," he says, "and if they forgot about it, then they were certainly reminded of it Monday night when the Steelers played in Jacksonville."
Pittsburgh lost by a shutout, and no one expects that to happen at Heinz this Sunday. But Jackson and Wilcots think the Bengals have an advantage.
"The Steelers are coming off a tough, emotional loss and they've got a short week," Jackson says. "The Bengals have to fix some penalties and cut down turnovers."
Wilcots says he's a "LeBeau Guy," so that is his first allegiance. But he can also slip into calling the Bengals "we," and he has struck up a nice relationship with Bengals president Mike Brown.
"I want the Bengals to win a Super Bowl. I want these group of coaches to win a Super Bowl," he says.