Updated: 8-18-08, 12:30 a.m.
The first half of Sunday's brutal 27-10 preseason loss to the Lions couldn't have been more miserable for the Bengals at Paul Brown Stadium headlined by wide receiver Chad Johnson's sprained shoulder that the club is hoping doesn't keep him out of Opening Day and beyond.
And the second half wasn't much better before 63,877.
Running back DeDe Dorsey got stuffed for a yard on a fourth down from the Detroit 2 as the Lions protected a 10-7 lead with 3:06 left in the third quarter. The team's two third-round picks, receiver Andre Caldwell and defensive tackle Pat Sims, left the locker room on crutches with a sprained foot and turf toe, respectively.
Two other rookies, safety Corey Lynch and cornerback Simeon Castille, let wide receiver Brandon Middleton run past them for a 50-yard touchdown play from quarterback Drew Stanton to give the Lions a 20-10 lead with 6:10 left.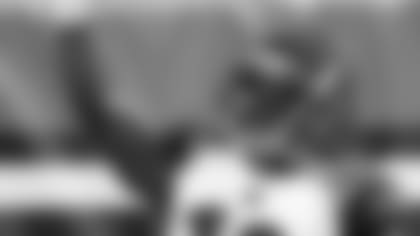 Glenn Holt celebrates his 12-yard touchdown reception. (Bengals photo)
Then the Bengals suffered the ultimate bit when Stanton ran in a naked bootleg untouched from 10 yards out for a touchdown with 1:53 left that made it 27-10 on a play defensive tackle Antwon Burton was offsides.
But the chief concern is Johnson. Head coach Marvin Lewis said his shoulder "sublexed," saying it popped out and then back into the joint.
While Lewis said it would be treated conservatively ("I think he should be ready by the opener"), Johnson said, "I'm going to play next week. I'm going to be fine."
Johnson left the locker room with his arm in a sling.
"I heal fast; no matter what it is," said Johnson, who hasn't missed a game since his rookie year when he broke his collarbone. "Let's put it this way: If I can wake up tomorrow and do a pushup, I'll be able to play. Yeah, I'll be ready for the opener."
But Lewis was much more conservative. He said Johnson won't play Saturday night against the Saints. He indicated that an MRI and X-rays didn't show anything disturbing, but he also said, "It's just going to be time on task and how he gains strength in his shoulder and how he feels."
"We have a lot of guys that deal with this all the time; a lot of players play with these things," Lewis said. "A couple of years ago Landon Johnson played the whole year with it. The position he plays it shouldn't be an issue as much as the other positions."
Landon Johnson, a linebacker, turned down surgery that season when he injured the shoulder in training camp and played all 16 games wearing a shoulder harness. He was a week-to-week proposition, but it's unclear how similar the injuries are.
All three phases contributed to a game Detroit dominated right from quarterback Jon Kitna's 40-yard bomb to wide receiver Calvin Johnson working against cornerback Leon Hall on the first snap.
Special teams gave up a blocked field goal. The defense gave up three passes of at least 40 yards. The offense got only 69 yards on 18 carries from its running backs, and its quarterbacks got sacked five times and took numerous hits.
"Concerned? No. Disappointed is a better word," Palmer said. "We didn't do what we wanted to do, which was score every time we touched the ball. I'm not concerned at all. I'm confident in the guys we have. The guys we have will prove themselves in game situations, and we just didn't do the things we wanted to do tonight. We didn't live up to our expectations. That's why you play preseason games."
In the dreadful first half the Bengals tied the Lions, 7-7, watched Johnson head to the locker room, had Shayne's Graham's 46-yard field goal blocked by right end Dewayne White, and saw their offense sputter by allowing Palmer to get continually pounded as he mustered a 24.5 passer rating (6-for-13, 50 yards, one interception) in his four series.
Johnson left the field hunched over with when he fell to the turf as he tried to make a leaping catch on Palmer's third-and-nine pass during the Bengals' first drive. Johnson didn't emerge from the locker room after cornerback Brian Kelly raked the ball from him as he fell during Kelly's interception at the Bengals 36. Seconds later Kitna gave Detroit a 7-0 lead with 8:22 left in the first quarter on a 27-yard touchdown pass to Calvin Johnson running wide open through a zone and past cornerback Johnathan Joseph.
"(Calvin Johnson) is a grown man out there playing receiver," Lewis said. "He physically made two plays we didn't make."
The lone bright spots on the offense were running back Chris Perry (23 yards on seven carries) and wide receiver Marcus Maxwell getting his first start with three catches for 37 yards.
"We had some mistakes that obviously need to be corrected," Lewis said at the half. "But we did some things we came in here to do. We ran the football effectively, and I'm pretty pleased with that. We worked this week in the running game and wanted it to click early on."
Backup quarterback Ryan Fitzpatrick saved the day for the Bengals when he drove them 99 yards in 5:30 on a 13-play drive that ended with wide receiver Glenn Holt's sliding 12-yard catch off a low laser from Fitzpatrick in the back of the end zone with 1:28 left in the half.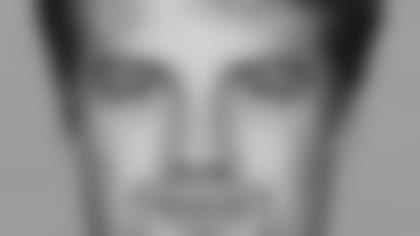 Fitzpatrick, working behind the Jurassic Line, hit five of six passes for 41 yards but he made another big play with his feet. On third-and-eight at the Detroit 48, Fitzpatrick got flushed to his left, pumped, wriggled away from two defenders, cut back up the middle, then read a seal block, and veered outside right for a 21-yard gain.
Bobbie Williams spurred the move to the Jurassic on the third series of the game when he moved from right guard to center. After Fitzpatrick's scramble, Williams came out and starter Eric Ghiaciuc checked back in.
"That was great drive. It's always tough when you get the ball at the one-yard line," Fitzpatrick said. " Initially, we ran the ball, the guys up front pounded it and Kenny Watson (5-for-31 in the drive) had some nice runs. We strung together good plays and capped it at the end with a touchdown."
Calvin Johnson had a field day early against both starting cornerbacks. On Detroit's first series, the 6-5 Johnson manhandled Hall on what amounted to a jump ball on a 40-yard play.
The most disturbing aspect of the game had to be the offensive line's inability to protect Palmer. The first quarter ended with a three-and-out on a sack by linebacker Alex Lewis working against that Jurassic line of Williams at center, Stacy Andrews at right guard and Willie Anderson at right tackle. But Lewis whisked past Andrews for the sack, two snaps after left tackle Levi Jones got pushed back into Palmer on first down on a play Palmer underthrew Holt.
And on the high pass Johnson got hurt, Palmer was forced to hurry it when the Lions successfully worked a line stunt.
"No excuses, we should be blocking it better," said left guard Andrew Whitworth. "But that's the first time we faced a (Tampa 2) defense where guys move around and stunt and we have to be able to adjust."
The passing game that has concerned the Bengals since the preseason started unraveled early in the second quarter. Working behind the Jurassics, Perry got dumped for a five-yard loss on a screen pass on first down, tight end Dan Coats dropped a ball in the flat on second down, and Palmer had to get rid of a quick ball to Chatman on an unsuccessful third-down play.
The Jurassic Line went back out for a third time in front of Fitzpatrick when he checked in for Palmer at the Bengals 1.
"First thing you think that close to the goal line is get the snap, then secure the handoff. Bobbie has done a great job learning that position," Fitzpatrick said.

The defense rallied after the first couple of series. SAM linebacker Darryl Blackstock shot around the edge to sack backup quarterback Dan Orlovsky on third down to force a 47-yard field goal Rayner slid wide left. Blackstock had two tackles for a loss and Hall came back with a nice pass defense.
Rayner did hit a 48-yarder with 9:18 left in the third quarter to give the Lions a 10-7 lead.
The Bengals showed some life after Dorsey got stood up on the goal line. Lynch blew up a pass with a hit in the back on first down and on third down a safety really should have been called on Orlovsky because Bengals linebacker Brandon Johnson had him locked in an embrace in the end zone and he threw it away.
Chatman then popped the ensuing punt for 33 yards with the help of rookie linebacker Angelo Craig's hellacious block that knocked cornerback Dovonte Edwards off his feet.
Keith Rivers made his first NFL start at WILL linebacker Sunday night at Paul Brown Stadium and he wasted no time making an impact on the game's first series.
One snap after he overpursued Lions rookie running Kevin Smith on a 16-yard gain, Rivers came on a blitz and wrapped up Smith for a one-yard loss on third-and-one to force a punt.
On top of Monday's team-leading tackling performance in Green Bay, Rivers continues to impress.
"It's not like he had to catch up in a hurry," Lewis said. "It's not like he has to learn Chinese or anything, he's fine." PREGAME NOTES:
Running back Rudi Johnson has been scratched for the second straight game of the preseason, but for the first time Chris Perry gets the start Sunday night when the Bengals play the Lions at Paul Brown Stadium. < p="">Pregame buzz on the field is that Johnson's hamstring tightened following a couple of practices last week and that he didn't work Friday during the club's last practice at Georgetown College. After Kenny Watson started in Johnson's place in Green Bay, Perry come off the bench and rung up a team-high 42 yards on 11 carries in his first game since a Nov. 30, 2006 dislocated ankle.
In another change from Green Bay, Marcus Maxwell got the start in place of wide receiver T.J. Houshmandzadeh instead of Antonio Chatman as the Bengals continue to be far from pleased with the progress of the candidates for the No. 3 receiver job. Maxwell, a third-year player who came to the Bengals practice squad last year after getting cut by the 49ers, was the only wideout who had more than one catch with one of his two catches going for 19 yards on 3rd-and-11 to keep alive the drive that resulted in Perry's six-yard touchdown run.
Rookie WILL linebacker Keith Rivers made his first NFL start. Jon Fanene drew his second straight start in place of the injured Antwan Odom at right end.
Houshmandzadeh went at it hard on the sidelines before Sunday's game. Houshmandzadeh, who hasn't practiced for more than two weeks with a tight hamstring, looked close as he jogged hard down the sideline a couple of times in between doing agility drills with associate strength coach Ray Oliver.
Maybe he'll be back to work Tuesday. That's the supposed timeline for safety Herana-Daze Jones and he went through pretty much the same drills as Houshmandzadeh.
In his first trip to PBS since his 46 starts as a Bengals quarterback, Lions quarterback Jon Kitna hooked up with the man that replaced him, Carson Palmer, for their ritual of seeing who can hit the crossbar of the goalposts the most from about 40 yards away. They seemed to be about even, but Kitna was needling Palmer about using a "soft" approach. As Bengals head coach Marvin Lewis hugged Kitna, Houshmandzadeh gave Kita some abuse that sounded like video game bragging rights.
Also back for his first PBS visit was former Bengal punter Nick Harris, one of Shayne Graham's three holders, and Harris greeted Graham with, "Opie."
Also out for the Bengals on Sunday were fullback Jeremi Johnson (conditioning), safety Chinedum Ndukwe (knee), defensive end Eric Henderson (unknown), center Dan Santucci (ankle), tight end Matt Sherry (unknown) and linebacker Rashad Jeanty (leg).
For the Lions, kicker Jason Hanson was listed as not playing. Cornerback Leigh Bodden, the man the Browns traded to the Lions when the NFL invalidated the Bengals trade for Shaun Rogers, didn't start. Kevin Smith, the rookie from Central Florida, got the start at running back in place of Tatum Bell.
Alex Marvez, who has gone from Bengals beat man for the Dayton Daily News to president of the Pro Football Writers of America, made a presidential visit to PBS Sunday in his role as roving NFL writer for FoxSports.com. Marvez is writing on Chad Johnson for a story that should appear in the wee hours Monday.
After canvassing the parking lots ringing PBS, Marvez emerged in the press box to observe, "Fans clearly have forgiven him for his offseason antics. As long as he continues playing at a high level, this issue is as dead as Chad wants it to be."
The Reds beat the Cardinals on the river earlier Sunday and Cincinnati's ubiquitous Associated Press correspondent Joe Kay is proof it doesn't happen very often. He figures it's only the third time he's done double duty since the Reds and Bengals started playing in separate buildings in 2000.
Lewis sent out the defense as a unit for the starting lineups and the captains were Robert Geathers, Dhani Jones, Levi Jones, Andrew Whitworth and JIm Maxwell. Detroit won the toss and took the ball.