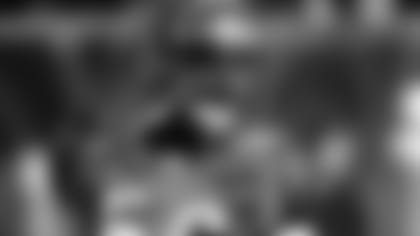 Simmons: Dean of the defense (Bengals photo)
No one has played more games for the Bengals defense than Brian Eugene Simmons, who sagely said in September that it was too early to establish the identity of his young unit in transition.
But after an opening nine-game run culminated last week in his selection as AFC Defensive Player of the Week during Cincinnati's end-zone blanking of the Ravens, Simmons has a pretty good call.
"We're No. 1 in the league in forcing turnovers and we're (No. 3 per game) in scoring. That's who we are. That's our identity," Simmons says. "We've played a part in the two losses, don't get me wrong. But I know we've had a lot more to do with the seven wins than people want to give us credit for."
Simmons, the soft-spoken, jack-of-all-trades linebacker who has labored long and well by preferring to stay in the shadows of his 103 games, had a lot to do with the 21-9 win in Baltimore. He set the tone on the first series with his second sack of the season and second forced fumble, and added a team-high nine tackles along with a pass breakup, and is the first to tell you that he now thinks he finally did something this season even though he also has an interception. That put him sixth on the Bengals all-time linebacker list with eight career interceptions.
Working at weakside linebacker after five seasons inside, Brian Simmons is the only defender in the Marvin Lewis era that has made at least one play in every category the past two seasons. He needs only to recover a fumble to make it three years in a row, but this has been a season in which he has been known more for getting the youngsters in position to make plays than making plays himself.
While some think second-year man Landon Johnson is evolving into the club's best linebacker with 42 tackles in a rotating role, he's still looking for his first sack and interception of the season.
"(Simmons) is the guy that Marvin probably leans on the hardest for his view of the defense. He's Marvin's eyes and ears on the defense," said right tackle Willie Anderson, Simmons's opposite number as the man who has played the most games on the Bengals offense with 151.
"I think guys know that. Guys respect that. They look at 'B' in a different light than in years past," Anderson says. "Spectacular things he hasn't done until (this past Sunday), I think. But (he has had) consistency and making the play calls, and putting guys in position, like a Tedy Bruschi in New England."
With a rookie starting next to him in the middle in Odell Thurman and another rookie in David Pollack as well as Johnson playing strong backer on the other side of Thurman, Simmons has become a mentor as much as a player. But he wouldn't say that's taken away from his own play even if he thought it did because that's not how he's wired.
Why is he the only pre-Marvin backer still here? Because even at age 30 he can still run and because he actually believes it when he says, "No matter how I've played, I've felt good walking off the field the seven times we've won this year and I've felt bad the two times we've lost."
In a sound-bite league, Simmons is the strong, silent type.
The emerging corps of backers reminds him of his ballyhooed 1998 draft class. Simmons and Takeo Spikes were drafted 17th and 13th, respectively, in the first round and Steve Foley arrived in the third round.
Spikes became a two-time Pro Bowler in Buffalo and Foley has 12.5 sacks over the last two seasons in San Diego. But they all started here from 1999-2001 and when they were all healthy together for a dozen games in '01, the Bengals finished ninth in NFL defense.
"By the end of it, we had been together so long that we knew what the other guy was going to do," Simmons says. "It's been kind of a revolving door lately at linebacker, but with these guys coming in like Landon, Dave, and Odell, we've got some young guys playing a lot and that's a good thing."
The inevitable question of being a leader always comes up these days and he does what he always does. Shrugs and says, "You know me."
Such as, "Leadership isn't something you plan to do," he says. "Only the people can choose a leader."
Anderson believes the sovereign state of the linebackers has spoken.
"He keeps that (linebacker) room together," Anderson says. "He probably knows the defense as well as his coach does. He's a guy Marvin really needs. His group of guys is so young. You kind of feel bad for him at times because he doesn't have somebody to lean on."
Simmons has been leaning on the press lately. It has irked him that the defense always seems to take its share of abuse no matter the circumstances. This is the competitive side that Anderson has always seen.
"He's not as vocal as I've been," Anderson says, "but Brian has always been one to step up and say things," and one current example is his faith in his defense.
"Do we have to get better in some aspects of our game? Absolutely," Simmons says. "Just like every spot on this team. We know we have to do a better job of stopping the run and there are some other things we have to do to get better. But we've played well enough to help win seven games and I sure know that we're doing more things right than we're getting credit for."