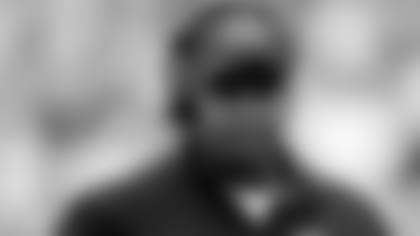 Word of another Marvin Lewis extension this one through 2015 emerged Friday as the Bengals' strategy for the 2014 offseason became more and more clear. It resembles the same one that has resulted in the Bengals joining the Broncos and Patriots as the only teams to make the AFC  playoffs in the last three years.
The first four days has seen the Bengals lose two starters and maybe a regular if they choose not to match the Andrew Hawkins deal. But Lewis noted Andrew Whitworth is going back over to his old position of left tackle to replace one move and Robert Geathers is coming back from injury to help soften the Michael Johnson loss at defensive end. Two moves, Lewis said, that show their depth.
He also revealed they've yet to decide if they're going to match Cleveland's offer sheet to Hawkins. if they do, they have to do it by Tuesday.
"We've continued to cultivate the nucleus of the team by coaching them, drafting them, re-signing them, allowing them to mature here," Lewis said in a conference call. "The leadership of the team stays pretty much intact. Michael was a real soldier for us so we're going to have to get guys to step up. We were without Robert Geathers last year and Michael and those guys upfront did a great job of assuming his role as far as mentoring the leadership.
"Michael has been a stalwart that we have to have. He's been a role model for the young guys that we're counting on to move forward. I think we have a lot of bright spots in this building to sit here and say that you can lose a guy who started however many games that Michael started and Anthony (Collins) started at tackle and not really have an open hole. You've got to feel pretty good about that."
Lewis, who turns 56 early in his 12th season, is the second longest tenured head coach in the NFL next to New England's Bill Belichick and the longest tenured coach in club history. The Bengals went 11-5 in 2013 and won Lewis's third AFC North Division championship as Cincinnati became one of only six NFL teams to reach the playoffs four times in the last five years.
"Marvin has earned this commitment for the job he is doing," said Bengals president Mike Brown in a news release. "We are one of only five teams to qualify for the playoffs the last three years, and our prospects are bright looking ahead. Marvin is driven to achieve more, and we are happy to secure his leadership of our team beyond the coming season."
Lewis, still looking for first playoff win, is 90-85-1 in the regular season and 90-90-1 overall. The only man to have coached more regular-season games than Lewis without a playoff victory is Jim Mora with 231. After 13 seasons, Lewis would be at 208.  He admits the pursuit of that first post-season win drives him. But he says it's also driving everybody else. "It's part of the thing that keeps everything going. Obviously, the goal each year is to win the division, win  playoff games and eventually become world champions and you've got to keep pushing forward and fighting through it," Lewis said. "I'd be more concerned if we've never been to the playoffs. We have a group of players that's not satisfied. Players, coaches, and front office that aren't satisfied where we've been. But sometimes when you talk to others, you can't lose sight of where you have been, though."
After his last extension, Lewis said that Brown is more patient then he'd ever be. But Brown is grateful for how Lewis took over a moribund 2-14 team in 2003 and not only made it competitive, but has made it a perennial contender in what has been regarded as one of the best divisions in the NFL during Lewis' run here.
  And Lewis is appreciative of the loyalty. Elaborating on Friday's news release ("I truly appreciate the commitment by our management to continue to enable us to build an NFL championship team"), he talked about the teamwork on Friday's call.
"I was given great advice early on by people that were coaches and general managers and so forth, and ownership, that you needed to develop and cultivate a great relationship with the people you work with day in and day out," Lewis said. "We're able to sit down and talk through things. I think everyone knows there's always going to be disagreement. But as time goes on and we go through things, we work through the details on things. We come to what's the best decision for, in our minds, what's best for the Cincinnati Bengals and we move forward and we carry it out."
Lewis is amazed at the narrative that has been woven into the public's mind about Brown. For the last couple of years Lewis has been speaking out about what he calls "myths."
"I think that's why I've been able to do this for so long. We keep progressing. There's nobody that wants to win in this building more than he does, "  Lewis said. "I think we've been able to dispel that myth that was around here that Mike Brown didn't care about winning, because really that's all he cares about. He just wants to make sure we devote all of resources in that direction each and every year as we get ready for the season. We devote our resources to the players that are in this building."
Some of the misguided myths about Brown, Lewis says, centers on his commitment.
"No. 1 is his commitment to players and productive players is the most important thing. This is all he's concerned about, is this football team and the football players," Lewis said. "This is a seven-day-a-week job for him. 24/7. That's all he cares about. He wants us to put good, productive, high-achieving players here. Anybody that's ever walked in this building understands that. From my standpoint, they've got to be hard-working when they come in here. "
It turns out that it was important to Brown to get Lewis' contract settled before the football started.
"It's probably more important to you guys than me because you have one less thing to write about that doesn't matter about winning games,"  Lewis said. "I think it's good for us as a football team. And for Mike, it was important to him. He was persistent in that he did not want me to go into the season with one year left on the contract. So we were able to come to an agreement."