Adam Jones is one of the vets that salutes Marvin Lewis' training camp regimen.
As left tackle Andrew Whitworth mused Thursday on the 11th reporting day of his career, the difference between his rookie training camp at Kentucky's Georgetown College and the one last year at homey Paul Brown Stadium?
"Shoot, it's night and day," Whitworth said. "Not even similar to what we've got now."
So as the Bengals prep for Friday's first practice at 3 p.m. on the fields adjacent to PBS, take a bow Marvin Lewis.
This is camp is one of the reasons why Lewis is a solid NFL head coach and hasn't been discarded to the curb like some Papa John's pizza box, which is what most NFL teams do to their men.
Lewis, once known for running one of the league's toughest training camps that extended into one of the league's toughest regular-season practice regimens, has adapted well enough that his club is 12-5 in September since the 2011 collective bargaining agreement sharply cut time on the field and in pads and basically turned the Oklahoma Drill into Karaoke.
 The last time they lost in September? You have to go all the way back to 2013 in Cleveland on this six-game winning streak.
"Since I've been here he's been doing a good job getting us to all of the season, not just September," said cornerback Adam Jones, who arrived here in 2010. "You go back and look at the game, we're not losing the game because of what Coach Lewis did. The games we lost are because we either made dumb-ass mistakes or flags . . . It's never been conditioning … I'm trying to think of when I've seen us play and we were just really tired. I can't, I can't recall that one."
 But both Whitworth and Jones believe Lewis has adjusted well to the modern game.  Meaning post-2011. While the CBA has phased out two-a-days, Lewis has abolished the intrasquad scrimmage as well as that frightening human demolition derby known as the Oklahoma Drill, once a staple of the first day in pads.
They have been replaced by the GPS wires woven to the regulars for each workout as head strength and conditioning coach Chip Morton interprets the data spit from his sport science people and consults with Lewis daily.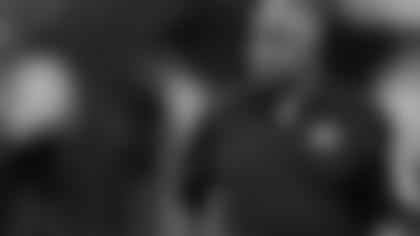 Coming out of camp, Marvin Lewis' teams have won six straight in September.
"I think he definitely has," said Whitworth of Lewis' evolution. "Where sport science is ahead for a little while, coaches are finally coming around to 'Hey, I don't have to do it the way so-and-so did it in 1972. I can catch up and say, 'hey, here's the science and proof and everything else.' I think coaches are coming around to it. I think guys are coming around to say 'hey, what's the way to get guys on the field, feeling the best and being their healthiest?'
"I don't ever hear in college the reference to well, we'll see how healthy they stay. But in pro football it's always well, it just depends on how healthy they stay. So if you start to come to realize well these are my horses and if I keep them healthy, I've got a pretty daggone good chance to win."
But Lewis has always done a nice job of getting his team to the gate healthy and primed, even if a decade ago he was seen as the Georgetown Strongman. His September record of 25-18 is good for a .581 winning percentage, almost as good as his best month, which is .584 in November.
Jones remembers the  year before the CBA, his first in Cincinnati.
"He was a lot more pst, pst, pst, pst," said Jones of Lewis, seeming to indicate the hammer had been out. "Yeah. 2010 here was way different. We're really taking care of the body now."
But Jones goes as far to say if he was really serious about leaving Cincinnati in free agency, Lewis' regimen would have convinced him to stay.
"That was the main factor. I wasn't going anywhere anyway. But all that came into play, how Marvin treats us and our bodies and the way we get to practice and stuff like that," Jones said. "There's not too many systems that take care of your body like Marv (does).
"Of course everybody's going to work in camp. That's what we're here to do, to get better and get to our peak stage. But once that's over with, then he'll start letting back down on us. Everybody knows what the deal is. We've got a good system here, especially during the game weeks. We're only practicing two days really."
Jones paused with comedic timing.
"And I think the CBA has something to do with that, too," he said.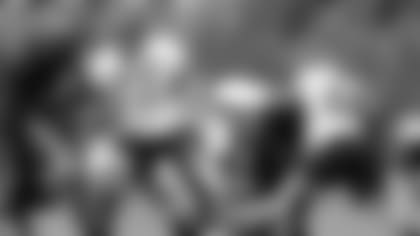 Andrew Whitworth (77) has seen a slew of changes in training camp.
But Lewis lives the real world every day. He gets it. Many of his players stayed around Cincinnati during the summer break and worked out at Ignition Sports, where director Clif Marshall is a Morton disciple and employs the same philosophy. As Whitworth points out, that is a script playing out all around the country in gyms everywhere.
"A lot of that stuff's overkill at this point," Whitworth said. "People keep relating it to what they did back then, but the truth is in this day and age, these guys go to a facility and train with a guy at their specific position the six months that they're not playing football. So the reality is most of these guys as far as actually getting away from the game of football -- they're never away from it."
Whitworth can only shake his head. Once upon a time, there were no days off that first week or nine days of camp. There would be a night off with no meetings, bit that's it. But now, per CBA, they have two days off in the first 10 days of camp.
"My rookie minicamp was five practices," said Whitworth of a number that is now three. " Training camp was definitely two-a-days and all that good stuff. It's funny, even looking at the schedule now, the mock game -- I'm used to the mock game was played after a two-a-day and you'd play the mock game exhausted. Now it's like the mock game comes two days after a day off."
And, in the end, Whitworth says it's for the best. He envisions a few rule changes where they give young players more time on the field and in the meeting room because he thinks the scaled-back schedule has heightened the learning curve.
"The game's just way different," Whitworth said. "Now the healthiest teams seem to be the most productive teams. The reality is the better job you can do in keeping your best players on the field, the better success you're going to have"
Take a bow, Marvin Lewis, no longer the G-Town Strongman.
"I love it. I loved this system," Jones said. "I wouldn't change it for anything."