Mike Zimmer is modeling his foundation on what his old boss is doing in Cincinnati.
They've always said the NFL is a copycat league. If Coach X succeeds, Coach O is certain to be just around the corner to borrow a cup or two of whatever the recipe is stirring the success.
Just look at this weekend's 13th annual Marvin Lewis Golf Classic, the Masters of charitable giving in the Cincinnati area. It's so big it needs two days and three NFL head coaches and on Saturday night at its slick and chic pre-tournament V.I.P. party at the Montgomery Inn Boathouse, Vikings head coach Mike Zimmer is going to stop by with Browns head coach Hue Jackson.
"Yeah, I could be taking notes," says Zimmer, but noting Bengals head coach Marvin Lewis' legendary abilities at excavating wallets for his foundation he figures, "I'll probably be giving money."
But now that Zimmer is heading into his third season in Minnesota, he's the guy using Lewis' favorite closer line. "It's for the kids." The Mike Zimmer Foundation is swamping the Land of Lakes and if it looks and smells and tastes like the ribs smoking at the award-winning Marvin Lewis Community Fund, it's supposed to.
There are a few tweaks, of course.
"My dad is pretty unique," says the executive director of the Zimmer foundation who should know such things, Corri Zimmer. "We've got camouflage T-shirts, country music, hunting themes."
The Vote Zimmer 2016 T-Shirts, complete with a drawing of Zimmer in front of an American flag, have been a big hit. At $25 per pop the Zimmer Foundation tent sold $3,500 worth at the Vikings' draft day party.
Zimmer surmises that his daughter has consulted MLCF maven Lindsey Reisert only "about a million times."
"To tell you the truth, we've tried to take everything," Zimmer says. "We've got the football camp like Marvin.   We're honoring the good students like Marvin. (Lewis' Learning is Cool to Zimmer's Standout Students.) Marvin does a fantastic job of getting out in the community and helping people. Lindsey does a great job with everyone else there putting it together."
This weekend is the Super Bowl for everyone from Reisert, to executive director Barbara Dundee, to the volunteer putting cigars in the golf carts, to the guy doling out Gold Star cheese coneys at one of the 14 tee boxes churning out Cincinnati delicacies Sunday at Shaker Run Golf Club in Lebanon, Ohio. Taste of Cincinnati meets Hard Knocks.
"We tried to have one this year, but there just wasn't enough time to pull it together," Corri Zimmer says. "Next year. We came once as a family to Marvin's and the (Saturday night) silent auction was great. The vibe was awesome. We'd like to get that going."
This is the Big One. The foundation's biggest fundraiser of the year and the highlight is the awarding of eight college scholarships at $20,000 each.
And Lewis has done it again. By the time he and wife Peggy and Dundee got done reading the application essays, wiped away the tears, shook their head in admiration, and gritted their teeth in determination, they added two more scholarships.
"Incredible. Eye opening. Shocking," Lewis says of the essays. "They all have a different makeup. Maybe a different adversity they've had to overcome."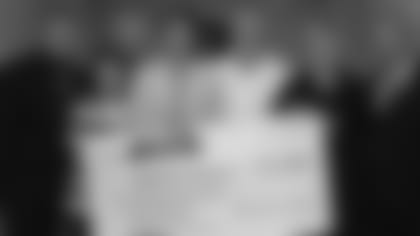 *Thursday night Gabe Lammers received the Bill Zimmer Memorial Scholarship, an award inspired by MLCF's Vikki Zimmer Scholarship.     *
Truth be told, one of those scholarship winners back in the dark days of his own adversity inspired Zimmer in his drive to get good deeds done in Minnesota.  His wife of 27 years had been gone about seven months at the 2010 Classic when Lewis gave the Vikki Zimmer Scholarship to LaSalle High School's T.J. DeLaet.
And that's how Thursday night in Lockport, Ill., Gabe Lammers received the $10,000 Bill Zimmer Memorial Scholarship. It's named for Zimmer's father, the guy that made Mike Zimmer tough and resourceful and passionate in a career at Lockport Township High School where he coached football and wrestling long enough and well enough to go into the Illinois High School Hall of Fame.
"What Marvin did with Vikki inspired me," Mike Zimmer says. "With all the donations at my dad's funeral, we felt like we wanted to give an athlete at his school an opportunity. In the future we'll do it for students in Minnesota. It's similar to Marvin's scholarships. Get good grades. Want to go to college. Active in the community."
Lewis and Zimmer are always going to be a part of each other after Oct. 8, 2009.  Zimmer, then in his second of six seasons as the Bengals defensive coordinator, left work that Thursday night slightly ahead of Lewis. As Lewis drove past The Precinct on Columbia Parkway, Zimmer phoned him with unfathomable and sudden heartbreak. He had found 50-year-old Vikki dead.
Lewis lurched his car the other way and raced to the Zimmers' river row condo, the first one there other than the police. He coordinated a night-long vigil with his coaches and their wives. It began a hellish weekend of emotions capped with Zimmer, accompanied by his children and father on the team charter to Baltimore, coaching a masterpiece in the Bengals' 17-14 victory.     
"We want to take our heartbreak and do good things for people," Corri Zimmer says.
So when she read Lammers' essay, it almost seemed like destiny. Lammers won the character award in football and the leadership award in lacrosse while volunteering for youth football camps and youth church groups. In the  cover letter to his essay he revealed Bill Zimmer had taught driver's ed to his grandmother "shortly after my grandparents arrived from Seoul, South Korea," as well as to his mother.
But Lammers got a phone call just like Lewis and Corri Zimmer. When he was just beginning his sophomore year of high school, his brother fell to his death at age 27. He was Gabe's role model, a former football player, and he ended up switching his own No. 44 to Zack's No. 11. But first he had to convince himself to keep playing.
"I thought about quitting after that, feeling I couldn't keep going," Gabe Lammers' essay said. "But I remembered all the conversations I had with Zack about what football meant to us. We loved everything about it – the physical aspect, the competitiveness and the camaraderie that develops between teammates."
The similarities struck Corri Zimmer like one of her dad's blitzes.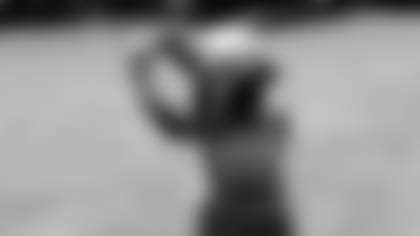 Adam Jones is one of the Bengals scheduled to play in Sunday's Marvin Lewis Golf Classic.
"One of the things that touched us is that he lost his brother and he talked a lot in his essay about how football helped him through it," Corri says. "After we lost our mom, the NFL was a great resource to help us. Watching my dad coach the game after my mom passed away . . . we were drawn to that and how he talked about being a leader and needing to show physical and mental strength for my team. It was well written and he's a great kid."
Like MLCF, Corri spread out the decision and the reading of the essays. She's extremely close to her older brother Adam Zimmer, the Vikings linebackers coach, and she had an idea they would choose the same one. They did. And Mike Zimmer was all in after he read them.
At some point they may have also intoned their family mantra. Corri says it's kind of a joke, but it's really not. She and her sister began saying it. Maybe they were out shopping for something in the house and in order to decide on an item they may say, "What would Vikki do?"
Now it's grown into the foundation's motto. For instance, if Mike Zimmer isn't particularly enthused about a lot of handshaking at a fundraiser, since he's more cammo than warm and fuzzy, Corri will say, "What would Vikki do?" and he'll laugh.
"She's definitely her mother's daughter. Kind. Polite. She doesn't like to ruffle feathers," says Mike Zimmer, who doesn't mind ruffling feathers anywhere anytime.
What would Vikki do? Her husband saw this and still can't believe the kindness.
"She felt bad for everybody," he said of the woman who treated his players as if they were her kids and made the weekly cookies to prove it. "She saw this homeless person on the street once and she didn't want to give her money. She went into a grocery store and bought this big bag of groceries and when she came back out the woman wasn't there. So she kept the bag in the car for a week and when she saw her again she gave it to her."
When Lewis came up with the Vikki Zimmer Scholarship the year after she died, Corri admits everything was still a blur. But she does remember the winner, LaSalle's DeLaet, updating her dad through e-mails.
"I still do," reports DeLaet on Friday, immersed in his dentistry studies at the University of Louisville.  "Not many people know him off the field, but he's an incredible people person, an all-around great human being. When I send him an e-mail, I don't hear back from a secretary or anything like that. He's encouraging me, making sure I stay on track to reach my goal."
DeLaet grew up in White Oak in Cincinnati's west wing and it never seemed to be easy. When he was two his mother Kim was diagnosed with breast cancer. She beat it and went on to work three different jobs at the same time, a CPA, LaSalle bowling coach, and receptionist at the local YMCA. But breast cancer surfaced again in 2009, the year Vikki died and DeLaet's junior year at LaSalle.
 When he researched Lewis' scholarship, he couldn't help but notice the description of the Vikki scholarship. Never mind that the $20,000 represented half of the tuition at the University of Cincinnati, where he planned to major in health sciences.
"We were already fighting money with medical bills. It was a big relief knowing I had some finances to get me through. It made sure I could get where I am today," DeLaet says. "I had a part time job all through school, but it allowed me to work less and go to school more. It helped ease things when I stayed at UC for my master's (in biology)."
His mother has beaten it again and he becomes a dentist with the class of 2019. He has already offered his services to Zimmer and is still waiting to hear.
"We were lucky enough that Mike was able to think of others even though he was going through that hard time and that really helped my family," DeLaet says.
Zimmer sees it as a thank you to the city. He is still overwhelmed by the support he got here from his players, fellow coaches, ownership, and fans.
"There are a lot of great people in Cincinnati," Mike Zimmer says. "I think at least some people are getting benefit from something bad that happened."
Zimmer didn't make the decision on that one. Lewis awarded the first Vikki Zimmer Scholarship.
"Good call," says Mike Zimmer of his fellow ex D-coordinator, and he plans to make some of his own.
He's got to figure that's what Vikki would do and it's a copycat league.