Marvin Lewis: it's never over 'till it's over.

In a matter of 15 days Marvin Lewis has gone from stepping away as head coach of the Bengals to discussing how a possible 16th season could succeed after meeting Monday with the club's family management team headed by club president Mike Brown.

So much for published reports in the Misinformation Age.

But as Monday began to blitz into Tuesday, Lewis's status is the same as it has been through the 7-9 season that ended so spectacularly Sunday in Baltimore. It's not resolved. But it could be done as early as Tuesday - either way - with the key issue appearing to be who is and who isn't returning to the coaching staff that, like Lewis, doesn't believe to have a contract for 2018.


"We haven't talked about a 'deal' or anything that way. We were just talking about the football team. We discussed the football team this morning," said Lewis Monday in his end-of-season season wrap-up news conference that featured no season wrap-up questions.

He said it's fair to say there is mutual interest in keeping the relationship intact that is two weeks shy of reaching 15 years. Although linked to the vacant Cardinals job because he has family and a home in Arizona, Lewis said he has thought of no other job but this one. He also impaled the numerous reports that the Bengals were kicking him upstairs. They're only discussing the role of head coach, he said.  

The discussions with Brown and his family, Bengals vice presidents Katie and Troy Blackburn and Paul Brown, were characterized as deliberative, general and open-ended with both sides apparently sitting down with make-or-break specifics Tuesday. The ancillary issues such as roster control, player development, and the potential for an indoor facility don't appear to be driving the parties.

        "That's a part of it. There are a lot of things," Lewis said of where the coaching staff fits in the puzzle, "People have their viewpoints, I have my viewpoint, and so forth. The one thing we have been consistent on since I've been here is staying on the same page, and I think that's important. There is a direction that the owner wants to have, and there is a direction that I have to ... he has hired me to do a job, and we have to make sure that I stay aligned in that. If his direction is different than my direction, then that's probably not good. So, we have to make sure we are all on the same page."

Lewis indicated he's happy with this season's roster that he helped build with Bengals director of player personnel Duke Tobin and he denied he's looking for more control.
 

"No, we're aligned on things, but I think, as you move forward, '17 is over — we're going into '18 now, into the future," Lewis said. "Everybody wants to make sure we stay on same course together."

That would point to the coaches and how exactly Lewis wants to improve each side of the ball, assuming special teams coordinator Darrin Simmons also returns for a 16th season. And the Bengals could be looking at a sea change rivalling 2014 when they had to replace the offensive and defensive coordinators.
Asked if wanted every coach back he says, "The first thing's first. Then we will go from there."
It's believed that current defensive coordinator Paul Guenther is being courted by several clubs, either as a head coach or coordinator. He's reportedly Jon Gruden's first choice for defensive coordinator when he gets the job in Oakland. Unless they hire from within, that means Lewis, if he stays, would be looking at the end of the Guenther-Mike Zimmer line that revived the franchise in 2009.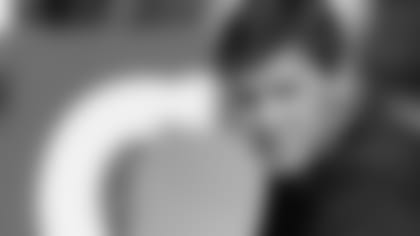 Bill Lazor impressed Marvin Lewis in his battlefield promotion.

But even a bigger issue is the state of the offense. They had their worst rushing season in franchise history, perennial Pro Bowl wide receiver A.J. Green had his fewest yards in a healthy season, and his bookend franchise flagship player, quarterback Andy Dalton, never looked comfortable behind a revamped offensive line.

One name that appears to be emerging in the mix is incumbent offensive coordinator Bill Lazor because Lewis has apparently been extremely impressed by how Lazor responded in his battlefield promotion from quarterbacks coach. Lewis promoted him four days and two games into the season when offensive coordinator Ken Zampese paid the price for the lack of a touchdown. Lewis, originally impressed by Lazor's Joe Gibbs-Dan Reeves-Chip Kelly pedigree, has regard for how Lazor got his group to rebound from the dismal two one-TD outings that preceded the last two wins and it will be interesting to see where he fits into a Lewis picture.

"I spoke with them this morning — we met this morning about it," Lewis said of his coaches. "I told them, as far as from my direction, I would get them where things are as quick as I could. It's unfortunate that they're stuck in this limbo right now. They are aware of it, and it also makes some urgency for both parties. They're basically free agents as well. The urgency has to happen on both sides."



Cincinnati Bengals take on the Baltimore Ravens in week 17 of the regular season.