Middle linebacker Rey Maualuga went limited in Wednesday's practice for his first work in a month.
Bengals head coach Marvin Lewis delivered the message to his team and then a few hours later closed his Wednesday news conference with the same theme as he conjured up urgency as well as calm for Sunday's game (1 p.m.-Cincinnati's Channel 12) in New Orleans that officially begins the stretch run.
At 5-3-1, the Bengals are right where they were when they made the playoffs the three previous seasons. They were 6-3 last season heading into the tenth game, 4-5 in 2012, and 6-3 in 2011.
With one big difference. The offense isn't helping out the defense and the defense isn't helping out the offense. Or, as Bengals radio analyst Dave Lapham says, there has been no complementary football. In their three losses and a tie, the defense hasn't come up with a stop when they needed it and the offense hasn't kept a battered defense off the field.
 "We are not playing as well right now on defense. The entire defensive football team is not playing as well. We have given up 50 more first downs then we did a year ago at this time," Lewis said. "We have scored five less touchdowns and given up five more touchdowns. We are running for a half-yard better on offense, and they have a half-yard better per carry on defense. Part of that is we haven't had a lead. Part of that is we have 50 more rushing attempts.
 "We are almost where we were offensively after Game 9 last year," Lewis said.  "Those things are all equal, but we are not getting it done on first and second down defensively."
He pointed out other problems. They scored 37 more points last year in the first nine games while this year they're getting outscored, 75-56, in the fourth quarter.
Yes, the defense has allowed the third most yards in the NFL. They've also been on the field a league-high 72 snaps per game, which happens when the offense is ranked fourth worst in third-down efficiency.
"Those things are all equal, but we are not getting it done on first and second down defensively. We have to do a better job. On offense, we are ripping and roaring on first down (and lead the AFC). We have to do a better job," Lewis said.
First and second down on defense brings us to that No. 31 ranking against the run. It is a huge matchup Sunday since the Saints are ranked sixth in the NFL in rushing and running back Mark Ingram is coming off New Orleans' first three straight 100-yard rushing games since Deuce McAllister did it in 2003.
Middle linebacker Rey Maualuga heard the number "31," for rush defense before Wednesday's practice and his face blanched through 143 expressions, which is how many yards the Bengals have given up per game on the ground this season.
Unheard of for a guy like Maualuga. Since he arrived here in 2009, the lowest they have finished against the run is 19th (2010) and in all the other years they were in the top 12, topped by a No. 5 finish last year, their highest ranking against the run in 31 years.
"Based on what coach said I have every confidence in the world we will come back, we will bounce back and I promise you we're not going to finish the season 31," Maualuga said. "That I   can promise you."
The edict came down Wednesday from first-year defensive coordinator Paul Guenther.
"You can't just show up and practice and just to practice and go home," Maualuga said before practice. "Things have to change. Like (Guenther) said, if they're not going to do the things they're asking you to do, then you're not going to play. Hopefully that hits a couple of people and things get changed around here."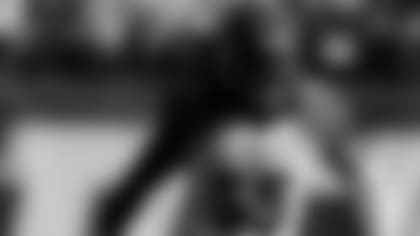 Whenever Vontaze Burfict gets back, the run defense gets a Pro Bowl lift.
This defense, this era, simply isn't used to this. The last time they were 31st against the run was after they gave up 192 yards in Baltimore on Dec. 5, 2004 and somehow still won when Carson Palmer engineered 24 fourth-quarter points. Back when they started a second-year sixth-round defensive tackle (Langston Moore), a 230-pound rookie middle linebacker (Landon Johnson), a rookie safety (Madieu Williams) and a rookie cornerback (Keiwan Ratliff).
Maualuga practiced for the first time Wednesday since he injured his hamstring against Carolina Oct. 12 and since he was limited it is still a longshot he'll see Ingram. There was no sign of Pro Bowl WILL backer Vontaze Burfict on the rehab field with Wednesday marking two weeks since his arthroscopic knee surgery, but Guenther is holding out hope he'll play.
"I know we have a bunch of guys back from last year and we pride ourselves in being competitive in out-competing each other, being the first ones to the ball," Maualuga said. "I know Tez and I were competing in who would have the most tackles in the games. Obviously it hurts with Vontaze not being here. He's like the Tasmanian Devil out there in the group."
And why shouldn't they hope he's back? Burfict led the NFL in tackles last year turning seven-yard runs into two. He's played just two full games. Maualuga, their next best backer against the run, has missed the last four games. On Sunday, Guenther may be faced with his sixth different starting linebacker combo of the season. Nico Johnson, a sophomore plucked from the Kansas City practice squad two days after Maualuga got hurt, made his second straight start in the middle Thursday night when Cleveland pounded it 52 times. Thanks to some fit problems and thanks to an offense that went 3-for-17 on third down and possessed it 24 minutes.
 "The part is more the communication process and what has to happen when things change," Lewis said. "If we were playing static football it's pretty easy, but there's not much static offense out there."
Throw in the fact that defensive tackle Geno Atkins is still on the comeback trail from his torn ACL and has yet to regain his Pro Bowl form and, well, yes, Guenther would like to have Maualuga back Sunday.
"It all fits," Guenther said. "If the D-line is staying on their blocks and the linebackers are in the right spot, if it's off a little tick they are going to hang on the line a little bit. So, the linebackers are as much a part of this as the line. All seven, and the support players on the outside, all have to do what they are supposed to do and be in the right spots and come downhill on people. That's all fit. Nico learned a little bit of that last week."
The chemistry is challenged by the fact that SAM linebacker Emmanuel Lamur is in his first year as a starter after missing all of his sophomore year and that career backup Vincent Rey came into the season with 471 career snaps and has 508 this season alone.    
"We've had a number of different guys in there, that's part of the issue," Guenther said. "I can't tell you how many different sets of linebackers and combinations we have had in there so it's something we have to work through. I know what it's supposed to look like. Obviously, if Rey comes back it will be a big help. That will clean some stuff up for us. A year ago, look at the runs and a lot of the same stuff the linebackers cleaned up and it was the same stuff. I told the players it's very fixable stuff that we got to go do but we can't talk about it. We have to go do it and get it done and be effective."
Guenther is talking about fundamentals up front, not just at backer.
"It's not so much doing what they're told, it's the technique and shooting our hands and staying low at the line of scrimmage and controlling the line of scrimmage," Guenther said. "That's what we need to do better, regardless of who's in there. I'm not using that as an excuse right now."
Maualuga doesn't want to talk about himself. He doesn't want to come off like he's going to save the season. But he wants to help.
"It's not hard when you know the system. It's not hard when you know the person you're playing with," Maualuga said.  "Obviously with Nico being here Nico hasn't played with E-Man or Vinny. They haven't kind of got that click. I don't know when the last time Vinny played every snap for a couple of games straight. Me, him and E-Man are barely getting that click or working together to make something happen, but hopefully I can just step in and get that spark. I know it's there in this defense and it's going to have to start today."
He has been in the middle of these playoff runs. He was here just last year, when he came back from  missing three games with a knee injury and started the last five in a finishing stretch they gave up just 84.4 yards per on the ground.
"I see similar to when we lost to Denver here (in 2012) and their D-line said something about us being a good team we just don't know it yet," Maualuga said. "Then we went on a (7-1) run and so this team does have what it takes. It would be great to have everyone back healthy and have a healthy team making a run for it, but in reality we should be able to win with certain players not being able to play if we have that want to."