Marvin Lewis won't rule out taking a running back No. 9, but he offers an impassioned defense of Jeremy Hill.
When Marvin Lewis showed up for his first NFL scouting combine as head coach of the Bengals in 2003, Bill Parcells, Marty Schottenheimer, and Bill Cowher, with Joe Gibbs on deck, were still coaching.
Current Rams head coach Sean McVay still had a year of high school left and Lewis had hitched his star to the No. 1 draft pick that year as USC quarterback Carson Palmer snuck out a back door after he did some work in Indianapolis' now defunct RCA Dome that was draped in Kremlin secrecy.
Now Lewis arrives next week in Indy for one of these all-access combines with four other NFL head coaches who once assisted him in Cincinnati while he and New England's Bill Belichick preside as two of the 11 coaches in NFL history that have run the same team for at least 15 straight years.
And there's no telling when he'll stop. He may be working on a one-year deal, but those reports of his impending retirement late last season really look exaggerated now.
"I don't have a time frame," Lewis said Friday. "I don't have a set (time). I'm going to stop when I stop."
It sounds like a year-to-year deal for him and he agreed.  He wouldn't mind an extension, but he also doesn't mind an air of urgency hanging over Paul Brown Stadium in 2017.
 "I don't think it's critical or crucial," Lewis said of an extension. "If things work out we would look to do that."
He admits that extra year may make other staffers happy, but it is also a staff looking to rebound from its first season missing the playoffs in six years.
"I think some people are sometimes more at ease with that. Maybe that's not where we need to be," Lewis said. "Maybe that's not the right place for us to be right now … everybody is year-to-year, right?"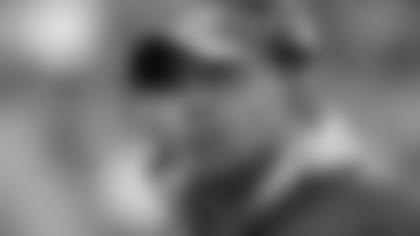 Lewis, who at .533, is one rung ahead of Tom Coughlin and one rung below Dan Reeves for winning percentage, doesn't mind 100-percent urgency.
As usual Lewis has a lot on his desk. Literally. On Friday there was the obligatory self-help book, along with notes to himself, as well Rick Gosselin's annual NFL special teams breakdown from The Dallas Morning News and the Bengals' 2016 GPS report that monitors his regulars' daily bodily functions.
He won't talk free agency or next year's depth chart, expect to say they want their own players to return and no one has won anything yet. But when asked about the offensive line, everybody's top off-season worry, Lewis warms to the subject.
Especially after quarterback Andy Dalton was sacked 41 times. It's only the third time a Bengals quarterback was sacked at least 40 times under Lewis.
"(The line is) not a concern. We know all areas of our team, particularly the offensive group, have to do a better job of protecting our quarterback and that comes from every person and every position group on the offense," Lewis said. "(Protecting the passer) is always a priority. It's never changed. It just doesn't fall on the line. It falls on everybody."
Of course, then, the next question is the running game and the first question in the running game is always running back Jeremy Hill and his decline from 5.1 yards per rush as a rookie in 2014 to 3.8 yards last season with just five runs of at least 20 yards.
Hill is going nowhere. Rex Burkhead may have averaged 4.7 yards per carry heading into free agency while Hill averaged 2.5 in the same stretch with Giovani Bernard (ACL) injured over the last six weeks, but Lewis offered an impassioned defense of Hill and said, "We have to coach him better."
"We bet on him. We have no other choice. We bet on Jeremy to continue to progress and move forward," Lewis said. "Our job is to try and re-sign Rex. That doesn't affect Jeremy."
Lewis appreciates how Hill played hurt and never put the ball on the ground after the 2015 season ended on his nightmare fumble.
"A couple of years ago Jeremy was runner-up rookie of the year. I don't think he became a bad player. We need to improve as coaches," Lewis said. "Jeremy played injured last year and it probably got him into some bad habits. When we needed him to play he stayed in there and played. We knew internally he was hurt. A lot of guys wouldn't have been able to deal with the pain that he dealt with the first and mid part of the season."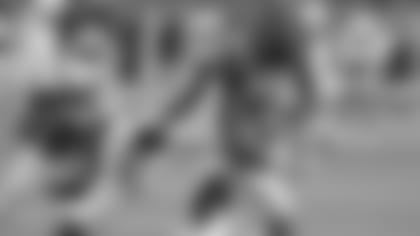 A.J. Green: the Bengals' last top ten pick.
And when it comes to a running back in this draft, the name of LSU's Leonard Fournette keeps surfacing when the Bengals pick at No. 9. Lewis says he has yet to be immersed enough in the draft to handicap the top ten, but he says any position is possible.
"Every position but quarterback. We won't take a quarterback," Lewis said of the ninth pick.
But he has been through enough drafts to believe the impact players are not going to magically disappear before the ninth pick as some fear. He thinks the last time the Bengals picked ninth they got the impact they were seeking with USC linebacker Keith Rivers in 2008.
 Even though Rivers played just 35 games in Cincinnati in an injury-plagued career that ended in a trade for a fifth-round pick before the 2012 season.
"They wanted our pick. Teams wanted to trade to take him," Lewis said of Rivers. "A very good player. Excellent player. First day starter. C'mon. Hell of a player. He broke his jaw. There's nothing you can do about injury.
"We'll go for the best player. And we'll get a really good player and hopefully the guy will have a strong, healthy career."
Lewis does know he'll see more players working out in Indy than he did at that first combine 14 years ago. There's a much better chance he'll see the ninth pick at least run the 40-yard dash.
 "The combine was always a very sterile environment," Lewis said. "It was an opportunity for teams to get physicals, meet with prospects and then get evaluated on physical skills. Now because of television it's just grown so much. First allowing in media and then a small group of fans and now they're opening it up to more fans. It doesn't change anything for the teams, but it's so much different for the players."
And Lewis likes what the added exposure has done to the competitive juices.
"There is a greater percentage of guys running now," Lewis said. "What had happened is that some of the top prospects were choosing not to work out. Now I think it's become a competitive thing to work out. I think that's a positive. Because we're looking for guys to work out every day of the week regardless of the situation. That's good for the clubs."