Indiana native Tyler Eifert went No. 1 to the Bengals in 2013 after his combine.
INDIANAPOLIS - Like Cardale Jones' 40-yard dash, the last couple of years we've seemed to pull up at this point in the NFL scouting combine wondering how the Bengals can end up with an impact cornerback or wide receiver in the first two rounds.
In the end, they never let you know until Draft Day.
What we do know is they could use both, but as the media wrapped up another annual assault Saturday on Lucas Oil Stadium, it was hard to tell how this thing is going to break.
As usual, the Bengals are not showing their cards and they have such a devotion to their board that they never really target a position anymore.
But it is also true that never before in the Green-Dalton Era is the free-agency period going to impact the Bengals draft as much as this one. After seven hours of knocking them dead on NFL Network's live coverage, analyst Mike Mayock smiled wearily when asked if it looked like the Bengals were headed toward drafting a cornerback in the first round for the fifth time in the last 11 drafts.
"We've got another month to figure that out. Let them get through free agency first," he said.
(By the way, every American male born after Sputnik would have killed to have been married in Mayock's uniform on Saturday. A blue pin-stripe suit with Under Armour running shoes.)
But all signs are that the Bengals are going to go all out to re-sign their two most high-profile free agents in starting wide receiver Marvin Jones and starting cornerback Adam Jones when the games begin March 7.
Yet logic would say even if they get both of them done they still need to fill those positions for depth. But, as usual, don't look for wide receivers to have as much value as cornerbacks. Especially when Mayock observed that he still doesn't see more than one or two first-round receivers.
LaQuon Treadwell of Ole Miss and Baylor's Corey Coleman didn't run the 40-yard dash Saturday and even though Notre Dame's Will Fuller, a 6-0, 184-pound burner, blistered it in 4.32 seconds, Mayock still has him as a second-rounder.
"This is not the same receiver class we've seen the last couple of years," Mayock said. "We saw that today. No one is near as explosive. Treadwell didn't run. He won't run fast anyway. He didn't jump well today. Below average. Treadwell is a bottom half of the first-round guy. Coleman and Fuller are the two people are going to talk about at a certain point. Whether or not it's the first round, it's hard to say. (Fuller) caught it better than I expected him to catch it. I still think he's a two."
Since the Bengals have the 24th pick and two of their top three cornerbacks are in their 30s and free (Jones and Leon Hall), does that mean another corner? The last two times they had the 24th pick, they went there with South Carolina's Johnathan Joseph and Michigan State's Darqueze Dennard.
Gil Brandt, an NFL personnel icon, and Bill Polian, a Hall-of-Fame general manager, both think there'll be a guy there.
"It's a deep draft for the defensive line and that means corners get pushed down," Polian said Saturday.
But Rob Rang, the CBS Sports draft guru who called his shot early at the 2006 combine and matched up the Bengals with the little-known-one-year-wonder Joseph, thinks the Bengals have to get their speed receiver in the first round and then maybe go for a guy like Houston cornerback William Jackson in the second round.
"There are a lot of wide receivers in this draft, but not a lot of them have that explosive speed," Rang said. "I think what Cincinnati is missing is a speed guy. So if you want to wait . . ."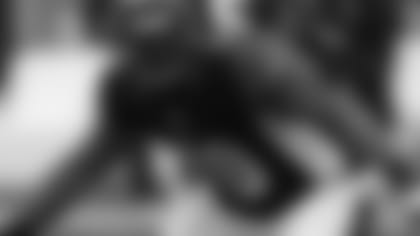 The Bengals don't seem to have the flexibility they had last draft, when they took Texas A&M tackle Cedric Ogbuehi (above) No. 1 even though he was coming off ACL surgery.
Rang doesn't suggest that because while TCU's 6-1 Kolby Listenbee ran as advertised with a 4.39 that gets him compared to Mike Wallace and may put him as high as the third round, the knock on him is that he's so raw he needs time to develop.
"And Cincinnati is built to win now,"' Rang said.
But other than top five guys in the Green mold, the Bengals traditionally don't value receivers like that even though Marvin Jones has that game-breaking speed as evidenced by career stats of 15 TDs and 12.9 yards per catch.
 Yet don't look for a rookie to replace his 2015 numbers of 65 catches for 865 yards and four TDs no matter where you get him or how fast he runs.
Unless you're the five-time Pro Bowler Green or his 2011 draft soulmate Julio Jones. Outside of Green's 65 catches for seven TDs and a 16.3-yard average, the closest thing to Marvin Jones' 2015 production by a rookie receiver in the Marvin Lewis Era is by a trio of third-rounders.
"There's maybe more to learn," said Bengals director of player personnel Duke Tobin of why many rookie receivers fail to make an impact. "Formationally these guys are often going from real basic stuff to where they are lining up on the right side on the outside all the time and going fast and don't have to worry about the formations, the motions, the shifts, the check-with-mes that NFL teams do.
"A lot of times it's just learning the formations and knowing the multiple spots that he fits in each one of those formations. Certainly route running in the NFL is different. The level of talent in the defensive backfield is different for these guys. It's a position that is hard to come in and take off right away. It can be done but you normally need a guy that's had a little bit more experience with more of a pro-style attack in college."
In 2005, Chris Henry averaged 13.6 per his 31 catches that included six TDs and 422 yards. In 2003 Kelley Washington had the same yards per catch and four TDs, but only 299 yards. In 2010 Jordan Shipley was solid with 52 catches, 600 yards and three TDs
Which would get you there.
Sure, Shipley was a slot receiver playing inside Chad Johnson and Terrell Owens. And Washington was also a third receiver teamed with Johnson and Peter Warrick, as was Henry with Johnson and T.J. Houshmandzadeh.
But if the Bengals don't re-sign Marvin Jones (and, again the word is they're going to make a Herculean effort), isn't that what a rookie would be? A third receiver with Green and Pro Bowl tight end Tyler Eifert?
(Slot receiver Mohamed Sanu has already made it known via sources he's not re-signing.)
Greg Cosell, the scout for NFL Films, points right at Marvin Jones himself when it comes to receiver value as the 166th pick at the bottom of the fifth round in 2012.
"The average personnel guy would say you can get one in this draft from 40 to 150," Cosell said. "Marvin Jones is a solid NFL receiver. That's because it's very team and scheme specific. There are a lot of big receivers in this draft. If you're looking for a receiver I would think you can get one between rounds three to five. They just have to be the right one for you."
Big would seem to be specific for the Bengals. In this century they have drafted three receivers under six feet. Since Mario Alford joined Warrick and Shipley last year, don't look for another little guy.
"We don't put minimums and maximums on them because I think every player is an individual case study," Tobin said. "So we're not ruling anybody out. But obviously bigger is better. Faster is better. More productive is better. More intelligent is better. We're looking for the best of all worlds with a guy. So if it comes in a tall package, we're happy about that." 
Cosell believes he has a find in a guy like Tulsa's 6-3, 221-pound Keyarris Garrett, a guy that high-points it, is a physical mismatch and could be a third day possibility since he missed 20 games with injuries.
But Rang says the best match for the Bengals is Notre Dame's Fuller and not TCU's Josh Doctson, a second-rounder and another 6-2 high-pointer who can get contested balls but can't separate, Rang says.
"They need a take-the-top off-the-defense guy to help out A.J.," Rang said. "The thing about Fuller is he showed he's fast on grass. Most guys slow down on grass."
While the Bengals highly value Marvin Jones, their  history would say they're not going to value a rookie receiver as highly and they've shown they may not wade into  the receiver pool  until beyond the second round.
But not so a cornerback even though it's the same thing. The sense is the Bengals are going to pull out all the stops to sign Pro Bowler Adam Jones, but they clearly have put a large premium on drafting corners.
We certainly know that because what did Bengals defensive coordinator Paul Guenther says earlier this week? He's always looks at pass rushers and cover guys.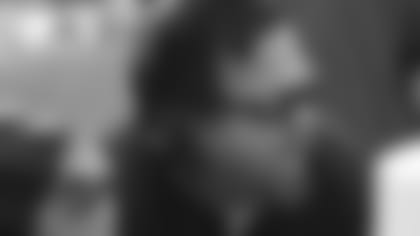 Bengals DC Paul Guenther always has an eye for rushers and corners.
And Mayock said the two deepest positions in this draft are defensive linemen and corners. And he says it is a deep enough draft for corners that more names are going to surface beyond Clemson's Mackensie Alexander, Florida State's Jalen Ramsey, and Florida's Vernon Hargreaves III.
But he's not sure the deep crop of defensive linemen is going to push down corners.
 "It's intriguing. There are so many good defensive linemen and the one way you could look at it is there could be a bunch of them taken in the first round," Mayock said. "The other way, which could happen, is  that teams are going  to look around and say, 'Man, I can get a second round defensive tackle in the fourth round.' Or, 'I can get a first-round defensive tackle in the third round.' So I can attack a need where the draft isn't as good."
Remember, Dennard dropped in the 2014 first round, apparently because of his speed, but the Bengals are very confident he'll emerge as one of their top corners in his third season. Rang could see a guy like the 5-11 Hargreaves falling even though he has been compared to Cleveland's Joe Haden.
"Hargreaves had an inconsistent junior year, so I could see him falling into Cincinnati's lap (like Dennard)," Rang said. "But I'm a big believer in Hargreaves' skill set.
"He's got a flair for the dramatic in that he's a highly competitive. He goes up and competes for balls and when you do that, sometimes you get beat. But he makes plays on the ball as well and Cincinnati has shown it likes to gamble on playmakers and this kid is a playmaker."
Here's another name: Ohio State's Eli Apple. Mayock thinks he's a borderline first-rounder, but he's 6-1 and he plays the physical brand of press coverage the Bengals employ. Rang says Hargreaves has better ball skills, but Apple is consistently the more physical player.
Apple was coached in the Buckeyes secondary by the famously energetic Kerry Coombs, the father of Bengals special teams assistant Brayden Coombs.
"I know that," Apple said Saturday. "Coach Coombs is one of my favorite coaches. I can only imagine how the son is. Probably has a little more energy. That would be fun as well."
But recent history says no. Even though 27 Buckeyes have played for the Bengals, the most in their history, the Steelers have drafted eight Ohio State players since Kevin Colbert became personnel chief in 2000.
Since then, the rest of the AFC North has picked a combined five with the Bengals two, Browns two, and Ravens one. Cincinnati took running back Boom Herron in the sixth round in 2012 and offensive lineman Reid Fragel in the seventh round in 2013. The Steelers have two current first-round Bucks in defensive end Cam Heyward and linebacker Ryan Shazier.
This gallery features photos of current Bengals players at past NFL Combines