Dez (right) and Marcus Lewis hanging out at the Cincinnati Zoo.
Spring is revival. Whether it is a quarterback launching one deep, or a father playing catch with a son, or using a machete to cut the relentless backyard grass, everyone is on the comeback trail in the spring.
It just so happens that this spring Peggy and Marvin Lewis ran square into the circle of life. A month after they said good-bye to Lewis' father in the tiny brick church on Main Street in McDonald, Pa., on the outskirts of Pittsburgh, they watched the child they sponsored all those years stand up in front of the congregation just a few Sundays shy of Father's Day.
"You don't realize what you've done by helping us when the world was forgetting us," Dez told them. "We are going to be the light that goes on."
Dez, now 22, is short for Desire and he was one of those millions of faceless little victims of the atrocities that were the 1990s in the east African country of Rwanda. He was three years old when genocide wiped out 20 percent of the population during a chilling 100 days in 1994 and four when his father, like everyone else on his side of the family, died. Or disappeared. They really don't know.
When he was 10 and had yet to set foot in a pair of shoes, McDonald's First Baptist Church turned to their members to help Rwanda's children that were starving to death and that's when Marvin Lewis' parents approached their son and wife Peggy about helping when he was still an NFL assistant. They agreed to sponsor a boy and two girls and a dozen years later the boy flew 25 hours to say thank you in an unforgettable 30-day visit.
"They came through the village looking for people that were starving,'" Dez says. "I was lucky to be picked…I call Peggy 'Mum,' and Marvin, 'Dad."
The money sent Dez to school from fourth to 12th grades. It's where he got his first pair of shoes. Seeing lights for the first time scared him. When they showed him where he would sleep, he didn't know what a bed looked like, never mind not knowing he could get under the covers.
He didn't know one of his sponsors was the head coach of the Cincinnati Bengals until he was 19 and got a laptop when he went to college. But then, he didn't know anything about American football or Cincinnati for that matter. His boss at the Mexican restaurant where he works near the American embassy told him, "Can't be that Marvin Lewis,' and Dez was able to verify it all on the internet.
"They had to explain it to me like it was soccer. Like it was Alex Ferguson," Dez says of the former long-time Manchester United manager.
In order for Dez to get his visa, his boss had to convince the authorities the kid's sponsor was really that Marvin Lewis because they didn't believe him.
"My friend who runs the restaurant told me what a great man Marvin is," Dez says. "Everyone has value. They said he couldn't give me value, but he gives me value."
Now Mum and Dad are continuing their sponsorship and sending him to college in Kiagli, where he is majoring in computer science but has a hankering for the restaurant business. When Dez got off the plane last month in Cincinnati, he was shy and unsure had to ask a stranger to call Peggy's cell phone to find him. When he left on Wednesday after spending a month teaching lessons without even knowing it, Peggy was a three-car wreck by Thursday afternoon because she had yet to hear he was back in Rwanda.
"He's just such a great kid with one big heart," Peggy Lewis says. "It's amazing how fast you can fall in love with somebody. I was telling a friend, "I feel like he's mine.' Another person to worry about. It's been very emotional. No words can describe it. A lot of laughs. A lot of tears."
There were a lot of firsts these past 30 days, she says. His first swim in a pool. His first milkshake. His first bacon. Before he was sponsored he remembers eating few meals. When he did, it was potatoes or beans, and his mother often didn't eat so her kids could. Which is maybe why he's fascinated by the huge supermarkets.
"It's so fast in America. There is always something to do," Dez says. "You go to a restaurant and the service is so fast."
Dez checked out his team, too, during the trip. He was a semi-staple at Paul Brown Stadium in the last month with a smile that can light up a fourth quarter. At the end, the guy who arrived shy would greet just about anybody with "Hi, I'm Dez," and in a quiet moment he'd say, "I like to meet new friends."
He got to meet most of the players, including his favorite, A.J. Green.
"I like the way he's so fast," he says.
There was a startling moment, too, when Dez revealed to the family he'd been shot when he was little. He doesn't know who or why.
When he was in school, the sponsors and child could write letters back and forth Dez's missives to primarily Peggy were the typically sweet musings of a little boy. There would be drawings and talk about God, a sign of the faith-based education.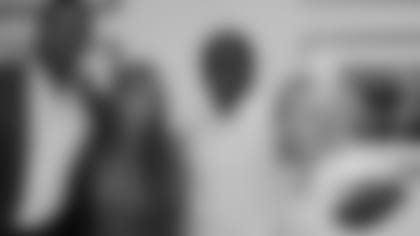 Dez seemed to be everywhere this month, including backstage with Peggy Lewis at Live! with  Kelly and Michael during his trip to New York City.
Then when Dez got the computer a few years ago, the exchange of e-mails became fast and furious and everyone in the family got more involved. Their kids connected with him on Facebook and Peggy found herself receiving and sending e-mails about three times a week. When he figured out who Marvin was, he asked for a Bengals shirt and Peggy sent come gear.
The only chance he gets to see the games is when he's working in the restaurant.
"When he's wearing a shirt or his hat, people always stop him on the street,' Peggy says. "He says, 'I'm pretty popular when I wear my Bengals' (gear). People stop and talk to me.'"
For Marvin Lewis, who coaches guys his age, he can only shake his head. What were you doing at 18? When he was 18, Dez was finally able to get electricity to his mother's house.
"He's amazing," Marvin Lewis says. "The guy who runs the restaurant says he has no problem leaving him in charge. He's such a good worker I guess. And he wants to help his country.
"His country, his family, his friends, that's all he's concerned about. How he makes his country better and provides for his family."
The 30 days seemed like three. Dez visited Lewis' daughter and husband in Arizona, where he also met members of Peggy's family. Back in Cincinnati the Lewis' son, Marcus, who is about the same age, bonded with him immediately.
"The brother he never had," Peggy says.
On their trip to New York City that included a stop at the Empire State Building, Dez's eyes were wider than the slim-and-trim Rex Ryan and he kept using the word "magic." Especially after his favorite part of the visit, a ticket to "The Lion King," on Broadway.
You get used to this, but that very big heart is still in Rwanda.
"I have responsibilities. I have my family and I've got to take care of mom,' he says. "I want to further my studies and pursue my master's so I can get a very good job and work in my country. If you help your family, it's helping your country."
A little removed from the plush world of the NFL and Marvin Lewis savors it.
"It gives you an appreciation or things everybody here takes for granted,' he says. "The shoes on your feet. It's a big deal."
Just like they take Dez for granted back home when he wears his Bengals stuff and when he tells him he knows the coach they tell him that's not possible and he's lying.
"Marvin Lewis is a great man. He gives me value," says Dez, which is his gift.
Even after 30 days, Peggy Lewis is still fighting the emotions. She and her husband oversee one of the most effective and important charitable foundations in the history of Cincinnati, but how do you ever really know its working?
"You start anything like that and you don t know where it's going to go. You give money to many different things and you hope you're just making a difference," Peggy Lewis says. "Boy, this one, seeing him face-to-face…and having someone sit across from you and say, 'You saved my life, you made a difference in my life,' it gets you."
Summer is starting to catch up to spring.
 "It was a great 30 days for us to meet him.  Now that he's gone, we miss him," says Marvin Lewis, sounding like a dad here in the circle.