E. RUTHERFORD, N.J. - The Bengals not only left their Pro Bowl quarterback in New York Sunday night after the 26-14 loss to the Jets, but they also left any vestige of their offseason agenda to become a physical, ball-control team.
While Carson Palmer spends Monday morning in the office of Mets team doctor David Altchek, Bengals head coach Marvin Lewis convenes with his staff and one of the things he says is under discussion this week is the running back position after Chris Perry and Cedric Benson ran 15 times for 20 yards with no run longer than four yards.
And maybe they'll talk about the identity of an offense that scored its only touchdown in a drive at the end of the first half in which backup quarterback Ryan Fitzpatrick threw five of six times on first down and completed four of them in a 10-play march of 66 yards that looked to use a lot of four receivers.
In the second half at The Meadowlands, the Bengals didn't score and got 83 yards. Before their final drive with 2:22 left, they had seven first-down snaps in the second half and ran it five times for 10 yards. "They bunched up there and caught us a few times with the safety all the way up there and a couple of blitzes," said left guard Andrew Whitworth. "Its a defense with two gaps. Their whole thing is sitting there holding a flat line. You can't just block a guy. You've got to move people."
The only thing they moved is the boiling point after becoming one of only two remaining winless teams in the NFL with an offense that is a shell of its once top 10 self. And the health of the club's franchise quarterback is now overshadowing games. The news out of the locker room wasn't 0-6, but a doctor's appointment.
"I'm going to the supposed best elbow guy (doctor), one who worked on a bunch of major-league pitchers," Palmer said of Altchek. "Hopefully we can get a chance to evaluate it and hopefully I can get out there and practice."
Palmer is hoping the man who waded into Yankees closer Mariano Rivera's shoulder for a scope last week is going to tell him his elbow has improved enough for him to practice this week and play Sunday against the Steelers at Paul Brown Stadium. "I was told it would get better after about a month or two and every day it's gotten better, so that's a good thing," Palmer said. "Hopefully it got better over the last week. It was my decision to get a second opinion and have someone else look at it other than our doctors. Hopefully theyll have a different opinion and say it looks a lot better and I'll be able to play."
It's believed that MRIs have shown there is no structural damage to tendons or ligaments and that rest has been the first diagnosis. The elbow has been inflamed from a strain after cornerback Corey Webster bent back Palmer's elbow on a blitz in this building three weeks ago early in the Sept. 21 overtime loss to the Giants.
"I'm not going to shut anything down," Palmer said. "I'll play when they give me clearance to play. If they tell me to sit, I'll sit. If they give me clearance it doesnt matter whether we're 9-6 or 0-15, I'm going to play."
Even if he played Sunday it might not have made much difference because the running game was so bad.
In his second start in place of Palmer in three weeks, Fitzpatrick was again the team's leading rusher with 23 yards on six runs that included a brainy one-yard semi-fake spike for a touchdown.
"The disappointment of the loss starts with us not getting anything going offensively," said head coach Marvin Lewis. "We're not moving the ball effectively enough. We had some penalties early in the football game that really hurt us - the holding penalty on the scramble for the first (down)."
Lewis spoke of the penalty on center Eric Ghiaciuc on a day he also had a false start and a big matchup against beefy nose tackle Kris Jenkins. Jenkins had four tackles as the Jets held a foe to less than 50 yards rushing and the Bengals' 43 were their fewest yards rushing since the 28 against Buffalo last year and the 37 they had in the throwaway game at Kansas City in the last game of the 2005 season.
It was the third fewest total yards for the Bengals under Lewis and the fewest yards the Jets had allowed in a game since Oct. 28, 2001 at Carolina. According to Elias Sports Bureau, Perry's 1.27 yards per carry was the lowest by a Bengal with 10-plus attempts since Rudi Johnson on Sept. 23, 2007 (17 attempts for nine yards) in Seattle.
"When you don't have a running game it doesn't open up the passing attack and it makes it especially hard on Ryan," Palmer said, "It's also demoralizing offensively. We need to find a way to keep our spirits up and keep our heads in it. When you come out and get an early score defensively it gets you going and you think, alright we can get some points up. But when you can't put the points up to help your defense out it makes it tough." Perry continues to struggle. After suffering two devastating fourth-quarter fumbles in the previous two games, his yards per carry dipped Sunday to 2.6 for the season while he suffered a third-down drop that would have been a first and he lost a yard at the Bengals 4 when he tried to bounce it outside on first down in a 7-7 game.
The Bengals never recovered from the tilted field position. The Jets scored their points on five drives that started on the Bengals side.
"I have to make sure every time I touch the ball I have to run a discipline course and make the right cuts," said Perry, and it has to be asked now if his bounce-it-outside style is suited for an offensive-line scheme more comfortable with Rudi Johnson's off-tackle plunges.
"You mean a mismatch?" Perry asked. "I don't know. I think we work pretty well together style-wise but we're not doing what we need to do. I need to pick it up. It's on my shoulders."
"I probably should have run it up in there," he said of the play from his own 4.
Meanwhile, Cedric Benson watched old Bears rival Thomas Jones score three touchdowns while he ran it just four times after providing a spark last week in Dallas. Benson rushed for six yards while Jones went for 65 on 17 carries.
"I think the offensive coordinator was in a bind because we were behind and he couldn't do some of the things he wanted," Benson said.
The receivers, of course, would like the Bengals to go back to what they think is their strength and that's pass the ball and ask questions later like they did in '05 and '06.
Wide receiver Chad Ocho Cinco had his first three catches of the game for 31 yards in that last drive of the half and just two catches for 26 yards the rest of the way.
What does it say that those five catches for 57 yards marked Ocho Cinco's season highs? "I think we can drop back and throw whenever we want. It's just about doing it," Ocho Cinco said. "All we can do is execute what is called. That's all we can do.
"I feel we can drop back and throw it even if we don't have a running back back there if we want to because we can get open every time. (But) I think we'll continue to try and establish the run and the pass will be second. That's how I feel the coaches think. We need to run the ball. Running the ball is very important. When we run the ball we're going to complete (passes) too."
But Ocho Cinco indicated that he, too, knows the importance of a running game as he watched the Jets jam the passing lanes with seven and eight defenders on third down.
"We had opportunities, but (their) scheme didn't allow you to get downfield," The Ocho said. "(Lack of the rush) allows them to play a particular coverage, which takes away the deep ball."
Translation: The Bengals couldn't go down the field again as the Jets dared them to run. Sunday's longest completion was 16 yards. The longest completion to a wide receiver this season remains 26.
"We were playing pitch and catch out there," Fitzpatrick said of the touchdown drive. "Every time we got into a third-and-long situation, they pretty much dropped everybody. There were a lot of guys running around out there, so it got tough for us. They put us in tough situations."
Fitzpatrick tried to go deep early in the second quarter, trailing 10-7. After he avoided the blitz of cornerback Hank Poteat, Fitzpatrick could have run it for a first down, but he saw wide receiver Chris Henry breaking open downfield. When he stopped and planted to gun it near the sideline, Poteat stripped and sacked him from behind for a fumble at the Jets 24 that set up a touchdown.
"They didn't change anything from the first half," Fitzpatrick said. "It was our inability on first and second down to get completions and keep yardage manageable. They were leaving us in those third-and-long situations, and it was tough."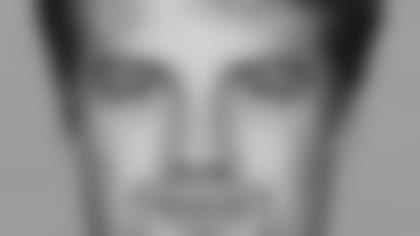 Fitzpatrick has worked with the first team in five of the last six practices, but the numbers weren't indicative: 20-of-33 passing for 152 yards, no touchdowns, no interceptions and a 71.8 passer rating. He took better care of the ball than his three-pick game against Cleveland, but there was still nowhere to throw and the five sacks reflect the lack of a running game as much as anything.
"When we got into third-and-longs because of our inability to run, get completions and move the chains on first and second downs, they dropped a lot of guys," he said. "That was their way of getting to us. It was a bit of a changeup on third down."
Fitzpatrick's clever move with eight seconds left in the half resulted in his one-yard touchdown run and cut the Jets lead to 17-14. Perry had just got blown up for no gain at the Jets 1 on first down and with the clock ticking Fitzpatrick motioned for a spike as Whitworth and right guard Bobbie Williams called for him to keep it on a quick snap. He tucked it behind Williams for his third NFL touchdown and first as a Bengal.
But everyone is having a hard time coping with that being the only way the Bengals can score.
"We're frustrated offensively," Ocho Cinco said. "I know the fans are frustrated. I know y'all are tired about writing bad stuff, but at some point it has to turn over. It has to.
"It is frustrating and I have no room to really vent. I'm walking a fine line as it is. All I can do is go out there and work, work, work and keep smiling. But behind that smile is lot of frustration."
Asked if he hears footsteps behind him in the form of Benson, Perry shrugged.
"I just want us to win," Perry said. "If he can come in and run better than me than obviously he's a better back."
Even though Palmer didn't play, he had the look like he did.
"It's especially tough to watch as an offensive guy when your defense plays the way it does," Palmer said of the D's three-turnover day. "They were giving us turnovers and got the ball back. Offensively, we just kept our defense on the field way too long and it wore them out. I think we only had one possession in the first quarter. When you put your defense in a position like that early in the game they're going to get worn down."
Ocho Cinco actually got a little nostalgic talking to guys on the sidelines.
"There was a point we would score 28 points for no reason," The Ocho said. "We were in such a rhythm and so consistent all the time and our coaches offensively were in such a comfort zone that we could do whatever we wanted to call whatever and now we're not in that comfort zone."
Count that as left behind, too.