The Bengals tough-minded offense heads into October with the mentality of coordinator Hue Jackson, raised tough himself.
Except for a stray Patriots game in the whirlwind of the  late '80s, the laptop hasn't been back to cover football in the fire engine red foliage of an early Massachusetts fall until this weekend.
Bengals-Patriots. Sunday Night Football. And while New England is in Bay of Pigs crisis mode with their 2-2 Belichicks-Bradys, the 3-0 Bengals are just trying to go about their 9-to-5 business as they stare at a game that could symbolize the passing of the torch in an AFC in transition.
A little bit bigger than Dover-Sherborn High School at Hamilton Wenham Regional. Or Framingham South at Needham. Or Holliston at Westwood on Thanksgiving Day when the sports editor  surprised the high school senior with a big game assignment. Winner goes to the Division IV Super Bowl and the story led the sports section that Friday afternoon.
No laptop that fall of '76. Dad let you borrow his treasure, a portable Smith Corona typewriter he let you beat up. Sometimes even letting you leave it in the case to bang away on if the deadline was that close.
Not only that, because you were the most nervous driver in a state of drivers besides themselves, Dad also drove you to games scattered throughout the Bay State countryside like Minutemen that fall of the Bicentennial. Even after you got your license the second the time, he drove you.
Probably because he was there the first time when he uttered one of the most famous lines in Massachusetts DMV history while still in the backseat: "I think he would have given it  to you if you hadn't just now pulled up on the curb."
 Roy Hobson, gone not quite a year and a half, was a beauty and this is the first time the laptop is back in football season in his stomping grounds without him around to even say, "Take it easy driving."
Fall always brings a certain chill of transition as the leaves fall.  Football mirrors it on the field as a game of changes. There is a sudden change with a turnover. Or there can be a gradual shift in momentum with a grinding 10-play drive.
Two of the coaches who have played such a huge role getting the Bengals to Sunday night are going through changes off the field, too, as inscrutable as the ones football offer. Head coach Marvin Lewis is in his first fall without his father, Marvin Senior, after he passed in April, and offensive coordinator  Hue Jackson went home to Los Angeles during the bye week just in case he had to say good-bye to ill 86-year-old John Jackson.
The leaves of fall touch everyone
"I think of him every day," Lewis says.
"You do the best you can," Jackson says. "We're no different than any other hard-working American trying to make a living and a life for themselves and their families. You keep going and you remember the positive memories."
It's not like the Marvins talked football. They never did. Senior would ask about the health of the team, but that was it. What  he wanted to know is how the grandkids were doing. But if you want to know how Lewis has survived into his 12th season with an Ohio River foundry foreman's toughness, it is because he watched Marvin Lewis Sr., live.
"I saw him on his days off build our house that we ended up living in," Lewis says. "He was a shift laborer, so when my mother was working and going to (nursing) college, they really had to juggle when we were growing up. He tried to get the daylight shift so he could get off at 3 or the midnight shift so he could get home, take a nap, and help get me to baseball and football practice and my sisters to dance and then later to cheerleader practice. They always made sure one of them was around to prepare dinner and get us to where we had to be."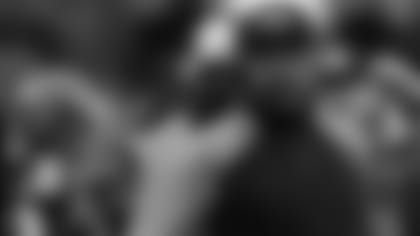 Marvin Lewis' teams have a blue-collar ethos rooted in his upbringing.
The Bengals offense comes into Sunday Night the toast of the pundits. Jackson, once exiled as head coach of the Raiders, is riding high again with the AFC's lone unbeaten as Oakland owner Mark Davis has just made his second hire since dismissing Jackson.
 Jackson has found the key to quarterback Andy Dalton's efficiency with his signature concoction of cunning, mental toughness, physical presence and upbeat  perseverance. It's symbolized by the running game but was founded in his upbringing. It's as if Lewis, who hired Jackson the first time as the Bengals receivers coach 10 years ago, found a West Coast version of himself. But if you want to know where Jackson gets that tough-minded passion, you have to go back to Depression-era Louisiana and an eight-year-old kid.
"He gave me the motivation to push through things when things weren't right," Jackson says of his dad. "And my mother, I don't know how she did it. They were both extremely hard working. Both tough."
The trip home last week was doubly tough. Betty Jackson, 81, isn't well, either, and that's hard to get his hands around when he remembers the story of how Betty and John boldly packed up the car at 316 Huey St., in Baton Rouge, La., for the move to near South Central Los Angeles, where their son was born.
"They were moving to the land of opportunity," says Jackson, wondering what it was like for a young black man in the post-World War II Deep South with a third-grade education.
 "I'm sure it wasn't easy. I'm not ashamed to say my dad finished the third grade. He had to work to feed his family. He didn't have all the opportunities I had, but my parents always instilled in me that you make it better for yourself and your kids than it was for you. That's just the way we were raised. Find a way to make it better. I like to think I've done that. I like to think God has given me the opportunity to do that with the work ethic that has been instilled in me. Still a ways to go."
But a lifetime from Otterbein Junior High School. In order to get to her first job as a school cook, Betty would drop her son off before the janitors got to the school. She would be back to pick him up after classes, take him to whatever practice was in season, and then go to her other job at Boeing Aircraft.  Her son would sit on the steps waiting for school to open with a glazed doughnut from Winchell's and a copy of the 25-cent Los Angeles Times with the sports section always pulled out.
"I did that every day for five years sitting with a girl named Lisa Young, whose mother did the same thing," Jackson says. "I always read the paper…I couldn't get enough of pro and college football. Those guys at USC came to life for me. Vince Evans. Charles White. I didn't know if I was going to play there or coach there, but I wanted to be a part of it.
"I was always fascinated with the Raiders," Jackson says. "Marcus Allen went there (from USC) and Al Davis and it was the glory years. And the Rams were good, too. All those memories."
While Jackson was reading the paper on the steps, that was about the time Roy Hobson drove his kid around Saturdays to make sure his stories made the paper. He had one day off from the pallor and grind of a restaurant kitchen and Saturday was it. In the middle of that drive to the first game at Wenham, he saw a turtle in the road and pulled over to help it to safety in a metaphor worthy of the Smith Corona.
"He could take two colors and make a color that somebody wanted without even knowing," Jackson says of his dad. "That's the gift that God gave him."
John Jackson used that gift painting for Weber Aircraft  
"He could take any colors and mix them together and come up with whatever somebody wanted," Jackson says. "Somebody told him they wanted aqua, he could go find two paints to mix them together and come up with that color. I don't know how he did it. It was the most fascinating thing I've ever seen in my life."
Jackson would go on and paint his own picture. The kid on the steps reading the paper would grow up to  call plays for both USC and the Raiders. It was the discipline that Betty and John Jackson imposed that helped him get through those tough, early times, back when he was growing up in the toughest areas of one of the nation's toughest cities. Nickerson Gardens and long before he came to Paul Brown Stadium, "The Jungle," near his alma mater of Dorsey High School.  
"Always push through, stay positive, relish the good times," Jackson says. "I think sometimes you have to go through things to grow and sharpen who you are as a person and a coach. Nothing is perfect in life.  I hate it when people say, 'You should have done things this way.' No, I think things happen in your life just the way they're supposed to. You either grow from it or don't grow  from it."
You can still grow in the fall. But there always seems to be a change lurking in the next huddle or phone call, like leaves scuttling across the ground or swirling in the smoky air. "It's just a part of this season that is missing," Lewis says.