Deltha O'Neal advises any rookie NFL cornerback to hang on for a roller-coaster ride into that second season. Here are the Kings Island cliff notes of Leon Hall's first four games in the NFL that can be presented in two plays:
Oct. 1. Monday Night Football. Paul Brown Stadium against the world-beating Patriots. Early second quarter. Hall calmly reads the Hall of Fame eyes of quarterback Tom Brady, runs with wide receiver Wes Welker, turns, and makes his second pro interception to set up the Bengals' first touchdown.
Sept. 23. Third play of the game in Seattle's sea of sound. A third-and-four stop holds the Seahawks to a field goal, but working out of the slot Hall loses Bobby Engram on an 18-yard touchdown.
No, the answer on the exam isn't that he's a bust.
"To say this guy is a bust at this point is ridiculous," said an NFC scout this week. "He's a good player and he's going to get better all the time. That's the one position you just can't expect anybody to walk in there without making mistakes."
Hall joins two other first-round corners on the field Sunday in Kansas City when he makes his second NFL start in place of the suspended Johnathan Joseph and both are counseling patience because they've been there.
Deltha O'Neal, who went to a Pro Bowl the season after the Broncos picked him 15th, lines up opposite Hall. Ty Law, the 23rd pick in 1995, takes his NFL-leading 51 career interceptions to the Chiefs' left corner.
"Everybody is fast. Everybody is quicker. He has to be strong-willed. Don't let it get to him mentally and he'll be fine," Law said this week of Hall. "Everyone is going to take their lumps in this game. What he does have is going against Chad Johnson and T.J. Houshmandzadeh every day in practice, so that's a benefit he can take advantage of." From all reports, Hall is taking advantage of that and everything else secondary coaches Kevin Coyle and Louie Cioffi are firing at him. Coyle submerged Hall in tape during the bye week, when he told the Bengals cornerback he no longer considered him a rookie.
"He's a quick study. He's a conscientious guy. It's just understanding the discipline factor," Coyle said. "Knowing where his help is when he has people in coverage in certain areas and not overreacting to an initial move."
Hall has been watching tape of the good (his first NFL interception in Seattle that came a clutch two snaps after a Bengals turnover), the bad (he didn't jam Randy Moss at the line on the last score of the New England game) and the ugly (the double-move past him for a touchdown by Braylon Edwards in Cleveland).
But there have been more good plays than bad. The coaches are still talking about Hall's blitz early in the Browns game and they can't remember the last time a guy here defeated a block like he did and still swiped the ball out of the quarterback's hand.
"We've seen plenty to like," Coyle said.
The working definition is "losing leverage."
"That means if you're supposed to be outside and you have help inside, you don't bite on an inside move," Coyle said. "Or you don't look into the backfield when a guy is running at you and making a move, and you get caught up on the quarterback."
Rewind to third-and-four in Seattle and Hall deployed in the slot on Engram, a 12-year veteran best known in Cincinnati as a Ki-Jana Carter college roommate.
"I was supposed to stay outside, jumped inside, and that's what happened," Hall said. "Just a matter of discipline. Just a matter of working within the defense. Realizing I had a safety and a linebacker inside and there was no reason for me to jump in there."
The play the next week against Brady is why the Bengals think they've got a guy who is going to be a solid corner for a long time.
"That's an indication of maintaining his leverage and playing with discipline," Coyle said. "They ran a good route. The guy stuck him (with his cut) hard and he kept his leverage accelerated down the field, got his head turned around and made a play on the ball. It's a good sign."
Law, Hall's fellow Michigan alum, has been watching. Both are 5-11 and 200 pounds, and while Hall has naturally heard for years the comparisons to Law as a physical, good man-to-man corner, Hall eschews comparisons.
But you can compare struggles.
"Catching up to the speed of the game and the quarterbacks are much more accurate," said Law of his toughest adjustment. "You could be draped all over a guy and he finds a way to stick it in there. When I came in, I was going against the Dan Marinos and Jim Kellys in their prime. I know I had the receivers covered, but they would find a way so the receivers could get it and I couldn't and I had to make that adjustment."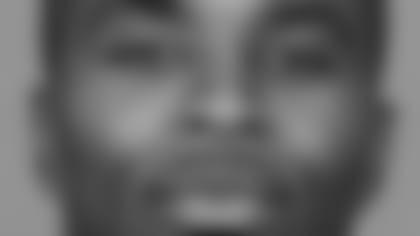 O'Neal, looking for his first interception of the season and 31st of his career, lets the coaches get on Hall with "fussing and yelling." He's just there as a friend.
"It's an all-star game every day; there are no slouches," O'Neal said. "It's a roller-coaster ride, deal with it, get that year under your belt, and deal with it next year. They get paid, too. You're not the only guy on the field making money. Receivers get paid too. If they make a play, let it go."
The idea, the vets say, is to find that line somewhere between instinct and fundamentals.
"Maybe rookies come into the league like, 'I'm going to be a robot,' " O'Neal said. " 'I'm going to listen to the coaches, but next year I'm going to get into my zone. I'll listen to what they're saying, but I'm going to put my own flavor into it.' "
Law's advice to get to 50-plus interceptions revolves around the brain rather than brawn, and Hall has shown both early with his tackling and team-high two interceptions.
Law gives the same "they-get-paid-too" advice, and he's at the point where he'll go into a game knowing a receiver's strength saying, "OK, I might give you a curl, but I'll be damned if you'll run an out."
"Know who your opponent is," Law said. "In my younger days, I used to just go out there and play. As you get older and wiser, you have to know who you're playing against and what certain things work against this receiver. You have to change it depending on the receivers and the quarterback.
"As you start to grow in this league, you learn what you can and can't do with certain-type players. I think that's what helped me take my game to the next level. You have to have that type of (confident) attitude, but you have to respect the other person. Patience is the key. These guys get paid, too, and they're going to beat you sometimes. You can't just let it happen too often."
When Hall was a freshman, Ron English, the Michigan secondary coach, gave him a highlight tape of Law and Charles Woodson to study. He made notes on the technique, but he didn't get a chance to talk shop with Law when he showed up at an alumni lunch a few years ago.
Hall remembers saying hello and that's about all. Law can't even recall that, but he has watched Hall on TV and likes the way he tackles and is physical in a Big Ten way.
Hall still keeps in touch with English and called him back this week after responding to a message wanting to know, simply, how he was doing.
That's the way it is when you play defensive back. It's not that you're sick, but people feel the need to check in on you now and again to make sure you haven't imploded and Hall told him "I've made some plays and I've given some plays up."
"He told me that's the nature of the position," Hall said. "When you play corner, even safety, you kind of take that on when you say you want to be a corner. You have to realize that you have a lot of responsibility out there."
If he didn't know it by now, Coyle reminded him.
"I told him," Coyle said, "I need him to play like a veteran."