Bill Lazor begins his first full season as OC not ruling out massive changes.
Bill Lazor's early season promotion to Bengals offensive coordinator jolted the NFL's careful routine so massively that strength coach Chip Morton put an exercise bike in his office because he didn't even have time to get into the weight room to work out.
Lazor didn't even really have the two hours to take his stuff from the quarterbacks coach room into the offensive coordinator's office. Until Thursday, four months after he called his first play in Green Bay.
So the bike is no longer stationary after he and head coach Marvin Lewis completed overhauling his staff last week.  Lazor is on the move with three new coaches culled from three different NFL experiences with more than a combined 50 years of playing and coaching in the league. Offensive line coach Frank Pollack, 50, and quarterbacks coach Alex Van Pelt, 47, played in the NFL, and wide receivers coach Bob Bicknell, 48, has coached three different positions on offense with five different NFL teams in a mix that has Lazor eager to get them into their offices.
Lazor, no kid of 45 on his second OC gig, has no qualms being, well, the kid.
"You've got veteran coaches that come in with different perspectives. I think what we'll do is probably we'll be a little bit unique as we try to blend this together," said Lazor before Thursday's move. "Marvin and I wanted to get the best guy out there. It's not complicated. What's complicated is who's available because not everybody is. The big thing is just the interaction. You talk about football and if there are differences then you get the sense if you'll be able to work through your differences. I liked the way it turned out."
When they do meet as a staff for the first time, most likely when they return from next week's Senior Bowl, everything is going to be on the desks for discussion. Lazor isn't ruling out putting together a scheme that is radically different from what's been in place.
"You have to be realistic. What we did last year did not work," " Lazor said. "You can't be afraid to let go of things that did not work. As a whole, it's been a downward trend. If that means you blow it up, then you blow it up. That's a decision we'll make. I'm not afraid to blow the whole thing up. If you look at the numbers there are some trends at the end of the year that are positive. But (they were still last in offense). There's a tendency to hold on because it's what you know, it's what you do. But you also have to be brave enough to take an honest evaluation of what is and isn't working."
The coaches have this week off, but Lazor has been in the office running numbers on the Bengals' dead last ranked offense in the context of recent NFL performance and one of the more disturbing items for him is the recent yards per rush numbers. This year they finished next to last with 3.6 yards per carry, but that's nothing new. In the last 10 seasons they've hit that number four times and have finished in the bottom 10 in yards per rush nine times and have hit 4.0 yards per rush just four times.
Other trends are down, too. In yards per attempt during the last decade, the Bengals hit the high-water mark with the NFL's fourth best YPA average in 2015 before sliding to 10th and 22nd the last two seasons, respectively. That year in '15 was the only time they broke into the top ten, when they racked up the third most points in the Lewis era. In the last two seasons, they finished 24th and 26th, respectively, in NFL scoring.
"Why be afraid?" Lazor asked of a possible mega change.
Certainly the running game is a big reason why they pursued Pollack immediately after the Cowboys let him, go and why they didn't let him leave the building the next day without a contract. Pollack is going to piece together the specific scheme once he's settled here (as is everything else on offense is yet to be decided) and Lazor figures it's going to be a change for the players simply because it's a different guy running the show. He likes Pollack's varied background in a number of different schemes as both a player and a coach.
"His production on the field speaks for itself," said Lazor of Pollack's work with a Dallas line considered one of the best during a three-year stint the Cowboys finished second in rushing the last two seasons.   
Lazor really wanted to snag Bicknell, who coached on the offensive line for the Chiefs and the tight ends for the Bills before working with the Eagles receivers when Lazor was the quarterbacks coach for Philly's No. 2 offense in 2013.
"He was important for me to have because I know how well he's done and I know how he is on the field and in meetings. He's good," Lazor said. "When you've been with someone, you probably have a better feel for them. He has a unique personality and you'll see it.
"He's had success with different kinds of receivers."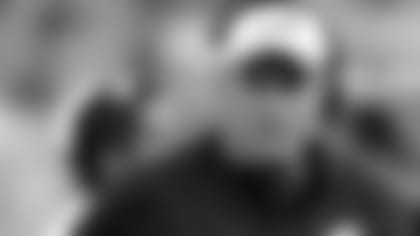 When he was with the Eagles, Bob Bicknell coached three different receivers to career years.
But Lazor said you can't jump to the conclusion that the Bengals are going to be that fast-break no huddle team that the Eagles were. He says you can still be good and not go as fast.
"Some of the greatest passing teams of all-time didn't go no huddle like that," Lazor said and he smiled when asked if the Bengals would go no huddle 100 percent of the time.
"I'm not going to answer."
But probably not. As evidenced by his new hires he likes variety and he believes NFL defenses are so good they don't let you do only a few things.
But there's no question he and Lewis like quarterback Andy Dalton in an up-tempo offense. Not only did Dalton put points on the board in the last two games, but Lazor particularly liked the fact they had two of their top three rushing games. He also likes the ball in Dalton's hands as much as possible and loves what he can do at the line of scrimmage before the snap. And, yes, he likes him on those run-pass options (RPOs).
"Andy is good at having options and making decisions. He can make decisions fast and when you attach pass options on the run plays, I think it plays to his strengths," Lazor said. "At this point in his career he's experienced a lot of different defenses. When you're checking plays, which he's also good at, sometimes you have to play the cat and mouse game with defenses disguising.
"But typically if you have a run-pass option built in, the quarterback has now all the way up to the snap of the ball. That's three to five more seconds to get them out of their disguise. It's just another tool. Andy's good at the decisions on the checks and for the late pass options. I think he's proven over time, well before I got here, he's productive."
Profootballfocus.com charted the Bengals for 140 snaps of RPOs last season, sixth most in the league. But Lazor says those stats are hard to keep outside the club.
"For them to know whether a receiver is running a fade because it's an RPO or is running his DB off to get a block, if Andy handed the ball off people from the outside really don't know," Lazor said. "It's probably more prevalent than they think."
While the offense is being pulled together in the next couple of months, there are a couple of absolutes for Lazor, and that starts next week when he scouts the Senior Bowl. His first rule is not to look for anything in particular: "You may not find it. Evaluate the player, see what he can do and see what he can do for you."
But he is looking for size, no matter what.
"It's a big man's game," Lazor said. "Big people stay on the field. They don't get hurt as much. Big people, when it comes to the physical part of the game, outlast the other team. I've been around some great players on the offensive front and typically they're both big and are able to move."
Another absolute is first-round pick John Ross isn't getting a pass this season after not catching one last year. The rookie year for the fastest man ever at the NFL scouting combine was a disaster. Between injuries and mistakes on the field, he played just 17 snaps.
 "The experiences he had here he has to own them. That's what he is," Lazor said. "He gets to decide what he's going to be … He probably brings more proven measuarbles to the table, but it will be up to what he does."
As Lazor starts cleaning out his office and heads to the new one, it sounds like the entire offense is right there with Ross.