*Nick Foles had a big year under Bill Lazor in 2013.      *-AP Photos, Matt Rourke
MINNEAPOLIS - Nick Foles, the latest youth to dare 40-year-old Tom Brady for Super Bowl supremacy, showed up at Tuesday's media availability looking like a grad student after a walk across campus with a stocking cap pulled down over glasses.
And the Eagles once and future quarterback offered a crisp thesis sentence describing Bengals offensive coordinator Bill Lazor.
"I still keep in touch. He pays attention to detail and each and every day works hard," Foles recalled of his old quarterbacks coach. "Any coach that has the attention to detail and wants to give the information to their players is going to be a great coach. Working on fundamentals and he does all that."
Foles and Lazor hooked up for one of the greatest passing seasons of all time in 2013 during Foles' first stint in Philadelphia in the first year of the Chip Kelly Administration. Foles won eight of his 10 starts with a staggering TD-INT ratio of 27-2 for a 119.2 passer, the third highest in one season. Foles, 24 at the time, passed everybody but future Hall-of-Famers Aaron Rodgers (122.5 in 2011) and Peyton Manning (121.1 in 2004) and that season is a reason why Sunday just might not be too big for him.
"He's not bothered at all by the big game. He's played well in big games," said Lazor back in Cincinnati, building a different offense for a different quarterback in Andy Dalton in a different time with a different head coach.
"I think it's fair to say he's got an excellent demeanor. He's a pretty even-keeled guy. He even played well in the play-off game we played that year. He threw a touchdown late to put us ahead."
Everyone is talking about last week's 141.4 radar job against Minnesota in the NFC title game and how Foles has completed 78 percent of his passes in this year's two post-season games with three TDs and no picks. But when the Eagles lost a 26-24 gut-kick on old friend Shayne Graham's walk-off field goal in the 2013 Wild Card loss to the Saints, Foles had a triple-digit passer rating with 105 on two TDs and no picks on 23 of 33 passing for 195 yards. His four-yard TD pass to tight end Zach Ertz with 4:54 left gave them the 24-23 lead.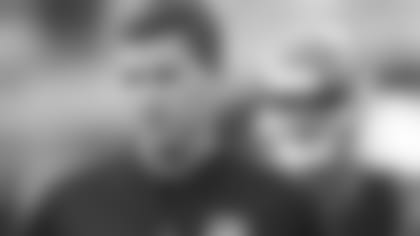 Bill Lazor is pulling for Nick Foles Sunday.
But Drew Brees got him that day at the end. Now Foles has face Brady, the master of the fourth quarter comeback. The last two quarterbacks Brady has taken down in the big game were in high school (Matt Ryan) and junior high (Russell Wilson) when Brady won his first of five Super Bowl titles at the end of the 2001 season as Drew Bledsoe's backup.
Foles is no different, just 13 years old growing up outside Austin, Texas, as he tries to join Brady on that rare list of backups to win the whole thing standing in for the injured Carson Wentz.
"Brady's not got going to tackle him," Lazor said. "Nick does good job processing information and he makes good decisions … He can make a big play. I think we set the record for the most 20-yard passes since they started counting them."
The Eagles racked up 80 of those in that season, but here's what Foles remembers about that year knowing that Wentz was the big play guy this year before he went down while he's filled in being the percentage passer.
"In 2013 everyone points to the quarterback. But people forget I was surrounded by amazing players and an amazing team. You can't just point to one person. We had great coaches that helped us and tutored us, and Coach Lazor is one of them. When you look back to 2013 or any season and look at every player, you look at the line, look at the receivers, look at the running backs, special teams, and defense, and we had a really great team. Much like this team feeds off each other and plays for each other. That team had a lot of talented guys that made plays that allowed us to have success."
Both Lazor and Foles have been through the NFL wringer since '13. That season boosted Lazor to the Dolphins offensive coordinator job, which he lost after a year and a half.  He ended up with the Bengals as the QBs coach before being elevated to coordinator in a crisis early last season and got things upright. Foles nearly retired last year after he couldn't satisfy Kelly and ended up with one-year stints in St. Louis and Kansas City before finding himself back in Philly this year backing up Wentz.
The NFL moves on. They keep in touch, but its moving fast.
"I haven't really been able to watch this year to see what's happened," Lazor said of Philly's run. "I'm not close enough to it. I've been busy trying to get this quarterback and this offense ready. It's a different offense. It's a different quarterback. I've got friends on both sides in this game and I'm pulling for everyone I know. Nick is one of those guys."
Foles is in a different offense in a different game at the top of the world four years removed from his big year. But, like Dalton, he plays best fast and getting the ball out of his hand.
"(Lazor) studied the game and he made sure we had all the information we could so we could play the fastest we can play," Foles said. "He takes a lot of pride in his work and I enjoyed playing for him."