Carl Lawson's pass rush abilities have opened up eyes this spring.
Let's be as clear as the four homers Scooter Gennett blasted out of Great American Ball Park the other night.
The Bengals rookies have yet to play hard ball. At the end of business Wednesday they had practiced nine times without pads. When you're an NFL lineman in either trench, that's a little like getting ready to face Chris Sale's trap-door slider in beer league softball.
"Underwear football," is the derisive name Bengals iconic nose tackle Tim Krumrie gave the spring workouts long ago.
But let's also be as clear as Gennett's Muppet Babies nickname. Some around Paul Brown Stadium think fourth-round pick Carl Lawson just may be one of the most natural edge pass rushers to come through Bengaldom in a couple of decades. Like left end Carlos Dunlap, who  arrived in 2010 to post 57 sacks, fourth most in club history.
"He's relying on his natural ability so now we're trying to cover that with the educational part," said Dunlap this week. "He's a natural edge rusher. He's asking a lot of questions. He wants to be a sponge. I think he can help us, but let's see what happens in pads. Everyone is dressed for the part now."
Linebacker Vontaze Burfict thinks Lawson has the potential to be a Von Miller type off the edge. Tackle Pat Sims says of his Auburn ancestor up front, "Very explosive. Good technique. Good hands. Strong. Let him be a surprise for some people. He was the No. 1 rusher coming out of high school. I'm sure it didn't leave him that quickly."
Veteran tackle Eric Winston has seen them come and go. But so far …
"58 has some versatility. You can kind of stand him up some and put his hand on the ground … He has ability to bend and his athleticism is evident," Winston said. "When he gets hit consistently, let's see if he can still do it. I've talked to him a couple of times and he seems to have the right demeanor, the right attitude. It's just a matter of him doing it."
The consensus appears to be the most eye-opening rookies have been Lawson on defense (meeting with the linebackers and rushing with the ends) and running back Joe Mixon on offense as they prepare for next week's mandatory minicamp. And the guy who has caught everything in these camps, including the short straw, is undrafted wide receiver Karel Hamilton of Samford, a victim of the deepest position on the team.
Lawson is emblematic of what defensive coordinator Paul Guenther believes is an emerging depth chart that makes them deeper and more flexible.
"We're a lot smarter, I'll tell you that,' Guenther said.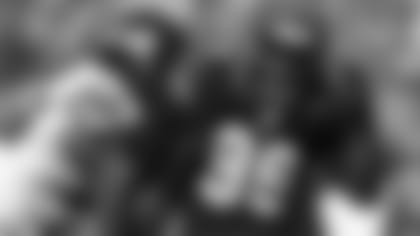 Carlos Dunlap and his 57 sacks are helping Lawson get an edge.
He's surveying many people playing a couple of different spots like Lawson (edge rusher, linebacker), Josh Shaw (cornerback, cover safety), Shawn Williams and Clayton Fejedelem (safety, cover linebacker), and Wallace Gilberry (base end, nickel tackle) and he seems to be settling on the notion this is a niche defense.
Maybe a guy like right end Michael Johnson can also slide inside on nickel. Or maybe tackle Marcus Hardison can move out to end on some downs. Maybe Burfict and another veteran backer, Kevin Minter, can interchange spots. Maybe kids like linebacker Jordan Evans and safety Brandon Wilson, who can fly, evolve into defenders that can cover everyone from tight ends to running backs.   
"Maybe this is a-guy-understands-your-role-for-2017 team," Guenther said. "Maybe it's 12 snaps one week. Maybe it's 60 the next. Or 40. Whatever it is that can help us. The way the league is a passing game now, there are a lot of hybrid guys on defense. Guys that can rush and cover. New England has a lot of guys that do a little bit of everything. You have to give a guy a niche and be multiple each and every week.
"If you're a third-down rusher, that's what, 12-15 snaps? Then be the best at that. Maybe you're a first and second down defender. That's 25 snaps and be the best in that niche. If that's what your role is this year and things go from there. We have a lot of different abilities in the room. It depends what team we're playing. There may be a safety or extra corner in there against a team that runs a lot of four wides. Maybe you've got to play 12 snaps this week."
Lawson just may be that kind of guy they've sought ever since Guenther arrived as an assistant in 2004. An extra rusher who can also play the run at linebacker so it doesn't tip off the offense and they can come with five instead of four. Guys like David Pollack, Rashad Jeanty, Dontay Moch, Aaron Maybin, and Chris Carter were all candidates to do that and they just didn't pan out for a variety of reasons. Marvin Lewis just hasn't been able to find Peter Boulware.
James Harrison, the once and future Steeler, did it the best for one year in 2013. Lawson is a long way from that, but Guenther says he's further along than any college rusher he's seen make the transition to linebacker.  
"James did a good job," Guenther said. "But he's been in the league a long time. He already did some of the things we asked him to do. His only thing is he had to learn what we called it here. It was easier for him. But (Lawson) is impressive. He's smart. He studies … He's way ahead of those other guys at this point."
Lawson, who says he's surprised how natural linebacker feels, is also picking the brains of Dunlap and tackle Geno Atkins. They're the Pro Bowl rushers for whom the Bengals are trying to fortify with some young legs like those belonging to Lawson and Kansas State end Jordan Willis, the third-round pick.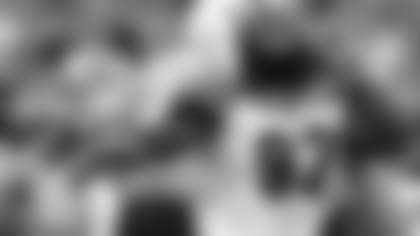 Lawson is trying to follow in James Harrison's footsetps.
"Tight hands with Geno and just staying fluid around the corner from Carlos," Lawson said. "Just watching how the pros do it like the guys up front. Geno, Carlos, Mike (Johnson). This offseason I've been trying to play looser, out on the edge."
Asked how he's been doing that, Lawson rattled off, "ankle-flexion, hip-flexion, and getting lined up tight enough with someone."
If it sounds like Lawson knows what he's doing, he does. They love his brains, gym rat thirst for the game, and his lunch bucket approach to the day, which tamps down concerns about his height (6-2), relatively short reach compared to the typical Bengals pass rusher (but that's also something he has in common with Harrison), and an injury history (ACL, hip) that limited him to 18 games. He sat out this week with a mild hamstring pull, but the Bengals hope they know what they've got when the pads come on.
"He looks a lot quicker in person than he shows on the tape," Guenther said. "Explosive getting off the ball. Real good first step. We're doing a lot pushing and shoving. Let's see if it carries over in pads."
But for now, in Underwear Football, the rookie rush is on.