One of the reasons Carl Lawson wore No. 55 is a salute to Takeo Spikes' work ethic.
Bengals rookie pass rusher Carl Lawson is so passionate, so dedicated, so into football that he'd run over his own mother.
Well, maybe not his own mother. But he has left his own father bloodied and battered at least twice and the first happened when he was in junior high and they were fooling with pass rush and Dad challenged him to get by.
"I crumpled," says the older Carl Lawson, who's not exactly a wallflower as an athletic trainer and running back on the 1990 Georgia Tech national champions. "We weren't wearing pads so I'm thinking he's going to try to get by me with a speed rush. He bull rushed me and he showed no remorse. Just walked away. Didn't even try to help me up."
That was a blown ACL. Then three years later Lawson broke his foot on his son's knee when they were kick boxing.
"That's the last time we've done anything like that," Carl Lawson says. "He as strong now as he was coming out of high school."
And strong is what he looks like this weekend during the rookie minicamp, where he has lined up at SAM linebacker, now three years removed from ACL surgery and two years removed from hip surgery and coming off a career-high nine sacks in his first full season.  Of the few absolutes on display Saturday (Joe Mixon's light feet, Josh Malone's deep speed, Jonathan Brown's booming kicks), Lawson's lightning first step on the pass rush couldn't be missed.
It's that brew of power and speed they hope takes the burden off veteran right ends Michael Johnson and Will Clarke by dividing up the passing down snaps.
"Smart kid," says defensive coordinator Paul Guenther, who thinks the kids have livened up the linebacking corps. "A lot faster, a lot smarter. That's what we want to get. (Lawson's intelligence is) one of the factors we took him. A guy who can't understand football concepts can't do the things we're going to ask him to do."
When you think about it, the 6-2, 261-pound Lawson is   born to be a Bengal. He wore No. 55 at Auburn because he loved watching Takeo Spikes work, another Bengal draft pick at linebacker. In fact, by the time he was 11, he was an apprentice for NFL off-season workouts with stars like Spikes, Osi Umenyiora, Jamal Lewis, and Wayne Gandy.
"He'd do stuff like get them water and follow them into the sand pits, so he knew what it took," Lawson says.
When he got to high school Carl the Younger began picking the brain of one of his dad's good friends near where they lived in suburban Atlanta who just happened to be the Bengals all-time right tackle Willie Anderson crafting his offensive line academy. Anderson's son, a few years younger than Lawson, went to the same high school.
"Willie is the Yoda of offensive linemen," Carl The Elder says. "In youth football, parents jump in and coach receivers or backs. Never the offensive line. Offensive line is the forgotten position. But Willie does a great job with these guys, breaking down the profile of rushers. I told Carl it's always a good thing to know what the enemy is thinking, so we've spent some time with him."
Anderson can't say enough about Lawson and, believe it; he told Bengals head coach Marvin Lewis plenty about him before the draft. And it's just not the sheer talent, which made him the nation's No. 1 pass rusher coming out of high school. It's the presence and the mindset and the mentality.
Anderson remembers a 7-on-7 high school tournament where Lawson wreaked absolute havoc in the middle.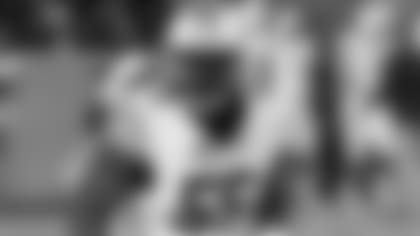 Fourth-rounder Carl Lawson gives the Bengals much needed pop off the edge.
"The other teams wouldn't go near him," Anderson said.
"He's a great kid. Leader," Anderson says in a text. "Worked his way up. No offers before his senior year. He and his dad worked hard to make him No. 1. Dominated high school linemen and continued in college. Had the injuries, but now he knows how to train and take care of himself.  Will give you Takeo-like effort and intensity. Been captain at both levels. Always been a positive guy that other young players like my son looked up to. Every coach he's ever played for absolutely loves him. No one says a bad word about Carl. He's a Warrior."
If an endorsement from a franchise great isn't enough, how about the Bengals trying to move up in the fourth round to get Lawson for proof of regard?  The Bengals trade up about once a decade (although two rounds later they did it for the fourth time in their history to get Houston safety Brandon Wilson), but since Lawson was at the top of the draft board for the 12 hours between the third and fourth rounds they were proactive.
It didn't happen. They got him with the day's ninth pick and had enough confidence in his brains and athleticism and promptly put him at SAM linebacker, a position pretty much foreign to him because he was only asked occasionally to drop into coverage off the line in Auburn's 3-4.
"I just do what I'm coached to do. I've got natural football instincts. Listen to what the coaches tell me what I need to work on. It's my job to do that. I'm going to go home, work, watch the film, and just go from there," Lawson said. "D-End concepts are pretty easy because it's something I did at Auburn. They teach some of the same techniques, so it's not that hard.
"I'll ask them questions," Lawson said of the veterans. "I'll try to get all the information I can get from every resource on how to be a SAM linebacker in this defense."
When all is said and done after the preseason finale in Indianapolis Aug. 31, there's a good chance Lawson could end up back on the D-line full time. The Bengals have now loaded up at linebacker with young, fast guys that don't have to make a projection to the position like Lawson. And his primary attribute is as a rush end. So he's probably starting out as a situational pass rusher on the edge and checking into the rotation on passing downs for about 15-25 snaps. "We've been blessed," Dad said. "He knew what he wanted to do early. And he wanted to be like Peyton Manning and be prepared by watching as much film as possible."
After watching how hard Spikes got after it in those off-season workouts, Lawson wanted to wear his No. 55 jersey at Auburn. When he got to Cincinnati, he didn't ask and got No. 58. He didn't know that middle linebacker Rey Maualuga wore it for the past eight seasons. But he knew late Hall-of-Fame pass rusher Derrick Thomas wore it for the Chiefs.
"It's a great number. I feel lucky to have it," Lawson said.
After those quick first steps, the Bengals are feeling the same way about him.
Photos from the Bengals Rookie Mini Camp on Friday, May 5, 2017.