Cornerback Chris Lewis-Harris may have secured a spot Thursday.
We'll have the final 53-man roster Saturday and then we'll have the final, final roster Sunday when the smoke of the waiver wire clears. But after Thursday night's pre-season finale and the 9-6 victory in Indianapolis put an end to the data, most of the basic questions seem to have been decided.
If linebacker Chris Carter, wide receiver Greg Little, and cornerback Chris Lewis-Harris were on the bubble, they probably aren't now. If the Bengals don't have a spot for defensive tackle Devon Still, somebody else must. Veteran safety Shiloh Keo had to help himself with Thursday's end-zone interception.
But the key question remains how many at what positons, and a lot of that depends on health and what might be available on the waiver wire.
For instance, how bad is linebacker Marquis Flowers' shoulder? That probably impacts how many backers they keep. If Flowers is OK, maybe they go with one more backer and one less DB (Lewis-Harris?) Or what about the offensive line? Do they go as light as eight if the depth runs out or do they keep the traditional nine if someone else surfaces outside the building?
One thing we know. They have to keep ten of those defensive linemen, so they have to go lighter than usual at some spot.
Here's a look at the roster before they announce Saturday's cuts:* *
* (Parenthesis denote years in the league:)*
Andy Dalton (5), AJ McCarron (2), Keith Wenning (1)
The Bengals are pleased with what they have in McCarron but Thursday night is a reminder that he's in the developmental stage and is going to have some ups and downs. He missed some throws (and held on to some others) but the one thing he doesn't have to improve on is his toughness. He makes your All-Foxhole team.
Wenning has marvelous intangibles and he'll be fine on the practice squad. But they're always looking for bigger arms at this spot.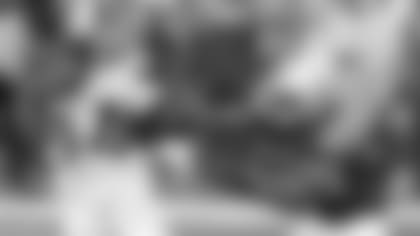 Brandon Tate's 48-yard catch vs. the Colts solidified what looked to be another roster spot.
Brandon Tate (7), A.J. Green (5), Greg Little (5), Marvin Jones (4), Mohamed Sanu (4), Mario Alford (R), Jake Kumerow (R), Michael Bennett (R).
You have to give Little credit. He needed to show them something Thursday to make the club and make them forget about his inconsistent past. And he did.
He ran down the field to make the tackle on the opening kickoff and he imploded the nearest man to Alford on his 17-yard punt return. Physically and experience-wise, he's their fourth best receiver and he had a couple of nice catches Thursday to remind them. So you'd think now he's got a real shot at making it. He's had a good enough camp. But he really has to keep doing that special teams stuff to make it work.
Head coach Marvin Lewis all but said after the game Thursday night that Tate is back and why not? He proved he belongs again with three catches for 77 yards and versatile play on special teams that includes backup returner and gunner, which is what he's done the last four years when asked to prove it. It looks like Alford is going to be a game day inactive for a while until he gains some more experience in practice.
Kumerow had a good camp, but not as good as Little. And, can they keep two rookie receivers? Probably not.
Cedric Peerman (6), Giovani Bernard (3), Rex Burkhead (3), Ryan Hewitt (2), Jeremy Hill (2), James Wilder Jr. (1), Terrell Watson (R).
Hill, Bernard, Burkhead, and Hewitt didn't play Thursday, but all indications are they are good to go for Oakland. Peerman offered his annual Indy showcase (10 touches) as he keeps his special teams co-captaincy.
The only question here is if they hang on to both Wilder and Watson for the practice squad, or if they keep one on the squad, or if one or both get plucked on waivers. There is no question they are 240-pound men who can run the ball in the league on some level. Wilder may be a little quicker and Watson may be a little more powerful. But they each had 25 carries this summer and averaged a combined 4.7 yards per carry.
Tyler Eifert (3), Tyler Kroft (R), Matt Lengel (R), C.J. Uzomah (R)
Kroft may be developing into the club's best all-around tight end because he's such a good blocker and that's no shot at Eifert. Plus, Kroft made a great diving catch off a McCarron scramble that he plucked off the turf. He had two fumbles and lost one and he'll have to learn to carry the ball higher against his body.
Uzomah shows flashes and he makes it, but he probably won't be active early. They have to decide if Lengel is practice squad worthy and they gave him plenty of looks. After taking just eight snaps in the first three games, Lengel, undrafted out of Eastern Kentucky, posted 21 Thursday.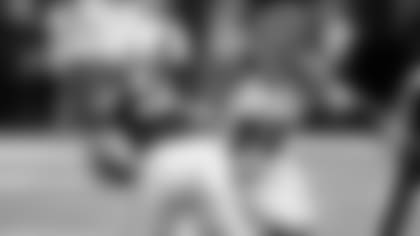 Vet Eric Winston (73) has stepped up as the first O-Lineman off the bench.
T Andrew Whitworth (10), T Eric Winston (9), T Andre Smith (7), G Clint Boling (5), G Kevin Zeitler (4), T Tanner Hawkinson (3), C Russell Bodine (2), C-G Trey Hopkins (2), C-G T.J. Johnson, T Dan France (1), T Matthew O'Donnell (1), T Jake Fisher (R), C Jake Smith (R).
They could go light here with just eight since Cedric Ogbuehi is expected to return off PUP on Oct. 19. Winston has proven to be a real find as a backup that can play both guard and tackle.
Here's a tackle in his 10th season in the league that had played just one half at guard in his career (naturally against the Bengals in 2012 for the Chiefs) who has become the first guy off the bench.
And in the nick of time. Fisher, the second-round pick, was supposed to be that guy but he missed the first two games with a shoulder issue and that complicated his transition from Oregon's spread. But in his second game Thursday night, Fisher looked a lot better than he did in his debut. He got beat a few times inside, but Fisher showed he's got quick feet and a keen athleticism. He's one of these guys who seems to get better the more he plays.
Johnson looks to be set as the backup center, but they have to figure out what to do with France and Hopkins. Hopkins, a backup guard, had a roster spot last year as an undrafted rookie out of Texas until he broke his leg. The recovery limited him to nine snaps before Thursday night, but he was able to play 48 against the Colts. That might not be enough to give him a roster spot.
With 180, France played 20 more snaps than anyone on the line this preseason and they thought he showed enough physicality to back up both guard and tackle. But will he do it on the 53 or the practice squad?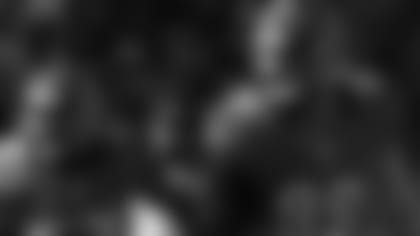 Margus Hunt is one of three recent D-Line draft picks that figure to be safe.
NT Domata Peko (10), E-T Wallace Gilberry (8), T Pat Sims (8), E Michael Johnson (7), T Geno Atkins (6), E Carlos Dunlap (6), T Devon Still (4), T Brandon Thompson (4), E Margus Hunt (3), E Will Clarke (2), E-T Marcus Hardison (R),  T DeShawn Williams (R).
The most competitive group of camp went out in style Thursday even though the top five didn't play. They still held the Colts to 3.6 yards per rush, hit the quarterback three times, and logged two tackles for a loss.
It may have been the best game of Hunt's three seasons. He had four tackles and barely missed having multiple sacks. Clarke keeps showing how much he's improved from year one to year two and he hit the quarterback twice on Thursday.
Sims and Thompson always show up and did Thursday after missing the last two games and look ready for Oakland.  Still was as active as he's ever been on Thursday and Williams had a sack to become the first rookie defensive lineman to have two sacks in the preseason since DeQuin Evans in 2011.
If they keep ten, that means more than likely as many as three could be inactive on Sunday, a list that probably changes with the opponent. Johnson could be on it the first week as he rehabs his sprained MCL. It's doubtful they cut one of their last three draft picks on the line (Hardison, Clarke, Hunt). Still was cut last season at this time and ended up on the practice squad, an option no longer available to him.
A.J. Hawk (10), Rey Maualuga (7), Chris Carter (5), Vincent Rey (5), Vontaze Burfict (4),  Emmanuel Lamur (4), Jayson DiManche (3), Marquis Flowers (2). P.J. Dawson (R), Trevor Roach (R).
Burfict has yet to practice, so all signs point to the physically unable to practice list (PUP) and he'll be eligible to practice Oct. 19. Now they have to decide if they go with six or seven backers and that probably depends on the state of Flowers' shoulder.
Four of the ten backers didn't play Thursday and Flowers had to leave late in the first half. But they're hoping Lamur (hamstring) can play in Oakland. Dawson had his best game with a game-high nine tackles Thursday and two sacks and he'll be playing special teams against the Raiders.
So will Carter, a guy they can't keep off the club after his team-high 3.5 sacks have come either off the blitz or rush end. If Carter is the sixth and final backer, they would be able to go heavy elsewhere.
But if Flowers isn't healthy, maybe they think about DiManche. After signing as an undrafted rookie in 2013, he played in 29 straight games including a playoff, before he fractured his forearm late last season. Yet they only played him 12 snaps Thursday and next to the injured Lamur, he played the fewest snaps of the backers this preseason.
CB Leon Hall (9), CB Adam Jones (9), S Reggie Nelson (9), CB Brandon Ghee (6),  S George Iloka (4), CB Dre Kirkpatrick (4), S Shiloh Keo (4), CB Chris Lewis-Harris (3), S Shawn Williams (3), CB Darqueze Dennard (2), CB Troy Hill (R), S Floyd Raven Sr. (R), CB Josh Shaw (R), S Derron Smith (R).
It would certainly appear if they keep six corners that Lewis-Harris earned the spot with an excellent game Thursday that included a pick and a tip that ended up as an end-zone pick for Keo.
The sixth corner may hinge on whether they keep six or seven backers. If they keep Lewis-Harris it may mean he's not active on Sundays but he's a good man to have in reserve. He's the Brandon Tate of the defense He keeps hanging around because he does it the right way.
They've got a little flexibility at safety because Hall can swing from corner. That would make you think they'd keep four safeties and after Nelson, Iloka, and Williams, that leaves Keo and Smith. What Keo has going for him is experience and he would be active on Sundays because of his work on teams and from scrimmage. Smith would have to evolve into that player and may not be active right way.
But if they go light at backer (six) and offensive line (eight), do they keep both Keo and Smith?
Williams, by the way, has had a solid camp and showed he may be able to inherit the Big Nickel Linebacker/Special Teams role vacated by Taylor Mays.
Hall didn't dress Thursday night, but indications are it won't affect his availability for Oakland, whatever the reason.
Dennard (hamstring) hasn't played or practiced since he got hurt against the Giants, but it sounds like he'll be ready for Oakland. That's happened to him in both his preseasons now and each time he was emerging as a top contributor until he got derailed. Whether he's ready to return back to gunner remains to be seen.
Shaw, who played well on Saturday, had a bit of an up-and-down night Thursday. His rookie impact is going to be on special teams, where he's trying to get acclimated to the NFL game. He had a total of three teams tackles this preseason.
K Mike Nugent (11), LS Clark Harris (7), P Kevin Huber (7), K Tom Obarski (R)
Nugent (hamstring) must be healthy.  He kicked off five yards deep and eight yards deep into the end zone Thursday, along with making his first two field-goal tries of the year, from 41 and 35 yards.
Obarski goes on the waiver wire with pretty good tape. He does have two short misses, but he also hit his one from beyond 40 (46) and he showed some resilience when he kicked the winner Thursday night from 28 yards with 2:49 left , nine minutes after he badly hooked a 30-yard miss.