Brandon LaFell went back to New England last year to score one of his six touchdowns.
As the Bengals' roster undergoes an age alteration they are canvassing leaders, which is why wide receiver Brandon LaFell re-signing for two years is a locker-room coup.
LaFell, 30, heading into his eighth season, left a huge mark on Paul Brown Stadium last year when he surfaced in Cincinnati after the Patriots released him. Not only did he have a near-career year with 63 catches for 13.5 yards per, but he soldiered on in the absence of A.J. Green while playing nicked and rallying the wide receivers down the stretch.
"I feel comfortable in my role being the vocal leader in my room because A.J.'s not that vocal but he's our leader," LaFell said from Houston shortly after he got the deal. "He goes out there every day to practice and games and he leads by example. I love it. We love it. I can do all the talking as long as you go out there and continue to put up monster numbers and play the ball he plays.
"This will be my second year, guys are familiar with me, it will be easier for me to voice my opinion and for guys following my lead and see how I go out there and work every day on the field."
LaFell is the kind of guy the Bengals have built their roster on in the last decade or so. Complete players who are solid performers but also smart when it comes to scheme and savvy in all aspects of a game that demands preparation and teamwork.
"We've got to feel good about it with Brandon LaFell," said head coach Marin Lewis. "(He) was new to us last year who really uplifted the building, the (receivers') room. He aided in the development of A.J., which is good. A.J. has never had somebody like Brandon LaFell around him. So that was great for A.J. And when A.J. went out, Brandon LaFell raised his level again to fill some of the void."
After playing three rookies at the end of last season, the Bengals receiving corps has come into sharper focus the last week.
On Monday they released fourth-year wide receiver James Wright after he caught 15 balls in 13 games for just an 8.2-yard average. It was a grim move for them because when Wright, a seventh-rounder from LSU who played at the same New Orleans high school as the late Chris Henry, emerged in the middle of his rookie year in 2014 they thought they had the next T.J. Houshmandzadeh because he was showing he could start.
But after he tore his PCL in his break-out game in Tampa that season it didn't heal and he underwent micro fracture knee surgery before missing all of 2015. They felt his rehab was remarkable (last season his teammates voted him the Ed Block Courage Award), but the knee just never bounced back.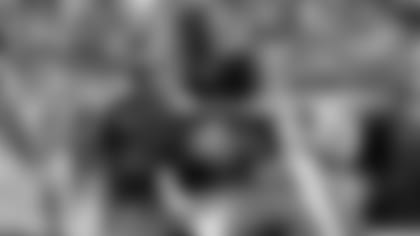 Wide receiver James Wright, who courageously came back from a difficult knee injury, was let go Monday.
It would have been tough to stick. The contracts and production say Green, LaFell, and slot man Tyler Boyd are the top three receivers. Alex Erickson, who won the AFC kick return title as a rookie, also has to dress as a kick and punt returner. Cody Core is coming off a promising last month as a rookie and has a foothold on a fifth spot that dresses and can compete for snaps. They only suit five receivers and they figure to draft at least one, so it's getting a little cramped. Practice squadders Jake Kumerow and Alonzo Russell are probably going to end up trying to fend off the rookie for the sixth receiver spot.    
LaFell had his suitors in free agency. But he made it clear to his coaches he wanted to come back for another tour.
"It's more like family," LaFell said. "Being able to play along some guys that are hungry. A.J. is hungry. Andy (Dalton) is hungry.  All these guys are very hungry. There are a lot of guys there that want to win. It's great being there."
The more reps he took with Dalton, the better he got. In the last three games he averaged seven catches and 96 yards and topped it off with that 86-yard slant-and-gone on third down back home in Houston on Christmas Eve that was the Bengals' longest completion in 21 years.
"That was the biggest thing in coming back,' LaFell said. "Got to learn a new offense, get familiar with a new quarterback, new team, and I didn't have to do that here.  Unfortunately when A.J. got injured, that's when Andy and I took a big step in the last few games. I was really pretty much one of his guys on field. We took a big step. When he got out of pocket we had good communication. I knew what he wanted on certain plays and we produced those last few games."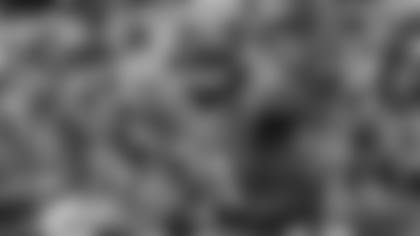 LaFell caught 64 balls in 2016, 10 shy of his career high with the Patriots in 2014.
LaFell is well aware of the two stats that defined last season. They finished 24th in scoring with  barely 20 points per game and finished 18th in red zone touchdown percentage after getting inside the 20 a total of 54 times, more than anyone in their division.
"In order to be one of the better offenses in this league we're going to have to learn how to finish drives," LaFell said. "We were in the red zone plenty of times. The first play we'd get a negative play, or get a penalty, or turn the ball over. Just shoot ourselves in the foot. We have to do better than that. We have to score more than 19 points to win."
LaFell thinks they can do it here. He has been to the postseason with Cam Newton in Carolina and won a Super Bowl with Tom Brady in New England. And he's got a lot of faith in Dalton after they hooked up for six touchdowns and he watched Dalton and Green light it up for nearly 1,000 yards in the first nine games before Green tore his hamstring.
With Pro Bowl left tackle Andrew Whitworth and right guard Kevin Zeitler gone in free agency, LaFell says the young players have to play well and lead as well. He thinks Dalton is a good start.
"I like Andy. He competes. He's a competitor," LaFell said. "No matter what. No matter how many times he gets knocked down he stands up in that pocket delivering the ball. He's always got us in the right place to make things happen. I feel like next year if we can get some guys up front to replace Whit, replace Zeit, I feel like we can get this thing going and if everybody stays healthy for him, Andy will be nice.
"If (tight end Tyler) Eifert comes back healthy. If Tyler Body continues to develop. If A.J. stays healthy. If I stay healthy and me and Andy stay on the same page and even get better. And if Gio (Bernard) comes back and Jeremy (Hill) continues to run the ball hard, I feel like we can be an explosive offense."
For LaFell, with another two years, it's not if, but when.
"I feel like we can compete here. I feel like we can win here," he said. "I like being with some young hungry guys."