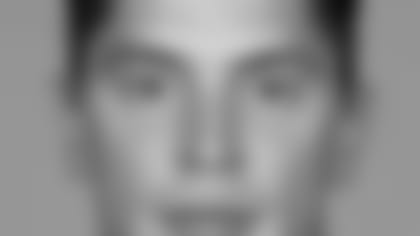 Last Sunday, Kevin Kaesviharn leaped into the national eye of sound bites and video bits when he jumped in front of Keyshawn Johnson to save the Bengals game against Carolina with the most precious of football turnovers that is an end-zone interception.
On Tuesday, his feet came down in the real world of life, death, and Shelly Maxwell, a season-ticket holder who scheduled her second mastectomy on a bye week.
Maxwell, 40ish and feisty with a throaty laugh that buried breast cancer twice, wanted to make sure Kaesviharn knew just what he meant to the cause.
"This disease is all about awareness," Maxwell said. "With the way the Bengals are going now, do you know how many people would jump off a bridge if Kevin Kaesviharn did?"
Kaesviharn isn't jumping off any bridges but he is making a leap of faith in his second year as the spokesman for National City's month-long breast cancer awareness campaign. On Tuesday he presented gifts to 30 survivors at a Paul Brown Stadium reception and before Sunday's game at PBS against the Falcons the survivors team with volunteers to form a human pink ribbon while each fan is asked to drop a dollar into the bucket at the gates on the way in.
"I felt like I should be doing more in the community," said Kaesviharn of approaching Eric Ball, the club's director of player relations, for advice. "I felt like I wasn't doing enough to help others.
"I was searching for something. I think we're here for a reason and it's to serve, to help others. I had done some things here and there, and I was wondering, 'Is that all there is?' At about that time EB told me about this opportunity and it's grown into a relationship."
A cut-out cardboard of Kaesviharn in his Bengals No. 34 looming as real as he did to Panthers quarterback Jake Delhomme on Sunday could be seen at the reception. The slogan is "Real Men Wear Pink."
"This gets the husbands into it," Maxwell said. "I bet half the husbands don't know if and when their wives have been to get mammograms."
Kaesviharn's slogan could be "Real Men Wear Orange and Black." The former substitute teacher has been here a quiet, workmanlike six seasons at safety and he didn't come via the first round or a free-agent lump sum, or a splashy draft week trade, and he didn't spend his latest off-day lolling with Sports Illustrated.
"My wife is getting out a little bit so I've got the kids," said Kaesviharn over the phone a few hours before the reception. "I'm trying to get one down for a nap, so I may have to leave for a second."
If Chad Johnson is Superman then Kevin Robert Kaesviharn is Everyman who lives next door and works in the neighboring just-a-guy cubicle.
He was also trying to get his oldest, Kristian, who turns four Friday, to take some medicine.
"Patience, Kristian. Patience," he said, and he could have been taking about himself.
A Division II all-star at Augustana in South Dakota. Two seasons in arena ball one season in the ill-fated XFL, and a failed training camp with the Packers.
His NFL shot didn't come until he was 25 and a depleted Bengals secondary took him out of a high school class he was substitute teaching in Sioux Falls, S.D., in October of 2001, and he ended up leading the team with three interceptions.
Kaesviharn, a southern Californian, met wife Michelle in college and they decided to settle in her home state in Sioux Falls.
"It's not what people think," he said. "It's not that small. It's not 298 people where everybody knows everybody else. It's about 150,000."
Sunday was just another day at the office for Kaesviharn. He may take heat for his tackling, but he's at his best when he can play mainly on passing downs, allowing him to use his ample special teams skills. When there are injuries, as there always seem to be in the secondary since he got here, the Bengals have been forced to play him every down frequently because of his speed and versatility.
But not Sunday, since he was able to split the snaps with Dexter Jackson. The interception was big, of course, an example of how Kaesviharn's intelligence forced a turnover because he correctly figured Carolina saw how Tampa Bay scored the winning touchdown with 35 seconds left the week before from about the same spot on the field.
"I'm so proud of Kase, of what he did today," said cornerback Tory James after the game. "He's a veteran. A smart player."
But it was Kaesviharn's downed punt at the Bengals 13 with 16 seconds left that had Lewis all excited.
"That is something that Kase probably hasn't done in at least two years," said special teams coach Darrin Simmons of his decision to put Kaesviharn at gunner. "It's the punt to win the game. You want your best players on the field. Kase is always where he's supposed to be. He's a reliable guy. A great guy. Team oriented. He doesn't care. Defense. Special teams. Whatever it is to help the team win."
Just a guy doing a job. After he's done playing he's going to try some business ventures and if they don't work, he'll go back to teaching.
"I remember my first road trip," Kaesviharn said. "I got on the plane and there was all this food. Candy. As much as you wanted and there were guys complaining. And I'm thinking, 'But it's free. This is great.'
"I guess I'm closer to reality than most (players). But we're all just people. We're not any different. That's why I really enjoy it with this group. It gives me perspective. I'm playing a game; they're talking about life and death."
For Maxwell, that may get a little mixed up when it comes to the Bengals. She's been a season-ticket holder for 24 years and Sundays are big enough that when she felt another God-awful lump in her other breast in October of 2004, she opted to have the mastectomy the week the Bengals weren't playing.
Of course, there were a few tears first and there hadn't been any tears since 1999, when four-year-old Sydney wanted to know why her mother was in bed crying in their Villa Hills, Ky., home.
"Mommy's scared," she told Syd, and who wouldn't have been?
She was a year removed from 40, when she had her first mammogram courtesy of where she works for National City, and the second mammogram showed ever so slightly there was a tumor.
"There was no lump," Maxwell said. "You couldn't feel anything. It was early detection. Because of the first one, there was something to compare it to. If there hadn't been, they wouldn't have found it for another year."
So when she told her daughter that she was scared, Sydney asked, "Why Mommy? You went to the hospital. You did what the doctor told you to do and he took care you."
That was it. Sydney snapped her out of it. And if you know Maxwell, and many do in high places in Bengaldom because Lewis has been known to stop by her tailgate parties after games, the response wouldn't surprise anyone.
"Take it off and make a new one," Maxwell said. "That was the most aggressive option, but I didn't want it to spread anywhere else."
So imagine the shock at finding a lump in the other breast five years later and two Octobers ago, and going through another mastectomy, not to mention the chemotherapy.
"You know what I said?" she said with a laugh, and it can't be printed.
Kaesviharn, wearing a pink ballcap, sat at the table and listened. Sunday's heroics were a long way away.
Maxwell is now a survivor and a volunteer. Also at the table, Laura O'Rourke of Kenwood, another volunteer, is only 28. But she has watched four family members (including both grandmothers) get breast cancer.
"She has to take control of herself medically right now and realize it's never too early for an exam, especially with her family history," Maxwell said. "You never know. I had no family history."
Maxwell turned to Kaesviharn.
"I hope you realize how important this really is," she told him. "You've done it for two years, so obviously you get it."
"I understand it," Kaesviharn said. "I may not be able to experience it. But I hear the stories. That's where I feel it. Until I hear it and see it."
"It makes a huge difference," Maxwell said, and then added with a mischievous smile, "Being a Bengals fan like I am, if this was 10 years ago, nobody would have cared if you were in pink or not. Because we're winning, people pay attention."
No surgery. Maxwell went to see Toby Keith. In fact, these past two Octobers she has opted for Keith instead of those almost rock star mania Football 101 lectures Lewis has every bye week for women.
"This is real life," said Kaesviharn, who is also having a pretty good fall. But not as good as Shelly Maxwell, who is cancer free.
"Playoffs," she said. "That was big last Sunday. I definitely feel the playoffs."