Adam Jones' climb back from oblivion needs a Super Bowl to go with a Pro Bowl.
They are the Bengals' Odd Couple, this tandem of Pro Bowl cornerback Adam Jones and secondary coach Kevin Coyle. And even though they've known each other for eight years, or ever since Jones, as a Cowboy, told him rather profanely to take a hike in pregame before the Bengals played Dallas, Thursday felt like a first day.
Jones had just come upstairs after talking to the media about his new three-year deal, a $20 million validation of one of the NFL's richest riches-to-rags-back-to-riches sagas ever. Coyle has been in the process of just returning from his four-year appointment as the Dolphins defensive coordinator.
But it's like they never left.
Jones, 32, a top ten draft pick and physical marvel as a southern icon from Atlanta who once was one of Roger Goodell's most wanted in his personal conduct crusade. Coyle, 60, a no-nonsense career coach from Staten Island on the tip of New York City who played safety in the Yankee Conference.
It is like this with all of Jones' coaches.
"He's the closest guy to me in the building," Jones said. "KC. Coach (Marvin) Lewis. PG (Paul Guenther)."
There is also special teams coach Darrin Simmons, who was hosting a visiting coach in his office, and called in Jones to show off his feel for the kicking game.
"We've kept in touch. We'd text. Talk," said Coyle of the intervening years. "A lot of those guys. J. Joe (Johnathan Joseph). Adam and Leon (Hall). Guys that you really have a feeling for, you stay close."
Oscar and Felix have a lot in common. Both know the only way to play the defense's most demanding position is with rock-ribbed technique. And both want to beat you to a pulp doing it. Jones with Pro Bowl pedigree. Coyle with East Coast edge.
"He's one of the most competitive players I've ever been around," Coyle said. "I love the fact that all he wants to do is win. He believes he can win every snap. He believes he is going to win every snap and if it doesn't happen, to him, it's a fluke and he goes back and wins the next one."
This is why Jones believes in Coyle:
"He gives you everything. He's going to give you everything he has. He's going to give you four plays to hang your hat on when you go into a game. You're going to get comfortable about knowing the game plan and the offense."
Funny Jones would word it like that. That's what Coyle said to him after the second workout in May of 2010, the one where they decided to sign him because it took two since the first one was, well . . .
"Horrible. Couldn't finish," Jones said.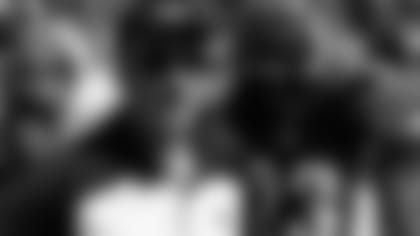 From an unimpressive 2010 workout to the 2016 Pro Bowl, Kevin Coyle's tape machine has seen it all on Adam Jones.
It was February. It was cold and icy at Paul Brown Stadium and Jones hadn't played in an NFL game in more than a year.  He's not sure what was worse. His conditioning or his technique.
"Marvin told me to come back in a couple of months," Jones said. "And he told me I better come back in shape. That got me going."
He did. Also at play was Deion Sanders pushing on his old coach in Dallas, then Bengals defensive coordinator Mike Zimmer.
"There were guys trying to get him to turn around his life and career. When he came back, he was the Adam Jones we all know and love," Coyle said.  "Boom. Boom. Boom. He was a jackrabbit out there.  So quick. Change of direction. At as high a level as anyone in the league. He caught it. He jumped. He did everything."
Coyle knew they were going to sign him even before they left the field.
"I told him a few simple things," said Coyle, who still had some reservations about the off-field dramas and the tirade in Dallas. "I'm going to do everything I can to make this work . . . I'll go to the end of the earth to help you on and off the field. If you screw up, I'll be the first one to say find a new place. This is too important. We have a certain way of doing things.
"If you give me everything I'm going to give you everything. We'll have a great relationship."
Fast forward and they have to laugh about that day in Dallas when Jones was catching punts before the game and it was the Bengals turn to get into position.
"Adam didn't appreciate the fact I told them to go to the other end of the field," Coyle said with a smile. "We had a conversation that I remember clearly. He seemed a little vague about it when he came here. I think deep down he remembers. He gets the juices flowing in pregame. He may not even realize what he's saying."
That's what Jones says. He admits the conversation may have gone something like "Get the bleep out my beeping way you bleeping coach.
"Yeah," Jones said. "Classic pregame Pac. I probably do that before a lot of games."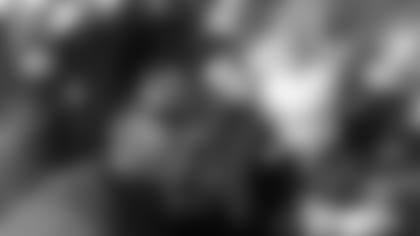 Jones mugs with Bengals fans at the Pro Bowl.
Coyle says Jones was good when he left for Miami after the 2011 season. But that was after Jones missed most of 2010 and much of 2011 with a neck injury and now that he's healthy, Coyle says he's not only better, we're watching a rarity for someone who turns 33 in September. Somehow, Coyle says, "He's ascending. He's not going down and how often does that happen?
"He sees the game very clearly and has exceptional physical tools to go along with it. He's one of the smartest on-field players I've ever been around. He deciphers things and can see the big picture much better than most corners in this league. He's fun to coach. He's a challenge some times. Sometimes he gets in some one-on-ones during the course of the game when he's competing and you have to channel him back."
When Coyle turned the tape on four years later, this wasn't the kid who was coming off neck surgery in 2011 who had played just 13 games in three years. He was, well, a Pro Bowler.
"His technique, his discipline, his eyes, just the little details of his alignments are clearly better on tape," Coyle said as he isolated what exactly has improved. "I think it's his eyes and his foot work. Adam is such an exceptional athlete. At times he may not be aligned correctly. His stance might not be perfect. He might be moving when the ball gets snapped. He's so natural that he can work himself right back in to good body posture and things like that. When he doesn't, he might give up a play here or there.
"Now you see a guy more disciplined, getting in a good stance and seeing his keys, using the right foot on the initial move and getting into the proper technique with much more consistency than ever before."
As Jones marauded through the coaches' wing Thursday, he stopped in to see another one of his favorites, Simmons. After trading insults Jones promptly told him how he'd read the safety on a punt return that was called last year.
The competitiveness can't be turned off. Whether it's cussing out the other secondary coach in pregame, or spitting back a play to Simmons, or talking about his golf game, Jones is always bringing it.
"Shot a 94," Jones said of his recent round at Denver's Cherry Hills Country Club with agent Peter Schaffer. The home of the classic 1960 U.S. Open, it is also now where Jones is positive his game has taken a big turn. "No mulligans. We had to have caddies. Great course. I think I'm playing pretty well."
Coyle gets it. The guy is 33 going on 27.
"You're starting to see more of what the real player is. He's got special qualities," Coyle said. "Even though he's on the back nine, as we say, he's got some holes to play and I think he's going to play some great football for us."
The Odd Couple is back for a three-year run on Mehring Way.