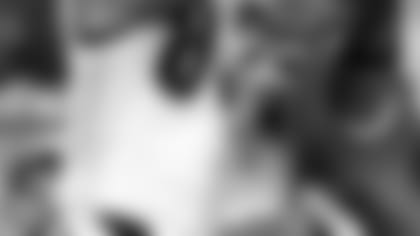 Kevin Walter tries to haul in the first half reception. (Eliot J. Schechter/Getty Images)
JACKSONVILLE, Fla. - As one of the last two unbeatens in the NFL, the Bengals came out looking to make a statement under ESPN's national TV lights Sunday night and looked at times like they were caught in the headlights in losing 23-20 to the Jaguars.
But they went grimly and hard and not until the end. Quarterback Carson Palmer brought the Bengals to within a field goal with five and a half minutes left on two zip jobs to rookie wide receiver Chris Henry for 74 yards, the last one a 25-yard touchdown pass.
But when the Bengals got the ball back with 2:42 left, they couldn't finish off the two-minute drill. Palmer drove the Bengals from their own 22 to a first down at the Jacksonville 45 for a second-and-ten with 1:28 left. Running back Chris Perry couldn't fend off the blitz of linebacker Daryl Smith, and when Palmer pulled the ball down to get away, it got knocked loose by defensive end Bobby McCray just before midfield and linebacker Akin Ayodele recovered at the Jags 45 with 1:16 remaining for the lone Bengals turnover.
"We're not supposed to be 4-1; we're supposed to win these games," said wide receiver Chad Johnson, who choked back tears after catching just five balls for 52 yards against a game-long double team. "We can't be satisfied with this. We're not the old Bengals."
Palmer was good for 22-of-33 passing for 239 yards, two touchdowns and no interceptions. For the eighth straight game he had a psser rating of at least 100, with 108.0.
Now the Colts are the only unbeaten team because the Bengals couldn't escape the two problems that haunted their 4-0 start. Jaguars running back Fred Taylor went off for his fourth 100-yard game in seven outings against Cincinnati (24-132) and the Bengals committed 12 penalties for 94 yards, giving them 57 penalties on the season for more than an astounding 10 per game.
"The penalies hurt us but it's not the reason we lost," said right tackle Willie Anderson. "We committed a lot of penalties in games we won by blowouts. We just got beat tonight. I think this is the kind of game we'll look back on later in the year and become stronger because of it."
Throw in a blocked punt, two 50-plus field goal bombs by Jacksonville's Josh Scobee, and a failed fourth-and-one early in the fourth quarter with the Bengals within 20-13, and it was a long plummet back to earth.
Defensive tackle Robert Geathers committed the devastating ninth penalty when he blew off the line too early on a third-and-short when the Bengals trailed by just 20-13, giving the Jags new life and the chance for Scobee to drill a 53-yarder.
That came after the Bengals trailed, 20-13, in the first minute of the fourth quarter and needed a yard behind an offensive line anchored for the first time by rookie center Eric Ghiaciuc on fourth-and-one from the Jags 39. But running back Rudi Johnson got swallowed up by defensive tackle John Henderson for a loss of a yard.
"I'm not going to want to see that one on film tomorrow," Ghiaciuc said. "They brought everyone and if I was the defense, I would have to." But Anderson said it was the best performance he's seen by a Bengals rookie offensive lineman in his 10 seasons.
"If he was a wide receiver and had 10 catches for a touchdown, you would have been talking about that," Anderson said. "But he played one of the greatest games ever by a Bengals player. If he didn't play like that, we wouldn't have been as close."
Johnson had a decent night on 76 yards on 18 carries, but he didn't get the holes Taylor got in a marauding 5.5 yards per clip. Johnson's backup, Chris Perry, also ran well on seven carries for 55 yards.
The Bengals continued to work their turnover magic when linebacker Hannibal Navies forced and then recovered punt returner Derrick Wimbush's fumble at the Jags 21 as Cincinnati trailed, 20-10 midway through the third quarter.
But one of three penalties on wide receiver Kevin Walter, a killer 16-yard crackback flag, and a holding call on left tackle Levi Jones forced Shayne Graham to kick a 48-yard field goal with 4:29 left in the third quarter that made it 20-13 when it could have been 20-17.
It was Jags quarterback Byron Leftwich who hurt the Bengals on the opening drive of the second half with big passes to wide receivers Jimmy Smith (his first catch of the night) and Reggie Williams, but his 11-yard flip to receiver Ernest Wilford that was aided by cornerback Tory James's missed tackle gave the Jags a 20-7 lead just 2:44 into the second half.
"That's why they hurt us tonight," said Bengals head coach Marvin Lewis. "It was missed tackles."
Chad and Carson hook up in first half
Wide receiver Chad Johnson revived the Bengals and got them into the locker room standing up when he conspired with Palmer on a resourceful 14-yard touchdown play with 5:36 left in the half that drew the Bengals within 13-7.
With defensive end Reggie Hayward hanging on him as he rolled to the right, Palmer looked like he was going to throw it away until he launched a marvelous throw on the run. Johnson separated from cornerback Rashean Mathis, leaped behind Mathis, caught the ball, and came down with both feet in-bounds before falling into the sidelines.
As if realizing he had just helped take the Bengals off the mat, Johnson then performed CPR as he pumped the football with his hands while it lay in the end zone.
For the first time since the opener the Bengals fell behind (and for the first time by more than a field goal) when Jacksonville's dormant offense used a dreadful 40-yard penalty on special teams, a blown assignment, and busted tackle to score on Leftwich's 26-yard touchdown pass to tight end George Wrighster in the game's first 4:29 for a 7-0 lead.
"That first drive was big," said Bengals linebacker Brian Simmons. "We hadn't done that all year; give up points on the first drive of the game. That kind of gave them the momentum early and it was hard to get it back."
The Bengals, who came into the game outscoring foes 27-3 in the first quarter, found themselves down 10-0 after the first quarter when Wimbush came up the middle to block punter Kyle Larson's punt at the Bengals 33. The Jags cashed it for Scobee's 32-yard field goal with 50 seconds left in the quarter.
It capped a rocky opening for a Bengals team that reacted badly to the hostile crowd and the adversity of wide receiver T.J. Houshmandzadeh (hand), and free safety Madieu Williams (shoulder) being placed on the inactive list, as well as fourth-rounder Ghiaciuc making his first NFL appearance and start in place of veteran center Rich Braham.
The Bengals not only botched the two punts in the first quarter, but they committed three penalties and five for 37 yards in the half while letting Taylor dictate the half with 75 yards on 13 carries.
Jags defensive tackle Marcus Stroud blew up Cincinnati's first series when he worked a stunt off the Bengals right side, and another series ended when Palmer saw Chad Johnson working one-on-one on the outside, but couldn't the ball to him on the right side because cornerback Terry Cousin blew in on a blitz to hurry him.
When Taylor didn't hurt the Bengals, his backup, Alvin Pearman, did. Pearman caught a wide-open 19-yard pass, and then exposed the right side of the Bengals line for an 18-yard gain that set up Scobee's 51-yard field goal for a 13-0 Jaguars lead with 10:07 left in the half.
To set up Chad Johnson's touchdown, Perry converted a third-and-three on a 13-yard sweep around the left side and Palmer got a first down on a third-and-three slant to Walter.
Larson completed his curious half of football by setting the team record with a 75-yard punt on the next-to-last snap of the half, breaking Brad Costello's record of 73 yards against the Colts in 1998.
Leftwich, who didn't complete a pass longer than 20 yards in last week's numbing 20-7 loss to Denver, got jump-started on his first drive when Larson's 68-yard punt got wiped out when Bengals gunner Reggie Myles was called for coming from out of bounds to be the first man to touch the ball.
That forced Larson to re-kick, and this time he got off a poor 34-yard wobbler. The Jags almost made him pay on the first play when Taylor broke it for a touchdown, but wide receiver Jimmy Smith was called for holding James.
But on second-and-10, Leftwich found Wrighster all alone in the flat and he didn't get touched until the five-yard line, where cornerback Deltha O'Neal unsuccessfully tried to submarine Wrighster.
In other pregame news, the Bengals also didn't activate defensive end Duane Clemons for the game, pushing back until Monday an announcement on his future.
The Bengals got the rock star treatment when they arrived here at their hotel Saturday. A contingent of about 30 fans greeted them from behind a line of yellow tape in the lobby with "Who-Dey" and "Rudi, Rudi" chants, a sight not seen in years around this club.
But there was an ominous sign when the usually accommodating Houshmandzadeh had to turn down signing autographs because of his swollen right hand.
The injury, which came at the end of his eight-catch, 105-yard performance last week against Houston, also kept him out of practice all last week and out of his first game since he missed most of the 2003 season.
That gave Washington his first action since being inactive for the last three games.
Ghiaciuc faced a tough test in his NFL debut against the Jaguars' formidable 650-pound inside tandem of tackles John Henderson and Marcus Stroud, but those two are also nursing injuries with each of them (Henderson has a shoulder nick, Stroud a sore knee) probable throughout the week.
The Bengals arrived at ALLTEL with a huge opportunity to put some more distance between themselves and AFC North rival Baltimore with the 1-3 Ravens loss to Detroit. With Tampa Bay's loss to Vinny and the Jets and Washington's loss to Denver, the Bengals began the night as one of two unbeatens in the NFL with the Colts.
The Bengals staged a brief reunion with Jaguars quarterbacks coach Ken Anderson on the field before the game. Anderson, the Bengals' all-time leading passer, chatted with backup quarterback Jon Kitna, Ken Zampese, his successor in Cincinnati, and head coach Marvin Lewis. Anderson's son, Matt, who lives in Covington, Ky., and is a Bengals season ticket holder, showed up on the field in the No. 7 jersey of Leftwich.
Also inactive for the Bengals on Sunday were fullback Nick Luchey, center Larry Turner, defensive linemen Matthias Askew and Jonathan Fanene, and linebacker Larry Stevens.
Lewis sent out for captains tackles Willie Anderson and Levi Jones, defensive tackle Bryan Robinson and John Thornton, safety Ifeanyi Ohalete.