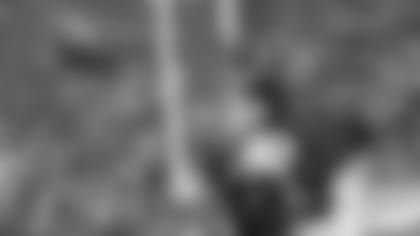 Chad Johnson hauls in a 14-yard TD recepetion in the second quarter. (AP photo)
JACKSONVILLE, Fla. - The emotion choked Chad Johnson and the Bengals Pro Bowl wide receiver didn't bother to hide the tears after Sunday night's stark-reality loss here to the Jaguars by 23-20.
Johnson, engulfed again in double teams, didn't catch his only pass of the second half until 1:32 left in the game on just the second throw that came his way after he acrobated a leaping 14-yard touchdown catch in-bounds for the Bengals' first score of the game with 5:36 left in the first half.
"It's not too hard to get it to T.O. It's not too hard to get it to (Randy) Moss. It ain't hard at all," Johnson fumed. "Is that all a team has to do is just double team me all the 14, 15 weeks we've got left? Is that the answer? I'm through for the season?"
Johnson is frustrated after seeing his numbers go down in each of the last three games in hitting Sunday night's season-low 52 yards on five catches, and it made the loss sting even more. With a chance to go to 5-0 on national TV squandered with 12 penalties and unsteady play in all three phases (failing to convert nine of 13 first downs on offense, allowing 181 yards rushing on defense, getting a punt blocked on special teams), Johnson knew an opportunity had been missed.
"We're not supposed to lose. We can't be satisfied with 4-1," Johnson said as his voice trembled. "It isn't satisfying. That's the whole point. We're supposed to be out of that stage. We're not supposed to lose some more like this. These are games we have to win. And they wonder why we don't get Monday, Sunday night games. It's not supposed to be close any more."
One thing is certain after the Bengals offense managed to outgain its foes for the fourth time in five games this season in Cincinnati's only prime-time game of the year. Quarterback Carson Palmer offered another big-time effort Sunday night despite trying to get the ball to Johnson and getting hit repeatedly by the Jaguars, particularly early in the game. His two touchdown passes gave him his eighth straight game with a plus 100 rating (108.0) and he extended his streak to 115 straight passes without an interception.
But with his big-play guy taken out of the game for the second straight week, Palmer didn't have T.J. Houshmandzadeh for an eight-catch, 105-yard game like he did last Sunday. After a game that rookie Chris Henry started in his place and caught three balls for a career-high 85 yards, Houshmandzadeh vowed to play next week with his swollen and bruised right hand. Palmer also said he expected Houshmandzadeh to return.
Henry did have a 25-yard touchdown catch that cut the lead to 23-20 with 5:16 left in the game, as well as a 47-yarder. But no receiver caught more than three balls even though the Bengals continually went deep in the first half.
"We took some shots early when we went there," Palmer said. "They were trying to stop the run a little bit. Stop the intermediate passes."
Running backs Rudi Johnson (76 yards on 18 carries) and Chris Perry (55 yards on seven carries) dented the Jags on five yards per carry. But they did it against pretty much the front seven, which allowed safeties Deon Grant and Deke Cooper to hang back and help cornerback Rashean Mathis make life miserable for Chad Johnson.
But the Jags also blitzed off the slot. At least one Palmer-to- Johnson bid was foiled when Palmer had to hurry a throw to an open Chad in one-on-one because cornerback Terry Cousin came in unblocked to hurry the throw.
Asked why the Bengals have been able to beat Johnson double teams all this season (after all, he led the AFC in receptions coming into the game), Palmer indicated they hadn't faced this good of a defense all season.
"It's just a different defense. It was a little easier earlier. This was a good overall defense. We didn't make enough plays."
Palmer pointed to the Jags' active and rotating front four that always seemed to be fresh, particularly at end. How many times does a tackle lead the game in tackles? But big John Henderson did with eight, while end Reggie Hayward was usually putting heat on Palmer and end Bobby McCray had the big strip and forced fumble of Palmer at the Jags 45 with 1:16 left in the game.
Perry tried to fend off blitzing linebacker Daryl Smith, but Palmer had to step up in the pocket and when he did, McCray reached around Palmer's back to knock it away.
"I tried to throw it up a bit. I had a guy open downfield and I tried to get him the ball, but I didn't have enough time to get it off, so I tried to tuck it away and didn't do a good job," Palmer said.
"They've got a good overall defense. I think we did a good job of protecting me. They took Chad out of the game. It was high-low coverage. They had two guys on Chad the entire night. It was tough to get him the ball."
Palmer praised the work of wide receiver Kevin Walter on third down, but Walter also committed three penalties that included a 16-yard crack-back block. Asked if Houshmandzadeh's absence gave him more attention, Johnson didn't answer.
But he had no trouble explaining why Mathis will get the "No" box checked on his cornerback list that charts if cornerbacks cover him or not every week.
"I was double-teamed on every play," Johnson said. "He didn't cover me. He had help. No, he didn't cover me. Two guys covered me."
Johnson wanted to hear nothing of his leaping catch in the end zone, which came off a hellacious pass from Palmer getting run out of the pocket by Hayward.
"It doesn't matter," he said. "The loss takes away the joy."