New Bengals offensive coordinator Hue Jackson is pulling no punches about what he needs from his best players: "They need to play great.'
New Bengals offensive coordinator Hue Jackson puts his unit on display for the first time Tuesday in the first of nine voluntary on-field practices.
And he pulled no punches when he sat down with Bengals.com's Geoff Hobson this week to talk about the early stages of his offense.
He's thrilled with the two players that have been the faces of the Bengals' run to three straight playoffs, but like everyone else on offense, he says three-time Pro Bowl wide receiver A.J. Green and quarterback Andy Dalton have to get better.
"They've been good, now it's time to be great," Jackson said.
He also called the offensive line "the nuts and bolts," of his unit and said he's looking for his team to play 'fast and furious." And he's not afraid to say what is needed to win a playoff game.
"My thing is we haven't worked hard enough to earn the right to win that game yet," Jackson said. "That's the only way I can put it."
 GH:The players have talking about how up-tempo you want your offense. How would you describe what you want your tempo to be?
HJ: I want it to be fast and furious. Football is played in a frenzy, a kind of controlled, smart frenzy. I think all real good offenses in the National Football League have really good tempo and they play in a tempo mode. You play in tempo mode your quarterback and your unit can handle.  We haven't totally decided what our tempo mode is yet. I know what I want it to look like. I know what it should feel like and I think we're working toward that goal. We're not there yet.  I don't think we go fast enough. I think we're getting there.
GH: Are there any teams you model yourself on?
HJ: I don't think there's a team. It's just a belief being around the NFL for a while and watched real good offensive teams play and being part of a good offensive team here before (2004-2006 as receivers coach) and other places I've been. You just develop your beliefs. The real good teams have that (tempo) and we have to fight like heck to get that.
GH:Do you get sense of culture shock with the guys?
 HJ:  I don't know. This was a very good offensive team a year ago.  I'm inheriting it from Jay (Gruden), whom did a great job. I don't want it to go backwards. When you start to lead a unit, you want it to be better. It was good a year ago, but we need to be better in some areas and that's what were really going to harp on and talk about it and see if we can get it done.
HJ: We've got to be better taking care of the football, first and foremost. We can't give the other team the ball. The ball is one of the most precious things in the game and we have to protect it with everything we have. We have to find a way to consistently run the football and be a dominating, aggressive unit that we have the potential to be. As I said when I was hired, this team threw the ball over the yard and did it well. We still have to have the ability to do that. We have some very good skill players on the outside and we need to find ways to keep them included and playing at a high level. I don't think you can just run and win. I don't think you can just throw and win. I think you have to do both, but I think the mindset in which you do it out of has to be of a physical nature.
GH:What have you seen from Andy Dalton in the early on-field stuff?
HJ:  Spectacular. It's the first time I've been able to work with him hands on. He has all the characteristics I like in a quarterback. He's smart, he comes to work prepared and ready to go, and he comes to the practice field ready to compete. He can make all the necessary throws. I haven't see any throw he can't make. That being said, he knows there are things that we talk about that he needs to get better at. I haven't seen a deficiency in the young man yet. We haven't played a game, but that's where it starts. The consistency of how you do things in practice leads you to where you need to be once the real bullets start flying. I've been impressed with him. I've been very happy with him. But at the same time we know there's a long way to go. There is still much work to do.
GH:Some of the receivers are saying you can tell he's done some work because he's throwing the ball with good zip.
   HJ: He wants to be great. He's not interested in being good anymore. Good has gotten us three playoff appearances with no wins. I think he wants to be great and he's working at it. That's all you can hope for at this point. And that's all I can tell the whole offensive team. They're working at it, but we're not close to where we need to be. And we don't need to be right now. There's a process and we're in Phase III coming up. We have to handle that phase and keep building the blocks.
I think our strength coaches have done a good job preparing guys for Phase II. Phase II has been really good to this point. The meetings have been really good. There's a lot of information that I'm asking them to retain. Then they have to go out there and be responsible for getting it done. The coaches are responsible for creating the environment. It's the players' job to do it.
We have some really good players and I expect our really good players to play great and I think our great players have to play extra great and when that happens, you have something really good.
GH: It seems like you're asking the best players to play better than they have played. Along with everybody else playing better.
HJ:  When the great players play better than they're supposed to play, the guys who are the good players play great.
GH: What do you want to see from A.J. Green this spring?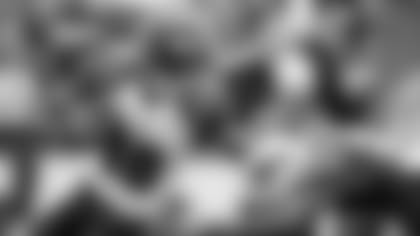 HJ: I want A.J. to take it to a whole different level. I want A.J. and Marvin (Jones) and that receiver group to play uncommon football like you've never seem. That's just my vision after coaching the position. Coach (James) Urban does a great job. A.J.'s has had one of the most historic first three years this league has ever seen. And he is that player. He is everything I thought he was and more. But I think there's more in there. I think there's a lot more in there. My challenge to him is, why not be the best? Why not be the best this league has ever seen? Because he has the ability to be that. And when they talk about A.J. Green, I want people to be talking about one of the greatest ever. Because he is and he has that. He's got to set out every day to prove that because I think he's that kind of player.
Marvin Jones came on like gangbusters and he's got to go chase A.J. Why not knock A.J. off the pedestal? When you have the friendly competition among your teammates, that's when things get really, really good, in my opinion. (Mohamed) Sanu and (Brandon) Tate and (Dane) Sanzenbacher, those guys at receiver, everybody has to raise their level of play. I think when that happens and we get five percent better, three percent better, whatever that is, I think the whole offensive unit gets better.
 But I'd be remiss if I didn't say it starts up front.
It starts with (Andrew) Whitworth and Andre Smith and Trevor Robinson and (Mike) Pollak and (Kevin) Zeitler and Tyler Eifert, Jermaine Gresham. It starts with those guys. I don't care how good we can play at quarterback or how good our receivers are. Until we block people consistently play in and play out and I'm not saying we haven't until we  block people the way I think they should be blocked in the National Football League, we won't get to where we want to go. Because that's where it starts. Period. We can have all these great conversations about Andy and A.J. and Giovani Bernard and all these guys. But the nuts and bolts of who we are those guys up front.
GH: Will you change technique on how you block up there on the offensive line?
HJ: We're going to do whatever it takes to get better. Coach (Paul) Alexander has done an outstanding job in the offseason.  He has created an environment for our players to get better this offseason. They've taken his challenge and he's taken those guys to another level. It's the foundation of who we are. Obviously the quarterback is one of the key pieces to our team. But without those guys up front, we don't stand a chance. Coach Alexander, myself, Coach Lewis, whatever we have to do in order to make this unit be more successful.
GH: Will Pollak start out at center on Tuesday?
HJ: We might have a couple of people in and out. That's yet to be determined. He's done some guard stuff, he's done some center stuff. He'll do whatever we need him to do and he's very good at it, so I'm very excited about him.
GH: Will each guy, like rookie Russell Bodine, get a shot with the first group?
HJ: That has yet to be determined. That means nothing to me. Who goes out first? Obviously the cornerstones are our two tackles and they have to roll out their first. What I want our guys to understand is there is nothing given. You have to earn your way in the National Football League. Last year means nothing. To me they are nameless, faceless players until they earn the right to be in that first unit.  You earn that right by the way you play. It's not how well you've done in the past. I know Whitworth is that way and Andre Smith is that way because I've had enough conversations with them. That's what I expect. Once you have done it, you have to do it consistently over the long haul in order to keep that job. We have some guys that get it and understand it, but I have to keep creating that environment for them so they can reach that level I think they can play.
GH: What do guys like Green and Dalton have to do to take it to the next level?
HJ: They've been good, it's time to be great. And great is playing at a consistent level week in and week out. Both guys. They both have the characteristics to get this team over the hump. The hump obviously being a playoff win. That's the elephant in the room. Let's be honest about that. That's what it is. We've won the division. We've won a number of games since these young men have been here. The playoff win has eluded them. But in order to do all these things, it doesn't matter if we don't work at it. I think they know that. You have to put in the required work for that success to show up. My thing is we haven't worked hard enough to earn the right to win that game yet. That's the only way I can put it.
There's no magical wand. Hue's not going to come in with magical plays or anything like that, or Andy or A.J. or Giovani Bernard are going to become magical.
It's going to be these guys playing as an offensive unit pulling for each other. There's an oath, a brotherhood of men to go out there and fight for each other and they play for each other and they believe in one thing and that's winning and that's all they're interested in and it burns them to think about the other word. That's the mindset I want these guys to have. I think when we get to that point, we'll be the dominating offense I think we can be.