An old college quarterback himself, Hue Jackson wants to make it easy and important for the quarterback at the same time.
Hue Jackson has a picture with Bill Walsh. Jackson is the first man the old Head Ball Coach Steve Spurrier himself let call plays. He has played Marty Ball under Schottenheimer and Bobby Ball under Petrino and has climbed Don Coryell's passing tree.
So, yes, you just might see about anything when he makes his debut as the Bengals offensive coordinator Sunday (1 p.m.-Cincinnati's Local 12) in Baltimore, where he plied Cam Cameron's play-action game as his quarterbacks coach five years ago.
Or, as former Bengals wide receiver T.J. Houshmandzadeh says, you'll see everything.
"That's what smart people do," says Houshmandzadeh, who ran offensive coordinator Bob Bratkowski's form of Coryell's passing tree under Jackson in Cincinnati 10 years ago. "You'll see everything. He'll take the best of everybody. Hue's a smart guy, a great coach. You'll see a little of Brat, a little of Jay Gruden. He'll run some of Cam Cameron's real nice little running schemes. Everybody."
What we'll see Sunday, Jackson's first shot calling plays since he was mysteriously and unceremoniously dumped by the Raiders as head coach three years ago?
"Points," Houshmandzadeh says.
What we'll see more than anything is the old quarterback at the University of Pacific. That's where Jackson played after growing up in the big city and playing in South Central Los Angeles at Dorsey High School. Greg Seamon, now the Bengals East Coast scout, was the college offensive coordinator for the future NFL offensive mind.
"This was before audibles and checks at the line of scrimmage," says Seamon of the prehistoric mid-1980s. "But I put a lot on Hue. I gave him a lot of leeway with plays and players. I had enough confidence in him to put a lot of the offense on him. He's the most competitive guy I've ever coached. He would never let us have a bad practice. And he was our hardest working player."
So it would be no surprise that Jackson first fell into the Walsh orbit philosophically as began his journey through this X-and-O melting pot. It doesn't all fall on the quarterback, but the modern game flows through him. Then Jackson met The Master when he became one of the first recruits of Walsh's minority coaching internship program. It was Paul Brown's Eighth Street Viaduct Offense in Cincinnati that morphed into Walsh's West Coast Offense.
"It was a good relationship. He used to spend a lot of time with Walt Harris who was our head coach up at Pacific. Then he helped start the minority program. That was when I really got a chance to get to know him," Jackson says. "Very innovative. Very smart. Really, truly believed in committing to the quarterback. That's all he talked about was how you make the quarterback successful."
That truly is what is going to be on display at M&T Bank Stadium Sunday. The quarterback play has defined this series in the six games of Gruden's Dalton against Jackson's Flacco. If Gruden pushed to draft Dalton in 2011 as the Bengals offensive coordinator, then Jackson pushed to draft Flacco in 2008 as the Ravens quarterbacks coach.
"I talked to Hue before that draft and he told me that Flacco was the best quarterback in the draft," Houshmandzadeh says. "That was Matt Ryan's draft. I said, 'Really?' He said, 'T.J., there's this kid at Delaware with a really big arm and I'm hoping we go after him.'"
The rest, as they say, is history. Dalton and Flacco have been to a combined eight post-seasons in nine years, but they've struggled against each other and in each other's building even when they win because they've both been backed by superb defenses. When they met in the final game of the year at Paul Brown Stadium last year, they combined to throw seven picks.
 Dalton has yet to win in Baltimore and has a 64.2 passer rating against the Ravens, more than 20 points below his career average. Flacco has 12 TDs and 15 interceptions against Cincinnati out of a career he has thrown 43 more touchdown passes than picks. The guy who plays best Sunday wins and Jackson majors in taking care of his quarterback.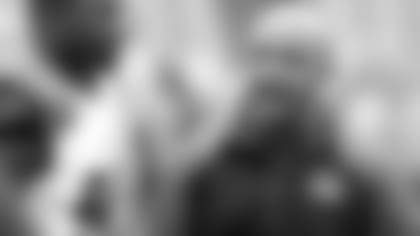 Jackson can talk to anyone, even defensive players.
Ravens head coach John Harbaugh saw Jackson's impact on Flacco's development during his first two years in the league, when Flacco took Baltimore to the AFC title game as a rookie.
"He was very important," Harbaugh says. "He took Joe from what he was in college and turned him into a professional quarterback and that's no easy thing to do.  He's a great relator to players. He also understands the game. I also think he's able to put things in perspective. He can take a player at any level, young, a veteran guy that's been around a few years and meet him where he can teach him."
Bengals head coach Marvin Lewis believes in Jackson so much that this is Jackson's fourth different role in Cincinnati. Those drive-by national pundits fretting about Lewis' two new coordinators should stop and stay awhile. They come with the woodwork.
"He is very detailed and demanding, and yet he can put his arm around the guy, and close the door, and explain to him why, and make him understand him why he's being as the guys say, 'hard on him' that day, that moment," Lewis says. "It's a good quality to have. You have to have both. These guys are here as their profession, and they don't get to do it for very long. They have to understand we have their best interest at heart, to help them be the best player they can be. That's our goal, and we're going to push hard at that for every single one of them."
Enter Dalton heading into his fourth season. He's got 30 wins when Flacco had 32. He clearly has felt the Jacksonian influence hitting 70 percent of his passes in the preseason. Dalton thinks the biggest thing Jackson has done with him is speed him up, particularly getting him to drop back quicker.
"Getting through progressions and getting through them quick," Dalton says. "The big thing is having your feet tell you when to move to the next guy. Making sure you're in the right spot and making right decisions. He's gotten me back quicker, but I'm not the only one. He's trying to get everyone quicker with the tempo."
But what Jackson does is take heat off his quarterback so they can take the heat. Houshmandzadeh predicts that after the Bengals go through third down in Thursday's practice, Dalton goes to Jackson and tells him the plays he likes and doesn't like for that week's game plan. And if the quarterback doesn't love them, they're gone even though Jackson loves them.
It all flows through Walsh in a way.
"He let the quarterback be who he is," Jackson says. "Give the guy a chance to play within the system and play to his personality. " 
So we'll see Dalton. But we still don't know what we'll see Sunday. We probably have a better idea of what we won't see.
Last year in Baltimore, even though the Bengals trailed by just a score, Dalton dropped back to pass 12 straight times as the third quarter became the fourth quarter. All indications are that Jackson has more balance. If he identifies with one thing, it is a physical running game.
"We expect his team to play according to his personality," Harbaugh says. "He's a rough, tough guy. He believes in that."
Left tackle Andrew Whitworth isn't so sure that means more running plays.
"There are ways to do different things. That will be the key. The way we go about it and the attitude we do it with," Whitworth says. "Look at Seattle. You can just look at the film and it's that kind of attitude and feistiness that can help you win games."
So we'll see some Dorsey High and Pacific. Feisty and physical. But what else?
Jackson has preached to Dalton about Marty Ball and not turning it over. He has emphasized the '9' route, the go ball that Jackson hammered with Houshmandzadeh, Chad Johnson and Chris Henry a decade ago with the Bengals. In practice he's gone no huddle like Peyton Manning's Broncos. He's working out of Gruden's West Coast playbook that is now splattered with the rest of his resume.
"You got to do a little bit of whatever it takes to win," Jackson says. "Whether it is West Coast, East Coast, Side Coast, North Coast, Whatever Coast. We'll be whatever coast you need us to be to win games. 
"It will be Bengal Coast. That's what it is going to be."