Hue Jackson says he has plenty of formations left.
Paul Brown was known to keep a night table notepad in case inspiration came to him at all hours.
Sam Wyche found meditation in driving, as well as mowing the lawn.
Hue Jackson must have also thought up a play or two behind the wheel because he won't reveal where he's pulled over to put Xs and Os to paper.
"There's some highway patrolmen that might be upset about that," Jackson says.
 As the Bengals' mad scientist offensive coordinator, Jackson and his laboratory of fellow schemers are driving NFL defenses crazy with a traffic jam of formations and motions that have helped unleash quarterback Andy Dalton during their climb to No. 2 in the offensive rankings, 4-0 in the AFC North, and into Sunday's showdown with two-time NFC champion Seattle (1 p.m.-Cincinnati's Channel 19) at Paul Brown Stadium.
Jackson is the latest in a proud line of Bengals play callers that have not only broken out of the box but built a new one.
"If I had a dime for every time Paul Brown asked me, 'What the hell are you doing?" Wyche muses.
Cincinnati school kids now knows about Jackson's formations with two extra tackles. Or the left tackle at fullback, the split tackles, and rookie left tackle Jake Fisher hauling in the longest pass by an NFL lineman in 28 years.
And so do the men that led the Bengals to one of those 4-0 starts in that same 1988 season with cutting edge plays that bloodied enough opponents to put them in the Super Bowl.
"Hue is winning the battles on Tuesday," says former wide receiver Tim McGee of Game Plan Day.
"What jars the memory is that it is probably the best lineup I've seen them have since then," says Wyche, the '88 head coach. "We had guys that could run. We had a tight end who was half receiver because he was such a good route runner. All our backs could catch the ball and you could put them outside the widest wide receiver. That's how you create mismatches. With the formations. Why line up your best guy and their best guy and neutralize your best guy? They look like they're as good to me."
"Hue Jackson deserves a lot of credit,' says Boomer Esiason, the NFL MVP that year who has gone on to quarterback NFL coverage on both TV and radio. "But he can do it because he has guys that get it. They eat and drink it and know it like the back of their hand, so when he does throw a new formation or a new wrinkle out there, they don't panic and overreact. It's fun for the players, I'm telling you. I remember going in there on Tuesday night to pick up the game plan and I just couldn't wait to see what they'd come up with."
Dalton doesn't have to wait very long these days. It gets sent to his iPad, but it's the same reaction.
"All of it is to our advantage. It's good for us. It's all about matchups," says Dalton, who smiled at Paul Brown's reaction to some of Wyche's ideas. "What do you think the defenses were saying?"
Yet this is no re-run. This is not your father's West Coast offense, the one that was born during Paul Brown's days in Cleveland. Esiason says Jackson's offense is a hybrid of what he ran under Wyche and Bruce Coslet and has merged with Don Coryell's vertical passing game that took root on the actual West Coast in San Diego,
Jackson, the Los Angeles native, has absorbed it all in his stints with purveyors of both. In his office is a photo taken with Bill Walsh, the patron saint of the West Coast offense, sandwiched around notebooks put together with vertical acolytes like Al Davis.
"This is the Cincinnati Bengal thing. I'm not trying to tread water or copycat anybody," Jackson says. "This is over the years. I've been doing this for quite a while. This is my masterpiece, per se, with the rest of the staff. These are things that we've come up with together. We're not trying to copycat anybody. We just kind of see things and if they fit, we'll tweak this, tweak that and on we go."
Backup veteran tackle Eric Winston, who has lined up in so many different spots this season that he looks like a 300-pound slot receiver out there, calls Jackson's masterpiece "a blank slate."  
"That's where it all starts: what our players can do," Jackson says. "It's not about Hue Jackson or the offensive staff; it's about those men in that locker room. It's about what can they do, what can they digest, what can they go out and execute together as a unit? And more than that, what can our quarterback handle? As long as those things all check off, we'll do it. If not, we won't do it."
And Esiason, always a Dalton advocate, is now a disciple of his red-head descendant.
"You can hear it. You can see it. When he's running with the ball he's telling guys, 'Get out of the way,'" Esiason says. "All the stuff he's doing now, all the growth, I wish I'd seen it three years ago. But everybody grows differently and it's great to see. He's a great kid, he's a high character guy and you can see how comfortable he is on the field, everything is second nature to him."
Wyche remembers when he would begin each morning early riding the bike in the workout room with offensive line coach Jim McNally and they would prop their playbooks in front of them talking about plays and weeding them out. Jackson is an elliptical guy, but he and his staff are in just as early brainstorming in the office.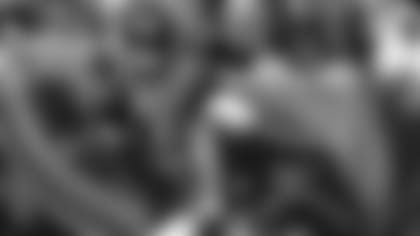 Boomer Esiason, who should know, says Andy Dalton's brains are key to a multiple offense.
And Jackson has a diverse staff that reflects the breadth of his experiences and how NFL offenses have evolved since '88.
He's got two West Coast guys in offensive line coach Paul Alexander, stretching back to the Coslet days in New York and Cincinnati, and in wide receivers coach James Urban, coming out of Andy Reid's system in Philadelphia at the turn of the century. That's about the time quarterbacks coach Ken Zampese, a Coryell disciple, was being shaped by Mike Martz in St. Louis before he came to Bob Bratkowski's Coryellian scheme in Cincinnati.
"They've been in different environments. It's the environment that you've been in. sometimes it takes a little bit for guys to understand, 'Hmm. This does work,' Jackson said. "Credibility comes from success. And if you have success of doing something it's OK. Sometimes you've got to sell some things and guys see it, and sometimes these are things that guys have always wanted to do but never knew that they could say or do it. But we don't have any egos in our room. We open the door and whatever we throw up there we throw up there. We don't care whose idea it is, but as long it's going to get us a chance to win we're all for it."
Jackson says the nice thing is that there's no contrarian on the staff than can have a chilling effect on creativity. It only takes one. And clearly he's got that give-and-take with his players.
"I love him," says Winston, an 11-year guy on his fifth team. "(You can't) just rely on what other people are doing and not your imagination. I've always said, 'Why start every play with a left tackle, left guard, center, right guard, right tackle in the same spots? That's what I love about what he's doing. It's a blank canvas and I think he's doing a lot of innovative things. I really respect him for it."
Dalton can tell Jackson during games, "Stay aggressive,' just like Esiason could tell Wyche to junk a play. McGee remembers wide receiver Ira Hillary coming into the huddle during a practice and Esiason saying sarcastically, "Oh, no one will ever expect that coming."
"Ira was a college quarterback," McGee says, "And maybe he played less than one percent of the plays, so you knew what was going to happen. That play never made it of practice."
And for all his distracted thoughts while driving and/or mowing, practice is where Wyche did his best brainstorming.
"You'd see something on the field," Wyche says, "Maybe the way a route was run and the way the defense reacted to it and you'd say, 'What if we did this?' and you'd go in and work on it after practice."
Doesn't it all come down to the players? As he watched the win over Kansa City, Esiason couldn't help but see the ghosts of '88.
"It helps when you have a lot of your guys healthy," Esiason says. "All of a sudden Brandon Tate comes off the bench and makes a play that Ira Hillary might have made. Or Jeremy Hill is breaking tackles that Ickey Woods would have broken. Or Tyler Eifert is doing things Rodney Holman would have been doing. When you've got your full complement of skill players and a powerful, big, strong offensive line, it's amazing what you can do."
Wyche, who has met Jackson but never Xed and Oed with him, is a fan. He's only got one bit of advice.
"If it's not broken, don't fix it," Wyche says.  "Make them stop it before you tinker with it."
Esiason has seen this before.
"It's so fun," he says. "When you've got a quarterback that knows it cold and it's like, he understands it, let's keep doing it, pedal to the metal, its fun. And I think I see that a little bit in what Hue is doing with Andy."
Jackson smiles a you-ain't-seen-nothing-yet smile.
"A ton," he says when asked how many formations he has left. "We haven't even scratched the surface. What is this, game five coming up? Come on now. We haven't even got close. We've done nothing. We're just trying to get better. That's all we're trying to do."