*Mike Zimmer in 2013, his final season as Bengals defensive coordinator. The No. 3 ranking in the NFL was the their highest in 30 years. *
Mike Zimmer returns to Paul Brown Stadium Wednesday for the first time as head coach of the Vikings and no doubt he'll come barreling in like the Double A Gap blitz he and Bengals defensive coordinator Paul Guenther brainstormed into the NFL mainstream during the six years he transformed a franchise known for offense into a defensive flagship.
"There was no gray area," says Bengals special teams coordinator Darrin Simmons and he could have been talking about Zimmer's blunt language and spare, succinct Xs and Os. "That's what the best coaches are. No gray area."
And there is no gray for Zimmer on the map of Cincinnati when he lines up his defending NFC North champs against his Bengals soul mates and defending AFC North champs in a 3 p.m. practice Wednesday, followed by an 11 a.m. practice Thursday to set up Friday night's pre-season opener (7:30-Cincinnati's Channel 12) at PBS.
"It's pretty much home," says Zimmer earlier this week, as usual, returning calls and texts, this time from the Vikes training camp.
It's so much home that he's actually finishing off a home here in Walton, Ky., a hunter's oasis close enough to PBS that he's inviting his coaches and Bengals head coach Marvin Lewis's staff  to a Thursday afternoon barbecue.
How close to home? Just look at the defense Guenther has crafted coming off a record-setting franchise scoring season.
"I think (Zimmer) installed a certain amount of toughness and attitude that you have to play with on defense," says Chris Crocker, Zimmer's coach on the field in Cincinnati as a safety and Lewis' coach this camp as an intern. "The guys responded well and it's carried over since he left."
"Marvin and I are like family. All l those coaches there," Zimmer says. "That's the good part about getting back there. I would never have done it if it was a different team."
But they'll always be on the same team. They have been ever since the night of Oct. 8, 2009.
"A Thursday night," Guenther recalls.
"I can't imagine it," Simmons says. "For Zim to do what he did and display the toughness he did … It's unprecedented. I couldn't imagine.
"There is a human element. Adversity could tear you down or build you up. The ones able to stay, it builds you up."
"A team is like a family. The coaches are like family. We spend so much time together," Guenther says. "You get so close when you go through something like that with someone. You never forget it."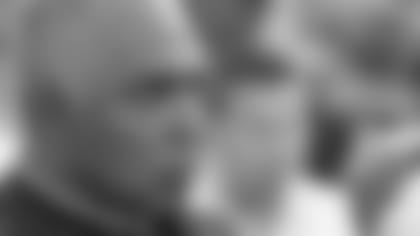 Mike Zimmer and Bengals head coach Marvin Lewis have been through it all together.
Vikki Zimmer, his wife of 27 years who just turned 50, passed away while he was finishing up at work and he found her when he got home from PBS. After calls to 911 and the screeching of sirens and the numbing shock, Zimmer called Lewis and while Lewis alerted his staff, he didn't leave Zimmer's side. Lewis was the first to arrive at the Eastern End condo and Zimmer stayed that night at Lewis' home.
'There wasn't much talking," Zimmer says. "He was just being there and consoling. He's a great man."
Guenther and Simmons and the rest also visited during the night, either at the condo or out at Lewis' house in Indian Hill. Then they watched him coach less than 72 hours later in Baltimore in a classic AFC North defensive stand and a victory pulled out in the last seconds.
Minutes later when Lewis violated his own post-game protocol and awarded Zimmer the game ball, fittingly it was Guenther whom gave it to him.
"I want to thank you guys for playing so hard," Zimmer choked out and seven years later on his way back you can hear the same emotion.
"Obviously the personal struggle with my wife passing away was rough," Zimmer says. "I met so many good people there. So many friends and got a chance to be around so many good players."
That night turned into a season the Bengals swept the AFC North on the way to the title with the NFL's No. 4 defense covering for the No. 24 offense.
"He didn't get any sleep," Lewis says of that awful night. "It was amazing. Mike's mental toughness, his professionalism, attending to his family, getting them through. It's tough on you. Think about your kids. He did a great job as a father and was as dedicated to coaching as he ever was…I think our players drew from that. What being a professional is all about. He exemplified it."
That's the irony of it all. Zimmer turned this defense from a local punch line into an NFL top ten staple with a cutting, abrasive style that players dreaded but many appreciated. 
"He's not afraid to say what he wants to say. He's very intense. He makes the players afraid of him," says Bengals middle linebacker Rey Maualuga. "He never gave up on me. He always tried to get the best out of me. He made sure that I just wasn't in here wasting time. That I got something out of it."
Guenther, his third-down coordinator and right-hand man, has kept the same approach.
"As long as you tell them the truth and it's in that room in front of everybody and everybody is treated the same way," Guenther says.
Zimmer and Bengals cornerback Adam Jones had some titanic blowups. Just imagine. The two more volatile personalities in Bengals history. "There were some spats here and there," says Zimmer with a laugh. "But we always worked it out."
Jones swears by Zimmer. It was Zimmer's relationship with Deion Sanders that got him the chance in Cincinnati. Crocker does, too, after Zimmer picked him off the street in 2008 and played him in 71 more games for a defense that finished in the top ten four times.
"The thing people think about Zimmer is he's this brass, rough guy and all he cares about is football and that's so untrue," Crocker says. "He recognizes the human element of this game. He really takes care of his players. He's tough on you, but at the same time he's there for you.
"If I text Zim right now, I don't care if it was in the middle of a pre-season game, he'd text me right back."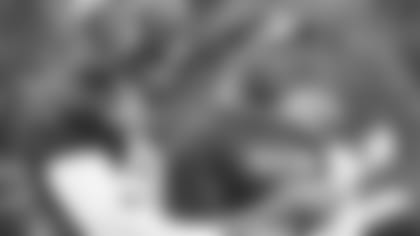 Chris Crocker (right) helped Zimmer turn the Bengals defense into one of the NFL's best.
They'll be in the middle of a pre-season game Friday when the Bengals line up with 10 of 11 starters on defense that were signed or drafted under Zimmer . Guenther has brought his own stamp and his own wrinkles. Just this past summer he figured out they now do about 20 different items out of the Double A package.
"The core guys are still here. They've been able to keep them under contract and they've played their butts off for him and for Paulie, too," Crocker says. "They learned a great deal from each other. They have good chemistry. Paulie is smart enough to know that to keep things intact and build on what Zimmer installed. Same scheme, same players and they've played very well."
Guenther has branched out on his own, but he's kept some things the same. For instance, they meet as an entire defense frequently because Guenther thinks that's a way to breed accountability. He's also continuing the quest to seek players like Crocker.
"Smart guys who see the big picture and not just their own cubby hole," Guenther says. "Dumb guys get you beat."
"Both guys,' says right end Michael Johnson, "do a great job preparing you for the game."
Smart, tough guys like Johnson, a rookie in 2009. In 2012, the Bengals fell to 3-5 with a loss to Denver and Johnson is still walking around with Zimmer's Monday morning message.
"He told us we're not a bad football team," Johnson says. "I think it was (Broncos pass rusher) Elvis Dumervil who said after that game that we had a good team but they have to believe they can win. (Zimmer) said, 'We've put the work in. Give me all you've got for the next eight weeks and we'll let the dust settle where it may.' That was fun. We went up to Pittsburgh and put them out. That final stretch (7-1) we played lights out ball and he challenged us."
If Lewis changed the culture of the Bengals and the locker room, then Zimmer changed the culture of the defense with moments like that.
"I think the culture was pretty well established," Simmons says. "But he was a very important part of that, an extension of what Marvin created.  As you try to work yourself over the top, he embodied what Coach wanted. Smart, tough guys.
"Everybody respects him. It doesn't shock me one bit. Everybody who knew him here knew that when he got his opportunity he was going to be successful."
Crocker saw it from the ground up when Zimmer arrived in 2008 and is working with the Guenther version in 2016.
 "A huge impact on this defense and team and there is some carryover," Crocker says. "If you went around the league and took a survey, what are the Cincinnati Bengals? If you ask who are they? How do they play? People would say pretty physical, pretty nasty. They play tough defense. That's a compliment."
That all started in '08.  Naturally, when Zimmer got the job in 2014 he wanted Guenther to be his defensive coordinator with the Vikings. Guenther opted to stay here and the word was there was an icy breeze out of Minnesota for a while.
But they're back to texting and talking often about this X and that O. Asked if they'll be scheming some Double A gaps in the next few days, Guenther says, "We always do when we're together."
Zimmer admits he may have to catch himself at Wednesday's practice.
"I might get confused and coach the other team a little bit," he says. "Or the defense if I see some techniques they have to work on."
Cincinnati Bengals host Training Camp at Paul Brown Stadium Practice Fields 8/8/2016