Marvin Lewis is looking for the recent Bengals drafts to replace departed vets.
PHOENIX - The Bengals lost more than 500 games of NFL experience in the past two weeks when they moved on from nose tackle Domata Peko (171), left tackle Andrew Whitworth (168), middle linebacker Rey Maualuga (114), and right guard Kevin Zeitler (72).
But head coach Marvin Lewis, who has sat through 15 seasons of coaching changes in the AFC Coaches Media Breakfast, saw it like this:
The newest Bengal, Kevin Minter, 26, is four years younger than Maualuga. Cedric Ogbuehi, 25, is ten years younger than Whitworth. Andrew Billings, 22, is ten years younger than Peko.  The 30-year-old Andre Smith returns to take the place of Zeitler, 27, but backing up Smith is 26-year-old T.J. Johnson and a pair of guys coming off their rookie years in Christian Westerman and Alex Redmond. 
Lewis was talking about his linebackers when said, "It's now their time," but he could have been talking about much of a roster that until now has been biding its time behind veterans as 2017 shapes up to be a referendum on the last few drafts.
"We got younger on the roster. We went from the youngest team in the NFL to one of the older teams very quickly,"  Lewis said Tuesday morning. "That's what happens. That's the hardest thing on coaches when you subtract veteran players from the position groups, the position coaches job is to bring on the next players. That's what it is. That's part of the process."
If anybody has lived the NFL process, it is Lewis.
He was 44 when he arrived here at the Arizona Biltmore for the 2003 NFL annual league meeting. That is the same age as new Denver head coach Vance Joseph, Lewis' old secondary coach, as he settled  in at his first Media Breakfast table. This season, Joseph is going to be the fourth Denver coach that goes against Lewis.
When Lewis goes against his old offensive coordinator in Cleveland, Hue Jackson, it will be the seventh different Browns head coach Lewis has faced. Right near Jackson was the Jaguars' table and new head coach Doug Marrone the fourth Jags head coach to oppose Lewis in six Jacksonville game against the Bengals.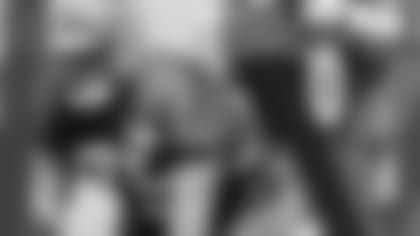 Andrew Billings is literally a big part of the plan.
Lewis played the part of the icy veteran and sounded damn near Bill Belichickian, the only coach with more years on one club in the current NFL. He cautiously both kept alive and killed Andy Dalton trade talks. He no commented Adam Jones and Joe Mixon. He praised Whitworth (but didn't overdo it citing tampering), challenged Ogbuehi (be true to yourself, he said), and like he did nine years ago when he set the tone for the 2009 division sweep with a batch of veteran departures he again invoked practice.
 "We have some guys that couldn't practice," Lewis said. "That makes my job tougher. I believe everybody has to practice in order to go out and play. We can go back to that mantra."
But this is not the raising of the Titanic like it was in 2003 or the electric shock treatment in 2008 with the arrival of defensive coordinator Mike Zimmer, or the 18.0 and 14.0 re-boot of A.J. Green and Andy Dalton in 2011.
"It's not rebuilding. We've put the guys in place," They've jumped through the same hoops the other guys did when they got there," Lewis said. "We still have probably likely our three or four, five best players in the midpoint of their careers. Obviously they have played a lot of football but as I told them before I left this is going to become your football team. You are going to have to carry the torch and raise the torch. That's going to be important."
It's going to get even younger with 11 picks in next  month's draft, but Lewis isn't looking beyond 2017. He's not sure how that infusion of youth impacts the future.
"Eleven draft picks making the team is difficult. It's not necessarily going to change us," Lewis said.
"Unfortunately we're picking high enough in the first round that player ought to have some impact on the season this year. Beyond that  we'll have to see how it shakes out. The focus of the team is 2017 for me and not beyond. That's the biggest focus."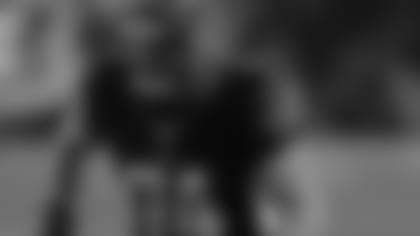 Jake Fisher is starting at right tackle but has also backed up left.
The biggest focus on the 2017 team is no doubt Ogbuehi and his bookend from the 2015 draft, right tackle Jake Fisher. Despite getting benched last season at right tackle, the extremely gifted Ogbuehi has his fans and Lewis is one of them.
"Just his ability to play. He's a guy we evaluated in college coming in and the things he's done for us," said Lewis, who doesn't want to hear how he's more suited for the left side. "I don't buy all that. That's what (Ogbuehi) said. I think he's got to become a player. He's got to spend the time. It's the first time he's had an offseason where he can work and go through the whole regimen and hopefully a whole training camp."
Ogbuehi has chosen to spend it at the toughest place possible,  Jay Glazer's MMA camp, a gym  that focuses on the mental game in a sea of physical tests.
 "Everybody has an opinion of Ced. Ced just has to be Ced, come back and play football," Lewis said.
 Ogbuehi and Fisher have a combined four starts at those spots, but Lewis and offensive line coach Paul Alexander have given them a vote of confidence by re-signing Andre Smith and putting his 73 Bengals starts at right tackle at right guard.
"We just have the belief in the two young guys at tackle," Lewis said. "We thought that was the best thing to bring Andre back and have the opportunity at guard to see what happens. Eventually we are going to get the best five guys out there any way. We want to have a starting point. That is where we penciled in. He'll compete with Westerman and Redmond and so forth and see who ends up being the best players."
 That's the way he sees it on defense, where there is a transition of sorts that has been charted out by the draft and where every Cincy school kid knows they have to get younger and faster.
 It's not like age snuck up on them. Last year they drafted linebacker Nick Vigil in the third round and nose tackle Andrew Billings in the fourth round after taking cornerback William Jackson in the first round. And last week they signed Minter,  a second-round middle linebacker who broke 4.7 seconds in the 40-yard dash at the 2013 NFL scouting combine.
"We signed Kevin Minter to play alongside Vontaze (Burfict)," Lewis said. "We have Vinny Rey still. Marquis Flowers, Paul Dawson, and Nick Vigil who we drafted a year ago. So we've got some guys we feel really good about. It's now their time."
Up front the idea is to team Billings, coming back from a knee injury that wiped out his rookie year, with Pro Bowl three technique Geno Atkins, and to add two pass rushers through the draft. In the back end another draft pick that had a season wiped out last year, Jackson, is expected to emerge along with another first-rounder that has paid his dues in 2014's Darqueze Dennard.
Again, Lewis rings the bell: "William has got great, great skills, and ability. Darqueze Dennard, these guys we've drafted in the first round we're expecting big things out of them.
 'We drafted Andrew Billings last year to step in and play (nose tackle). Marcus Hardison two years ago. Brandon Thompson (five) years ago. We've got young guys we feel really good about … It's a group that has a lot of players and in a month we'll have the draft to supplement that."