If Vontaze Burfict had to watch a game instead of play in one, then at least he got to do it with one of his favorite people. But even his toddler had a question.
"I have a big Fathead in my basement and she was kind of like 'Daddy' and she would point at the TV like 'why are you not over there?'" Burfict said upon his return to the Bengals locker room. " It was kind of cool to just to sit down with my daughter and watch the game."
The little Tezness need not worry. Not many in  Bengaldom were happy that her Daddy was suspended for the first three games of the season for repeated safety violations, but all that
seemed to be out the window Monday two days after his 26th birthday when the face of the defense returned amid a huge buzz of how much he was going to play Thursday night (8:25 p.m.-NFL Network) despite practicing just for a week in the preseason.
The Bengals may be close to whole against Miami. Head coach Marvin Lewis said Pro Bowl tight end Tyler Eifert (ankle) is close to playing. They've got a roster exemption for Burfict until they have to cut someone Thursday to get him on the active list.
"You already know what kind of energy, he's going to bring,' said cornerback Adam Jones. "He's got a high motor. He holds everybody accountable, so we're very eager to get him back out there. It will be fun.
"I talked to him before he got here. He's very excited. Vontaze is 26 years old, I think, so he's got a lot of football ahead of him, but you know how it is when you're at your peak and you've got to sit down for something, you're sitting down, not because you want to or you're hurt or anything. He had the game taken away from him, so I'm quite certain he's eager to get back out there and have a little fun."
The last time Burfict went on the field, he played what possibly may be the best game a Bengals linebacker ever played in the heart-breaking Wild Card loss to the Steelers. His 15-yard penalty for hitting Antonio Brown high on an incomplete pass on the last play of the game obscured what should have been his game-clinching interception with 1:32 left, a forced fumble in the second quarter, and a field altering 12-yard sack in the third quarter.
Now he fittingly returns in prime time and his teammates aren't thinking about the Brown hit. They're thinking about that frenzied energy he uses to devour yards and how they dine off of it, too.
"He's our guy. I love him,"  said Jones and when he saw Burfict for the first time walk into the locker room he bellowed for the waiting media, "Go ahead 55. They're waiting for you."
When Burfict playfully advised the reporters what they could do in rather salty language, Jones laughed so hard he said, "My side hurts."
The Edge of the Bengals defense is back.
"We don't t expect him to be a saviour. We know what he brings to the timetable," said left end Carlos Dunlap. "He's a playmaker, he's a game-changer, game-breaker as well. You want to have all those players on the field at once. Especially when you're not getting too many of those plays right now."
The Bengals defense has been a few plays away from salting away wins in Pittsburgh and against the visiting Broncos Sunday. Burfict, they hope, can help even  things out.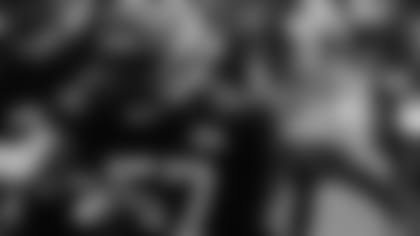 Vincent Rey has served the Bengals well in Tez's absence and they'll team up again on nickel.
"I just know you're adding another Pro Bowl caliber player to your defense,' said defensive coordinator Paul Guenther. "Anytime you can get a guy back like that, it's a huge boost. We all know he can play at a high level and I think he will when he comes back. I don't try to pressure him and say 'hey, we need to get better at this or that when he's in there.' I think it just kind of naturally happens."
Burfict had a sit-down with NFL commissioner Roger Goodell back in January when Goodell rendered his verdict. But Burfict says he won't change the way he played that January day
"Why would I have to change anything?" Burfict asked.
He certainly won't change the way he came in. Last year he had exactly a sliver of one week of practice  after being out for a calendar year when he returned off the physically unable to perform list (PUP) following micro fracture knee surgery. He ended up playing himself into Jungle lore with 48 percent of the snaps in Pittsburgh and had five tackles in those 36 plays as the Bengals went to 7-0. 
Remember after that game what Jones said?
"It's unbelievable a guy can practice two days and doesn't miss a damn beat. I'm a big fan of that," Jones said in the visitors' locker room.
Word is that Burfict is in terrific shape after losing 10 pounds during his exile and that he got in one last workout at 7:30 a.m. Monday before reporting to the Bengals .
"Pool workouts. I worked out in the morning. Worked out late nights. Chilled with my daughter during the day, took her to the park. Stuff like that," Burfict said. "Yoga, just to keep my body in shape and eat right."
Yoga? The most feared linebacker in the NFL? 
"Totally different," Burfict said of football shape and gym shape. "Honestly it's probably just going to click on Thursday. I try not to think about getting tired and just executing my job and just play fast."
Who else could ease right in there after no grass stains since Jan. 9?
"That's last year. This is totally different. I was coming off an injury last time, but I had more time to get conditioning and work out and do all that," Burfict said. "So I can't compare it to that. But I'm ready for Thursday."
That day in Pittsburgh, Burfict was only to play about 10 snaps. But when middle linebacker Rey Maualuga tweaked his calf in warmups and then gave out on the first snap, Burfict was all in. So now every Cincinnati office pool has to be Burfict's number of snaps against the Dolphins.
"I'm not sure. It's up to the coaches. (Lewis) was saying half the game, but if the game's close I feel like I could probably play the full game," Burfict said, "But that's up to them. They're going to watch me and if they said if I look tired they're going to pull me out. They don't want me to get overly exaggerated with too much playing and obviously get hurt or something like that. That's up to them. I'll leave it their hands. I'm just going to go out there and play."
The nice thing is that Burfict is going to have 10 days between the Dolphins and the next game in Dallas. And it's not like the Bengals don't know what it's like to play without him. In the last three years they are 14-6 without him, which speaks volumes of his replacement, Vincent Rey.
Vinny and Karlos (Dansby) and Rey and Vontaze, they'll be the guys taking most of the snaps in there," Guenther said. "So we'll mix and mingle them as we go through so everybody's fresh. Everybody's willing. Vinny's played a lot of ball, played a lot of solid ball for us, and Karlos the same way, as a new guy he's been playing good. So we'll see how it goes. Obviously we don't want to put too much on him in the first game because you want to ease him in."
It sounds like Burfict and Vinny Rey are going to be teamed together again in the nickel package.
"I kind of see myself in Vinny because we obviously sit next to each other in the meeting rooms and we talk to each other, what we see and how he sees it," Burfict said. "We both see the game the same way. I feel like the same plays he made I could have made. I'm still on him about that interception that he dropped (Sunday against Denver). I told him I would have caught that. There' just little things we help each other with. I feel like once I'm in, everybody's game will at least boost up a little bit. I'm just going to be here to do my job and hopefully there will be good things with everybody else."
Cincinnati Ben-Gal Cheerleaders perform during the Denver Broncos vs Cincinnati Bengals game 9/25/16 Photos taken by Steve France