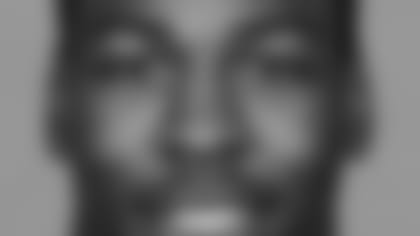 The Bengals' worst fears were realized Friday when an MRI revealed that rookie running back Kenny Irons is lost for the season with a tear of his anterior cruciate ligament in his left knee, extending a horrifying streak of bad luck when it comes to their running backs that began with a similar injury to Ickey Woods in 1989.
The club said in a news release that a full recovery is expected and that Irons should be ready to participate in next spring's workouts.
Irons, a second-rounder out of Auburn, had been one of the stars of the preseason in jetting to 65 yards on 10 carries in last week's intrasquad scrimmage. And flashing perimeter speed the club thought would be just the right complement to Rudi Johnson's inside game, Irons had just ripped off an 11-yard gain in Thursday's preseason opener in Detroit before getting hurt on his fourth carry of the game. At the end of that seven-yard run, Irons limped off the field after planting his foot went awry. It didn't appear to be a contact injury.
The irony of Irons' situation is chilling. In a 1995 preseason game in Detroit against the Lions, running back Ki-Jana Carter, the NFL's overall No. 1 draft pick, tore his ACL on the third carry of his career.
The Bengals drafted Irons to give them what 2004 first-rounder Chris Perry hasn't been able to because of his own injury problems. Perry hasn't been on campus at Georgetown College as he rehabs from ankle surgery and plans to start his second straight season on the physically unable to perform list. The PUP takes him out of practice for the first five games and six weeks of the regular-season. In 2005, his one healthy season, he averaged 4.6 yards per carry and nearly broke the club record for catches by a running back with 51. But he has played in only 22 games of a possible 49.
The Bengals are in a precarious position with depth behind starter Rudi Johnson. They are left with Kenny Watson, primarily a third-down back who has carried the ball an average of 25.5 times during his last three full seasons in Cincinnati and who is a solid receiver. Quincy Wilson is a clone of Johnson and while he has just two NFL carries he's probably a leading option at the moment if the team felt like it needed a bell cow for a game or two.
But in the games Watson hefted the ball for the 2002 Redskins, he was productive. In four starts in place of Stephen Davis he twice ran for 110 yards.
It's doubtful the Bengals are going to pursue a speed back on the market right now. They were just out there and came up with Curtis Brown, a free-agent rookie cut by Oakland before camp.
But they will get more interested as the two big cutdown days approach. Clubs have to be at 75 players by Aug. 28 and to 53 by 4 p.m. on Sept. 1., and the Bengals will probably be looking at teams with an excess of running backs.
One possibility is Dallas, where third-year player Tyson Thompson looks to be the third back running behind Julius Jones and Marion Barber after a season he was among the NFC kick return leaders at 26 yards per before getting hurt. The 6-1, 215-pound Thompson is a speed demon that hooked on with the Cowboys in 2005 as a free agent out of San Jose State.
LaBrandon Toefield is running third in Jacksonville behind Fred Taylor and Maurice Drew-Jones, but he's a bigger back who weighs 235 pounds and has just a 3.6 yards-per-carry average in five NFL seasons. P>Wide receiver Skyler Green, a fourth-round pick of Dallas in '06, saw some action at running back for the Cowboys before the Bengals plucked him off the practice squad in December. Green actually prefers being a running back, but it'd be a tough transition at this point and the Bengals are low on receivers because of injuries.
It's unclear how bad Irons' knee is damaged and if other ligaments are involved. Carson Palmer suffered a lot of damage, but the fact he played quarterback helped him get back on the field without missing time once he got hurt in the final game of '05.
Given that Irons is a running back and the Bengals are saying he can be back by the spring and the fact he was able to walk off the field, it sounds like Irons' injury isn't as bad Palmer's. But nothing will be known for sure until the reconstructive surgery is performed.
And how good can he be when he comes back as a running back? The Ravens' Willis McGahee suffered a devastating knee injury in the final game of his college career and while it took him two years to get back, he has had a 1,100-yard season and a 1,200-yard season since.
Irons' injury doesn't look as bad and while the Bengals haven't had a good track record of backs coming back from reconstructive knee surgeries, it has been better as the technology has grown.
Woods, 23, didn't come close to his 1,066-yard rookie form after blowing his ACL out in 1989. Carter, at 22, came back in 1996 and 1997 with two serviceable years in which he scored 15 touchdowns as a goal-line back and had the club's only 100-yard game between 1993 and 1996, but the No. 1 pop was missing. Backup running back Brandon Bennett injured his ACL just before the 1999 season at age 26 and he returned in 2000 to gain 3.6 yards per rush on 90 carries. Then in 83 carries over 2001 and 2002, he averaged 4.7 yards per carry and in 2002 he led the AFC in kick return average after Week 14.