A.J. Green and Marvin Jones should both get 1,000 yards Sunday.
The text group is intact and so is the bond. So Andrew Hawkins won't have to be at Paul Brown Stadium Sunday (1 p.m.-Cincinnati's Channel 19) to see whether the Bengals' A.J. Green or the Lions' Marvin Jones gets to 1,000 yards first. He'll get a full report from both parties.
"If we don't talk weekly, we talk daily. We talk all the time," Hawkins says this week from retirement in Cleveland. "We had lightning in a bottle (in Cincinnati).  You couldn't ask for more in a receiver group. You had A. J. Green, the incredible package. Look at Marvin Jones and Mohamed Sanu. And little old me in the slot with all the quickness and gadgets."
Fitting, of course, that Jones, with 970 yards, figures to get 1,000 yards for the first time in a season during game at PBS.  It also figures the guy right ahead of him at 12th in the NFL is Green with 980 yards.
"I can't tell you how close those guys are and you won't find two bigger competitors," Hawkins says.
The four have been talking since that meeting in the spring of 2012 at PBS, not long after Jones arrived in the fifth round and Sanu in the third. Green and Hawkins got there the year before on different trains, Green as the draft's No. 1 receiver and Hawkins from the fringe as an import from the Canadian Football League. But they left the meeting as one.
They laugh about it now. How Sanu and Jones arrived with a bit of a chip on their shoulders and letting Green and Hawkins know they weren't going to be pushed around or bullied by veterans. Then they realized it wasn't like that and they were going to help each other.  
"We had a meeting once we realized the talent we had in that room," Hawkins says. "We said that our goal is everybody needs to get paid and the only way to get paid is to be successful. That's how we broke the meeting. We broke it up on that. The more we win, the more we can showcase one another. The No. 2 receivers become the No. 1 receivers, the No. 3s become the 2s, and the 4s the 3s. Looking back now, that's exactly what happened."
Hawkins, who emerged from the Bengals' slot to lead Cleveland in receiving one season, is as impressed with the caliber of guy as he is the talent the Bengals amassed at receiver in 2011 and 2012. Remember, the Bengals weren't very far removed from the 2010 surreal reality TV show of Chad Johnson and Terrell Owens.
"Beyond football, they were incredible guys," Hawkins says. "That was when receivers were supposed to be divas, ego guys, me guys. But there was absolutely none of that there. There were four family guys who were looking to push each other and trying to help each other and the team."
They still protect each other fiercely. The texts were burning up that day last month Green got ejected from the game in Jacksonville when he challenged the shots and taunts of cornerback Jalen Ramsey with a headlock and throw down.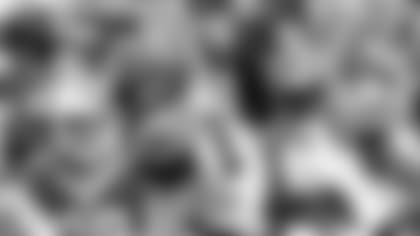 Marvin Jones in his Bengals days.
"I can imagine Marv's wife was having to restrain him from behind the phone. It shows you how all hyped up everybody in the group was," Hawkins says. "They were so peed off somebody got A.J. to that point because we know how great of a guy he is. When we played the Giants in 2012 their DBs were talking stuff in the media.
'A.J. Green hasn't been hit. That's his problem. We'll do this, we'll do that.' Me, Marv, Mo were so mad at the Giants that they had the audacity to come for A.J. Green that we  were going to whup these guys' butts, no one is going  back down. We were so mad that was a catalyst for beating the Giants by something ridiculous. But it was because we had that bond of being so close. 'We're in this together. We're a family.'"
It's tough to keep families together in the NFL. Especially when you throw in millions of dollars and just one football. All four got multi-year, multi-million dollar deals, led by Green's massive $75 million extension to stay in Cincinnati. The other three left upgrading profiles they couldn't possibly expand with the Bengals when quarterback Andy Dalton's leading options were Green and Pro Bowl tight end Tyler Eifert. Jones got promoted from Green's running mate to his own ticket and Sanu graduated from No. 3 to be Julio Jones' running mate in Atlanta. The Bengals made signing Jones a priority in the 2016 offseason and they thought they had a deal with him overnight. But he took what amounted to the same $8 million per offer in Detroit shortly after the Lions lost the NFL's best receiver in Calvin Johnson to retirement and the No. 1 void wide open.
 "(The Bengals) have populated the league. It's part of the NFL, you know what I mean?" said Bengals head coach Marvin Lewis Wednesday. "Sometimes a guy wants to go have an opportunity to be the lead dog, and that's what Marvin chose."
  Hawkins pretty much agrees. He says it's just as tough for teams as it is for players to project. When he left fort Cleveland in restricted free agency in 2014, he was coming off an injury. Both Sanu and Jones had missed significant parts of seasons with a broken foot (Jones missed all of 2014) when they went into free agency in 2016.
"You can never know," Hawkins says. "I can see it going the other way where you give big money to guys that get injured again and don't play well."
"I think it came down to Detroit and Cincinnati," Hawkins says. "It was a perfect storm. It was a receiver-needy market. Calvin Johnson had abruptly retired. There were opportunities where he could be the one or where he'd be the two. It was probably too much of an opportunity (in Detroit) to turn down and he understood that completely … At some point (Jones) figured he could be more than Robin, that he could be Batman. That's why you love Marvin Jones. He's a competitor. He wants to be No. 1.  
The Bengals survived Jones' departure last season with nice years by veteran pickup Brandon LaFell, and rookie slot receiver Tyler Boyd, but this season the six wide receivers behind Green don't have what Jones has with  a combined 843 yards. The idea when they drafted John Ross with the ninth pick back in April is they had found a fleet receiver to replace Jones and keep defenders off Green. But Ross didn't have a catch in 17 snaps and it turns out he's the guy with injury questions.
"Last year, with production, we were beyond where we had been in some ways from when (Jones and Sanu) started out," Lewis said. "But there's also the other changes that happened around then. Some of the other faces have changed as well."
 For Hawkins it drives home how special that group was.
"The Bengals probably thought they could replace a Marv Jones or a Mo Sanu, but in hindsight it turned out not be that easy," Hawkins says. "You meticulously gather that talent, but it's hard to keep everyone together."
Hawkins is waiting to hear how the Green-Jones duel turns out. He'll be one of the first to know.
"It's fitting he'll get 1,000 there," Hawkins says. "It's where he grew up."
Dre Kirkpatrick and AJ Green suprise Students of St. Bernard Elementary School with bikes.